My Favorite Podcasts for Christian Women
Inside: Podcasts are such a great simple, and convenient way to get some great teaching and encouragement that fits into your schedule.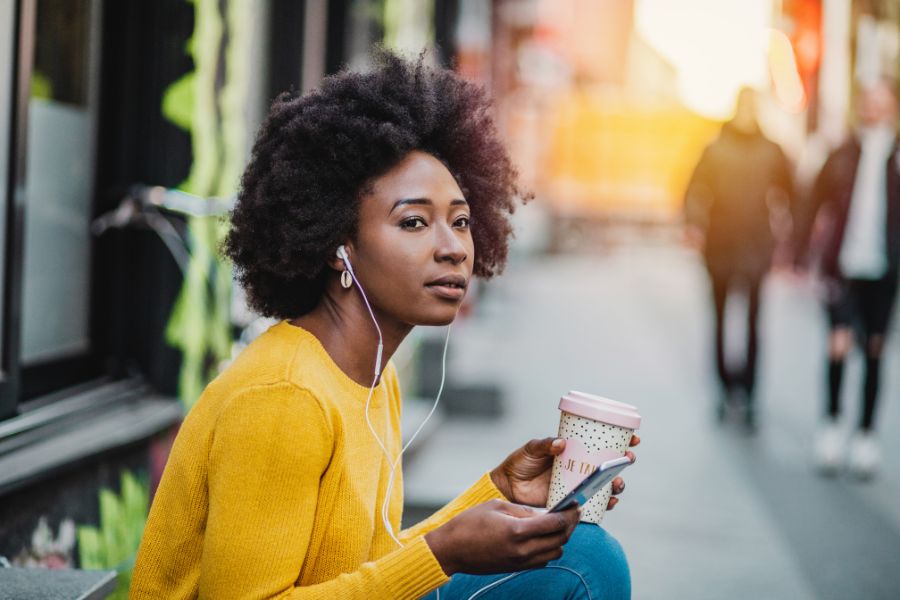 Ever since the creation of the iPod, I have enjoyed listening to podcasts while cleaning or running errands, or just sitting and sipping coffee.
Podcasts are a convenient way to get teaching and encouragement that fits into your schedule. You can customize your listening to your interests and needs. It is a great way to be in control of the media you take in, whether at home or in your car.
Podcasts are a convenient way to get teaching and encouragement that fits into your schedule.
I don't have any fancy gadgets but simply use my phone. I do have an iPhone and find myself using the podcast app, or I do utilize the apps from various ministries to listen to sermons too (Grace to You and Truth for Life are on my frequently listened-to list). I have simple headphones to use when I'm moving around, but most times, you'll find me connecting my phone to a Bluetooth speaker and just moving it around the house to whatever room I'm working in. In the car, I can connect to my Bluetooth to have the audio go through my speakers, but because of my low techiness 😉 – I usually just turn the volume up on my phone and set it in my cupholder (great amplification!). Sometimes you can connect to your car stereo system with a simple audio cable too.
I do make sure to plan ahead when traveling and especially if I'm not going to have Wi-Fi to download episodes or sermons I want to listen to on my phone while connected to Wi-Fi.
I do not listen in every day to each one of those below, and many of them are only updated weekly, so it makes it a bit easier to keep up.
*Also, please note I don't always agree theologically with everything that is shared in each of the podcasts listed. Always listen with discernment.
Wife, Mother, Homemaking Focused Podcasts:
A top favorite is Women's Hope Podcast.
A Word Fitly Spoken is a biblical issues podcast for women.
At Home with Sally Clarkson and Friends is such an encouraging podcast for Mamas to listen to.
A new one for me is Risen Motherhood, and I'm loving it, so check it out if you haven't yet. The ladies are Gospel-centered, and I think you will be encouraged.
The Lazy Genius is great for quick tips in all different areas of home and family.
Thankful Homemaker podcast I'm hoping is on your list too. If you haven't checked it out yet, take a listen, as my hope is to be an encouragement in the role God has called us to as Christian women.
Read Aloud Revival – One, as a grandmother, I appreciate finding good books to buy and read to my grandkiddos.
Sermons and Teaching:
I usually listen to Grace to You through the app, but I do have it on my podcast app along with Truth for Life.
Life Over Coffee with Rick from Rick Thomas is so good for keeping a gospel-focused mindset on all areas of life. He discusses marriage topics quite frequently.
Truth in Love from the Association of Certified Biblical Counselors has helped in dealing with practical problems that we deal with in this fallen world.
Behold Your God podcast produces content with a desire for the glory of God and the good of His church. Listen in, and you will be encouraged.
My church sermons are favorites to listen to, along with my husband's being top on my playlist.
Worldview:
Wretched Radio is top on my list to try to get to daily when I can, and it's usually my go-to when cooking dinner. It is a one-hour jam-packed podcast.
My other daily worldview podcast is The Briefing by Albert Mohler. This is great for adults but also so good for your teens to listen to. I try to catch this one every day.
The Just Thinking Podcast with hosts Darrell and Virgil is one to not miss on cultivating a Christian Worldview.
Some Others on My List:
The BAR Podcast – BAR stands for Biblical and Reformed, and Dawain has a great list of guests he interviews each week.
Simply Put: Theology in Simple Terms
Relatable with Allie Beth Stuckey
Quick Summary:
Here they are in list form: (you can also find them with a quick search in whatever podcast catcher app you use.)
Simply Put: Theology in Simple Terms
Relatable with Allie Beth Stuckey
*Grace Community Church on Sermon Audio
*my top recommendations
What are some of your favorite podcasts?

Catch some other great listens in the podcast family I belong to at:
SaveSaveSaveSave
SaveSaveSaveSave