What Does it Mean to Abide in Christ?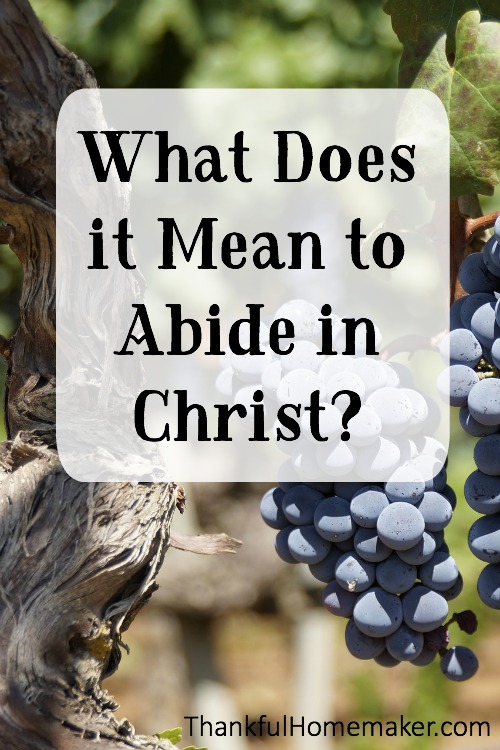 Many times in my walk as a believer I have heard and read the term "abide in Christ" and didn't have a full understanding of what that meant. I know abide means to remain in, and I pictured it as a state of resting in Christ. Studying through John 15 has been a help to me in grasping fully what our Lord meant as he walked and talked with His disciples on the way to the Garden of Gethsemane.
Picture this; our Lord had just left the Upper Room in John 13 & 14 where He and the disciples shared a Passover meal together. During their time together in the Upper Room Jesus washed the disciple's feet and He dismissed Judas who would betray him (John 13). Now in John 15, they are headed in the darkness of the night to the Garden of Gethsemane.
Jesus's timing in giving this teaching to his disciples was needed as they were going to face hard times ahead and this lesson is relevant to us today as we meet difficult days. So let's learn together what it looks like to abide in Christ, be a real disciple and bear fruit for our Lord. (I'm working through John 15:1-11 so take a moment to read through the text as you go through this post.)
Branches are Dependent:
Jesus starts in John 15:1-2 as describing Himself as the true vine, the Father is the vinedresser or the gardener and his disciples as the branches. It's fall here in Wisconsin, and there are many branches on the ground as our season is moving into winter. A branch left alone and not attached is dead, there is no life in it, and it's not good for anything but burning. This is a picture Christ has given us of our life without being attached to Him. It is Jesus we must draw life from; a branch cannot live on its own. It needs to be connected to the vine. We can only bear fruit through communion with Christ through the Spirit.
True branches (believers) will remain attached to the vine and they will be tended to by the Vinedresser. Branches that do not bear fruit will be cut down and thrown into the fire. Branches that remain are believers, disciples.
Bearing Fruit & Painful Pruning:
The branches that are united with the vine will bear fruit. A branch cannot bear fruit by itself (John 15:4). Those that genuinely abide in the vine bear much fruit (John 15:5). God is glorified when we bear fruit (John 15:8) and looking ahead in John 15:6 we have been appointed to bear fruit.
God is the master gardener and He prunes us by making each cut count so we will bear more fruit (Galatians 5:22-23). God trims away all things in our life that would block the sunlight and air (the Word and the Spirit) from getting to the branch, so the fruit becomes more visible. Pruning is painful and something we wouldn't choose on our own.
"It is the Word that prunes the Christian. It is the truth that purges him. The Scripture made living and powerful by the Holy Spirit eventually and effectively cleanses the Christian."

~ Charles Spurgeon
The only way a grapevine can produce quality grapes is by careful pruning by a vinedresser who loves and cares well for the plants. Our Father is the Vinedresser who always does what is best for the branches, he tends us, sends us spiritual nutrition, prunes and cuts off whatever is hindering us from bearing more fruit.
What Does it Mean to Abide?
Abide means to be held, kept continually and to dwell, remain, be present. So how do we do this? How do we abide and dwell, live with and make our home with Christ? I love this definition below:
"Abiding involves trusting, obeying, finding all we need in the Vine, not detaching ourselves when things get difficult and becoming more and more in our experience what we already are declared to be in Christ. We're believing the truths of Scripture and allowing the Holy Spirit to bring about the fruit of those truths in our lives.
Christ abides in us when His Word abides in us! The Word — the words that Jesus spoke and all the rest of God's Word — is essential to our abiding in Christ. We remain and rest in Him because we believe what God has said, and what He has said through His Son, the "Word made flesh."
God's Word must take root in our hearts if Christ is going to abide in us. The Word must abide in us if it is going to bear the fruit of trust and obedience, and the character of Christ — the fruit of the Spirit — in our lives." ~ Pam Forster, Doorposts Blog
[clickToTweet tweet="God's Word must take root in our hearts if Christ is going to abide in us. ~ Pam Forster" quote="God's Word must take root in our hearts if Christ is going to abide in us. ~ Pam Forster"]
The secret of fruit-bearing can be summed up in one word, obedience (John 15:10). There is no other way to be a fruit bearer or happy in Jesus and the song Trust and Obey come into my mind at this moment. Why obey God? Because it is the place where true life and union with Him is found.
[clickToTweet tweet="The secret of fruit-bearing can be summed up in one word, obedience (John 15:10)" quote="The secret of fruit-bearing can be summed up in one word, obedience (John 15:10)"]
That Your Joy May Be Complete:
The word joy in John 15:11 means cheerfulness, calm delight, and gladness. The joy Jesus shares with us as His followers is the fullness of joy He experienced when He sat down at the right hand of the Father and His glory was restored. Jesus promises us that His joy will spread through our lives. Jesus was a "man of sorrows, acquainted with grief" (Isaiah 53:3) and we will never experience pain beyond what He did but we will have trials and suffering in this life. The mark of a true Christian is one of joy that is manifested apart from their circumstances. We can truly rejoice in the Lord always (Philippians 4:4).
Though you have not seen him, you love him. Though you do not now see him, you believe in him and rejoice with joy that is inexpressible and filled with glory,

~ 1 Peter 1:8
[clickToTweet tweet="The mark of a true Christian is one of joy that is manifested apart from their circumstances. " quote="The mark of a true Christian is one of joy that is manifested apart from their circumstances. "]
"To abide in Christ means to keep up a habit of constant close communion with Him–to be always leaning on Him, resting on Him, pouring out our hearts to Him, and using Him as our Fountain of life and strength, as our chief Companion and best Friend. To have His words abiding in us, is to keep His sayings and precepts continually before our memories and minds, and to make them the guide of our actions and the rule of our daily conduct and behavior."

~ J. C. Ryle
Related Resources:
Doorposts Blog Study on Thirty Some Days in John 15
Inductive Bible Study & A Walk Through Ephesians
SaveSave
SaveSave
SaveSave
SaveSave
SaveSave
SaveSave