What Does it Mean to Deny Ourselves?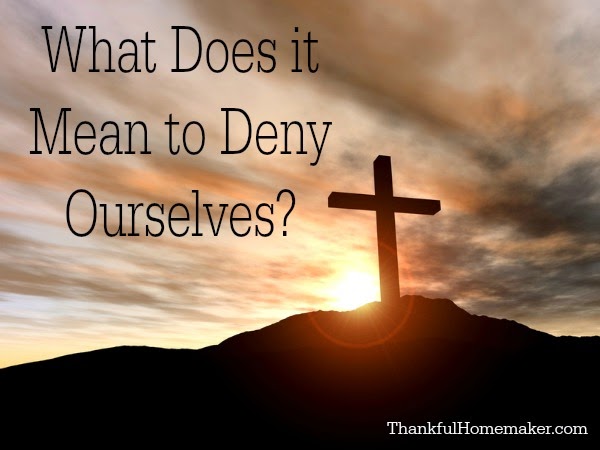 "After Jesus had announced the cross to his disciples, had been rebuked by Peter, and had rebuked him in turn, Mark tells us:
And he called to him the multitude with his disciples, and said to them, "If any man would come after me, let him deny himself and take up his cross and follow me." (Mark 8:34 RSV)
This is our Lord's outline of the process of discipleship. Here, in his own words, we look at what it means to be a disciple. The very fact that our Lord called the multitudes together with the disciples has raised questions in people's minds Many have wondered if this indicates that he was seeking to make disciples, i.e., evangelizing; or was he simply telling his own disciples what it will mean to live as disciples? In other words it raises the question that many ask: Can you be a Christian and not be a disciple? — Is discipleship a second stage of Christianity? — Are there many Christians, but only a relatively few disciples? — Can you be a Christian and not be a disciple? This is a very important question, and one our Lord himself will answer for us as we go on in our study.
Let us focus our attention now on these simple but very crucial words of Jesus, whereby he gives us the process of discipleship. There are three steps, he says: First, "If any man [anyone] would come after me, let him deny himself…" Notice that he does not say, "Let him hate himself." He is not asking us to deny our basic humanity, our personhood. If you take it that way, you have missed the point. And he is not telling us that we are to abandon ourselves We cannot get outside of ourselves in any way. So we must understand what he does mean by this phrase, "deny himself," which is the first step of discipleship.
The word "deny" means to "disavow any connection with something, to state that you are not connected in any way with whatever is in view." Interestingly enough, it is the very word used to refer to Peter's denial of Jesus a little later on. As he was standing in the courtyard of the high priest, warming himself at a fire, a little maiden asked him, "Do you know this man?" (Mark 14:66-72). Peter denied that he had any connection with Jesus, said he did not know him, and affirmed his disavowal with oaths and curses. Thus he denied his Lord. This is exactly the word Jesus chooses when he tells us that, if we are going to come after him, we must first deny ourselves.
It is important also to understand that he does not mean what we usually mean by "self-denial." By this we usually mean that we are giving up something. Many people feel it is only right to deny themselves something during Lent, to give up various bad habits, like wearing overshoes in bed. But Jesus is not talking about this kind of "self-denial." He is never concerned about what we do so much as with what we are. Therefore he is not talking about giving up luxuries, or even necessities, but about denying self, which is entirely different.
Denying self means that we repudiate our natural feelings about ourselves, i.e., our right to ourselves, our right to run our own lives. We are to deny that we own ourselves. We do not have the final right to decide what we are going to do, or where we are going to go. When it is stated in those terms, people sense immediately that Jesus is saying something very fundamental. It strikes right at the heart of our very existence, because the one thing that we, as human beings, value and covet and protect above anything else is the right to make ultimate decisions for ourselves. We refuse to be under anything or anybody, but reserve the right to make the final decisions of our lives. This is what Jesus is talking about. He is not talking about giving up this or that, but about giving up our selves. Carved on the wall of the PBC auditorium is a verse taken from Paul's writings in First Corinthians, which says the same thing Jesus is saying: "You are not your own; you are bought with a price," (1 Corinthians 6:19b-20a). If you are going to follow Jesus, you no longer own yourself. He has ultimate rights; he has Lordship of your life. So you no longer belong to yourself; he must make those final decisions when the great issues of your life hang in the balance. This is what Jesus means by, "If anyone would come after me, let him deny himself" — deny our self-trust, deny our self-sufficiency, deny our feeling that we are able to handle life by ourselves and run everything to suit ourselves."
(All emphasis mine above)
Thousands are deceived into supposing that they have "accepted Christ" as their "personal Saviour," who have not first received Him as their Lord. The Son of God did not come here to save His people in their sin, but "from their sins" (Matt. 1:21). To he saved from sins, is to be saved from ignoring and despising the authority of God, it is to abandon the course of self-will and self-pleasing, it is to "forsake our way" (Isa. 55:7). It is to surrender to God's authority, to yield to His dominion, to give ourselves over to be ruled by Him.~ A. W. Pink