Getting Controversial – Vaccines, Real Food, Choices with Your Children and The Gospel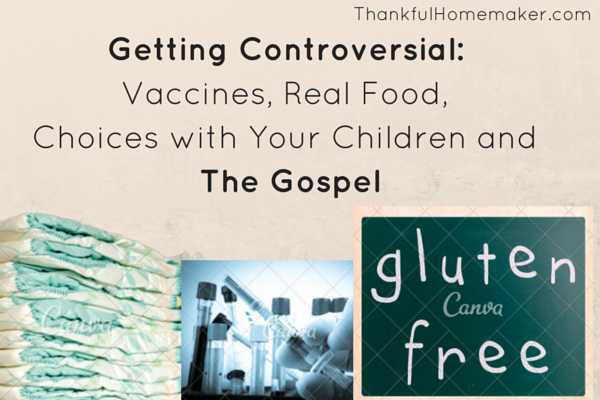 I'm not normally a controversial blogger but I'm stepping out for a moment and getting bold—sorta.
I'm writing to express my frustration that I see so many times in our Christian circles of mommies who get all fired up over whether to vaccinate or not vaccinate. Debates over how we should be feeding our families. The cloth versus paper diaper debate is another one and how about sharing online that you actually ate a meal at McDonald's —horrid—just horrid!
What boggles my mind is how much time some people can spend reading and researching and debating these topics. They know more than a Harvard Graduate. I have seen debates online when a blogger posts a controversial article and I see the ugly prideful side that comes out to defend someone's opinion (note I said opinion there).
My issue is not so much with the choices you're making for your family. I hold some strong opinions myself on some of the above areas and do spend a fair share of time reading and researching areas that interest me (just spend some time on my blog). My issue comes in when I see these women who can debate and share their opinions having such a wealth of knowledge but they can't seem to find time to study God's Word.
There is nothing wrong with reading up on vaccines and healthy eating or whatever your interest may be.

My concern as a Christian is we are more passionate about food than we are about Jesus.
It is amazing how easy it is to share with someone your opinion on vaccinations but how difficult it is to share with someone the life saving news of the Gospel. Ouch! This should concern us.
Spending time in God's Word would also be a value when we do get online to share our opinions (note I said opinions again) as our response would be grace filled and we would remember that these things are not law but personal preferences we have chosen for our families. State your opinion but do it with grace and kindness. Don't judge others for areas that are a personal preference. Don't think of yourself as better than others for your choices. (Romans 12:3)
Our lives need a proper balance as Christians. What is most important to us? What do we want to be known for? I pray it would be our love for Jesus and the proclamation of the Gospel. May the Lord continue to grow us in His grace and knowledge.
If sinners will be damned, at least let them leap to hell over our bodies. And if they will perish, let them perish with our arms around their knees, imploring them to stay. If hell must be filled, at least let it be filled with the teeth of our exertions, and let not one go there unwarned and unprayed for.~ C. H. Spurgeon
For I am not ashamed of the gospel, for it is the power of God for salvation to everyone who believes, to the Jew first and also to the Greek.
Romans 1:16