9 Questions to Examine Your Heart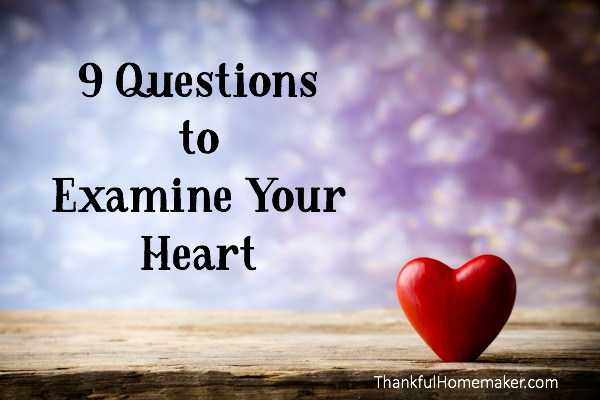 14 What good is it, my brothers, if someone says he has faith but does not have works? Can that faith save him? 15 If a brother or sister is poorly clothed and lacking in daily food, 16 and one of you says to them, "Go in peace, be warmed and filled," without giving them the things needed for the body, what good is that? 17 So also faith by itself, if it does not have works, is dead.

18 But someone will say, "You have faith and I have works." Show me your faith apart from your works, and I will show you my faith by my works. 19 You believe that God is one; you do well. Even the demons believe—and shudder! 20 Do you want to be shown, you foolish person, that faith apart from works is useless? 21 Was not Abraham our father justified by works when he offered up his son Isaac on the altar? 22 You see that faith was active along with his works, and faith was completed by his works; 23 and the Scripture was fulfilled that says, "Abraham believed God, and it was counted to him as righteousness"—and he was called a friend of God. 24 You see that a person is justified by works and not by faith alone. 25 And in the same way was not also Rahab the prostitute justified by works when she received the messengers and sent them out by another way? 26 For as the body apart from the spirit is dead, so also faith apart from works is dead.

James 2:14-26
As professing Christians our walk should measure up to our talk. Our women's bible study group is working through the book of James and chapter two reminds us that if our faith does not result in a changed life it is a false profession.
"It is faith alone that justifies, but faith that justifies can never be alone."

~ John Calvin
In the above text of James he reminds us three times (James 2:17, 20,26) that "faith without works is dead". James is not contradicting Paul where we know as believers that we are saved by grace not by our works (Ephesians 2:8-9) but when we trusted in Christ we were "created in Christ Jesus for good works, which God prepared beforehand, that we should walk in them" (Ephesians 2:10).
When God opened up our eyes and heart to the Gospel and granted us repentance and faith we were at that moment justified. Justification is the act where God declares the sinner righteous based on Christ's finished work on the cross. It is nothing we do but what God does for us as the sinner when we trust Christ. Justification is a one time event and results in a changed life that obeys God's will and is demonstrated or lived out by our works.
As we mature in our walk with the Lord we will continue to grow in obedience to the Word of God. Our faith is not dead but alive and the doctrines we know and love will be lived out in our everyday lives. True saving faith changes us and is evident by our works.
Below are nine questions to help us examine our hearts to make sure we possess true saving faith. There is nothing more important in life than your eternal destiny so take the time to ponder, pray and search your heart as you read though each of the questions.
Examine yourselves, to see whether you are in the faith. Test yourselves. Or do you not realize this about yourselves, that Jesus Christ is in you?—unless indeed you fail to meet the test!

~ 2 Corinthians 13:5
9 Questions to Examine Our Hearts
1. Was there a time when I honestly realized I was a sinner and admitted this to myself and God?
2. Was there a time when my heart stirred me to flee from the wrath to come? Have I ever seriously been alarmed over my sins?
3. Do I truly understand the gospel, that I have sinned against a perfect and Holy God? That I have broken all of the Ten Commandments? I have lied, stolen, lusted, blasphemed the name of God, coveted, not honored my parents. Do I believe that Christ died for my sins and rose again? Do I understand and confess and repent of my sins and realize that I cannot save myself?
4. Did I sincerely repent of my sins and turn from them? Or do I secretly love sin and want to enjoy it?
5. Have I trusted in Christ and Christ alone for my salvation? Do I enjoy a living relationship with Him through the Word and in the Spirit?
6. Has there been a change in m life? Do I maintain good works, or are my works occasional and weak? Do I seek to grow in the things of the Lord? Can others tell that I have been with Jesus?
7. Do I have a desire to share Christ with others? Or am I ashamed of Him?
8. Do I enjoy the fellowship of God's people? Is worship a delight to me?
9. Am I ready for the Lord's return? Or will I be ashamed when He comes for me?
~ Questions adapted from Be Mature by Warren Wiersbe
Search me, O God, and know my heart!
Try me and know my thoughts!
And see if there be any grievous way in me,
and lead me in the way everlasting!

Psalm 139:23-24
Please be reminded we are all at different stages in our walk with the Lord. There are degrees of sanctification but it is a good thing to examine our hearts and take a true spiritual inventory of our standing before God.
"Although we are sure that men are not saved for the sake of their works, yet we are equally sure that no man will be saved without them."

~ Charles Spurgeon
Related Links
What is the Gospel?