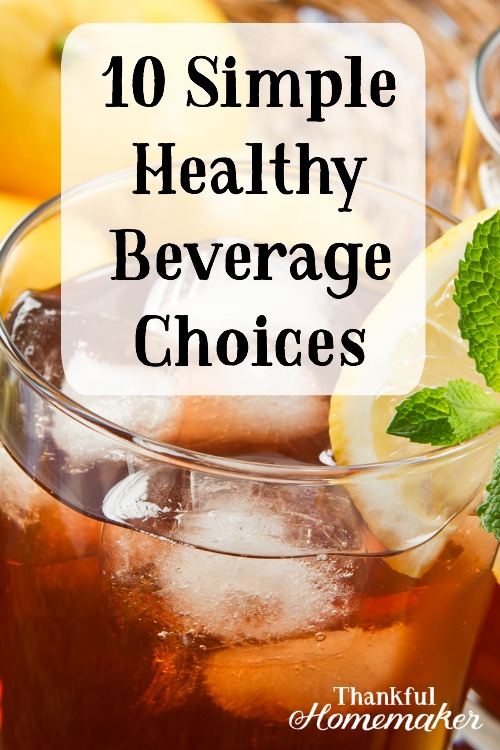 Choosing to eat real food can make you feel like your only choice for a healthy beverage is water.  I get bored with just water and appreciate having beverage options that are good for me and taste great too.
We try to eliminate soda from home but sometimes we splurge on special occasions.  I do try to purchase soda without high fructose corn syrup when we do splurge.  Still not a healthy option but a better option.( I do enjoy Zevia Soda which is sweetened with stevia and it's been a welcome "soda" option here – I love the cream soda. I purchase them at my local grocer and my Meijer's carries them too.)
I like to keep things simple, so my beverage list below is very basic but offers some good variety.  Below my personal family favorites, I've linked to some great recipes for other beverages we have enjoyed over the years.  You can visit my beverage board on Pinterest for more ideas too.
Most of my beverages are unsweetened, but if we do use a sweetener, it is usually raw honey.  Stevia is an option, and Deep Roots at Home has a great recipe to make your own stevia to sweeten your beverages.  I like to buy dried Stevia herb from Bulk Herb Store and just add a bit to my herbal beverages when I'm brewing them.  A little bit goes a long way – the dried herb is really sweet.
10 Simple Healthy Beverage Options:
1.  Water – Use good filtered water.  We have a reverse osmosis system as we are on a well where we live.  The Berkey Water filter is a great option, and you keep all those good minerals in it too.
2.  Water flavored with fruit – A simple squeeze or slices of lemon or other citrus slices in your water pitcher give it a sweet flavor without all the sugar.  Berries or cucumbers are a great option too.
3.  Red Raspberry Iced Tea – This has been a staple here for many years and a favorite (I'm sipping on it now while writing this post). Below is the easy recipe and you can substitute other herbals mixes in place of the Mama's Red Raspberry Brew.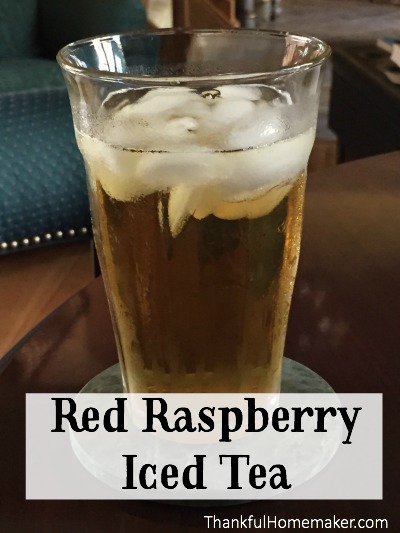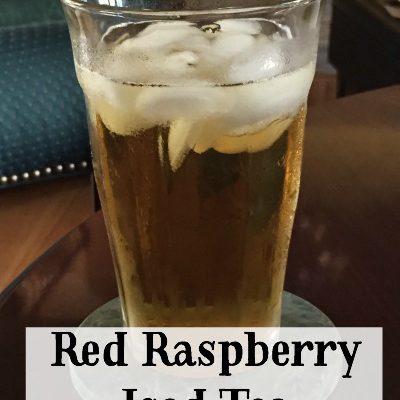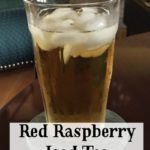 Red Raspberry Iced Tea
A simple way to make refreshing, healthy, red raspberry iced tea using your coffee maker. This has been a staple here for many years and a favorite beverage any time of year. Below is the easy recipe, and you can substitute other herbals mixes in place of the Mama's Red Raspberry Brew. I purchase my herbs from Bulk Herb Store.

Total Time
1
hour
5
minutes
Ingredients
1/3

cup

Mama's Red Raspberry Brew

- Substitute any herbal tea blend here

1-2

Tbsp

Stevia - Cut Herb

- Adjust sweetness level to your taste
Instructions
Place dried herbs in your empty coffee pot.

Add water to brew a full pot of just water through the pot.

Let the water and herbs sit for at least an hour.

Strain herbs into a 2-quart pitcher and add more ice and water to fill to the top.
4.  Iced or Hot Tea – Brew a cup of hot tea of your choice and pour over a cup of ice.  Add a natural sweetener like honey.  Traditional Medicinals from Beeyoutiful are some of my favorite herbal tea bags to have on hand otherwise I use or make my mixes from the Bulk Herb Store.  (See Favorite Tea Mixes)

5.  Coffee – I love a good cup of coffee in the morning.  I do usually just stick with one cup a day and switch to herbal tea if I'm feeling the need to have a warm beverage in hand.
7.  Milk – There are many mixed views on this one.  We are not big milk drinkers, but I love a glass of milk on occasion.  Raw milk is illegal here in Wisconsin, so we purchase organic milk or at least milk that is hormone free.  My husband likes to add Chocolate Stevia to his milk on occasion.
8.  Juice Spritzers – Mixing sparkling water with a bit of fruit juice is so refreshing in the summertime.
9.  Hot or Iced Chai – Black Spiced Chai Tea Mix from Bulk Herb Store is great hot or over ice.  Tazo makes a great chai too, and it's much easier to mix with milk and heat or pour over ice.
10 Hot Chocolate – 3 cups milk to 1 cup chocolate chips of your choice.  Easy to make in your Vitamix or other blender or on the stovetop too.  If you're making it in your Vitamix just put the two ingredients in and set it on the soup mode.
More Favorite Healthy Beverage Options:
Better than Kool-Aid Recipe – (this one is so refreshing and a summertime favorite here)
Crazy Coffee – (from Pioneer Woman – use unsalted cultured butter if you can)
Iced Herbal Tea Using Fresh Herbs
Cream Soda Good Girl Moonshine
(There are many more drink options in their Trim Healthy Mama's Trim Healthy Table Cookbook & Trim Healthy Mama Cookbook)
What about you?  Do you have favorite healthy beverage options your family loves? Please share with us in the comments.
SaveSave
SaveSave
SaveSave