Book Review – God's Great Plan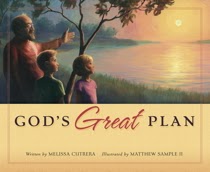 Children's books are a weakness for me and especially ones that convey biblical truths with a simple and clear message. God's Great Plan by Melissa Cutrera does both of the above beautifully. Having two small grandchildren I am always thankful to have resources that are captivating in the story and illustration and again God's Great Plan accomplishes both of these.
The story is set to a rhyme and it makes it easy to recite the main themes of the gospel just after reading it through several times. The setting is a grandfather telling his grandchildren the story of redemption by starting in the Garden of Eden and taking us all the way through Jesus' birth, death and resurrection.
"Punished by God for the bad things we do,
He died in our place so that we could be new."
The book leads to deeper discussion with your children depending on their ages and is a wonderful way to get into a conversation about the gospel. It is appropriate for many ages and it captures the attention of my two year old granddaughter along with all the adults who happen to be in the room listening along too.
This is a keepsake book and I was thankful for the opportunity to review it from Shepherd Press and Cross Focused Reviews.