Simple & Healthy Lunch Ideas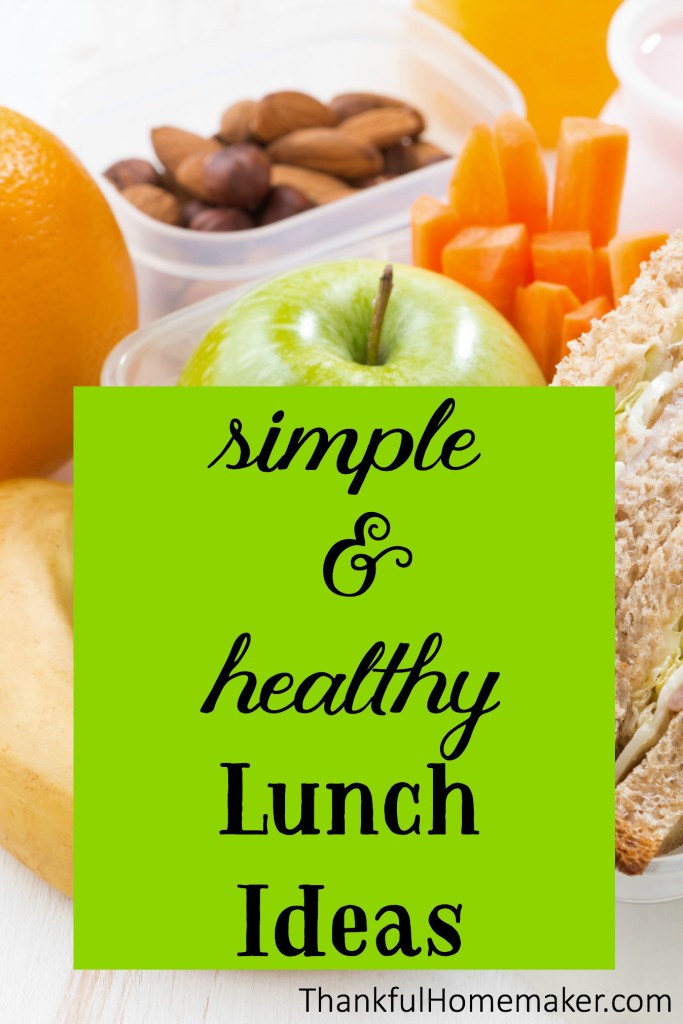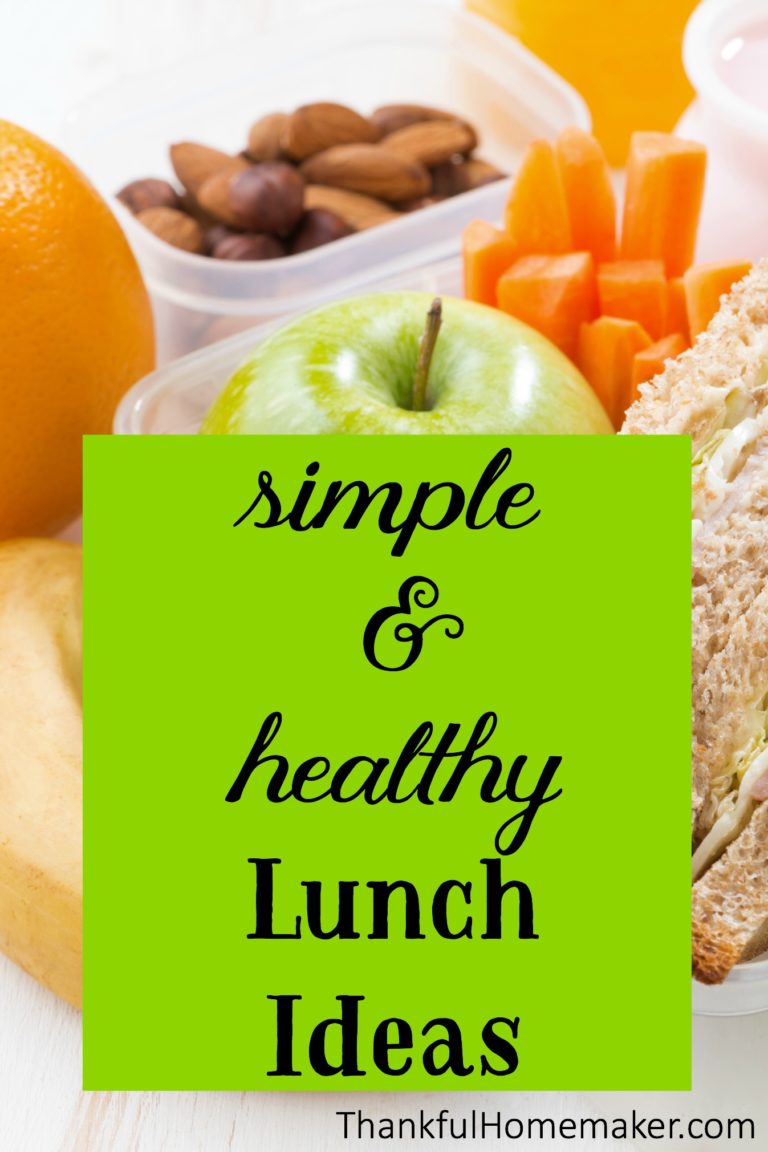 Menu planning has become so much easier since I put together favorite meal lists. Dinner planning is always fun to try new recipes but Breakfast and Lunch is where I seem to find myself in a rut. If you read my Simple & Healthy Breakfast post you'll already know I like healthy food but I want it to be easy to prepare. Lunch is no different for me.
My husband and son work together from home and my father-in-law lives with us too so we are home most days for all three meals together. Feeding four adults doesn't always work too well for leftovers unless I plan ahead and make a bit more for dinner which I do quite frequently. We drink water at most meals and I always serve it in a pitcher on the table (I find we drink more of it that way). We love leftovers here!
Sometimes leftovers don't work out and it is nice to have a bit of variety. These meals are designed for lunches at home. (If you are packing lunches check out 100 Days of Real Food for some good ideas)
Again, we are not dealing with food allergies and we try to eat a whole foods diet. I use sprouted breads or make homemade sprouted breads using my Bread Machine. Some of my most used kitchen appliances are my Rice Cooker, Vitamix and Electric Griddle. I am not a homemade tortilla maker but purchase sprouted tortillas.
I usually grocery shop on Monday's and will cut up veggies to use throughout the week with our lunches. Usually this consists of, peppers, grape tomatoes, carrots, celery, radishes and zucchini. We keep fresh fruit on hand and apples are a side with lunch quite often. Having extra soup in the freezer and cooking some hard boiled eggs makes lunch quick and easy to throw together. I purchase nuts (almonds, walnuts and pecans) from Costco and soak and roast them in the dehydrator for a quick healthy lunch accompaniment or a snack anytime.
Again, this list is to help you put together your own list of lunch favorites so your menu planning is quick and easy each week. Planning ahead saves you time and money. Some of our favorites may not be yours but hopefully it will get you thinking so you're not saying day after day, "Whats for lunch?"
Our Basic Family Lunch List:
Leftovers – Freeze them for future use to always have a quick lunch on hand.
Leftover Soup thawed from the freezer or soup recipes for the Vitamix
Egg/Tuna or Chicken Salad Sandwiches or Wraps – I have a simple recipe for various salads by just mixing it with mayonnaise adding a spoonful or two of sour cream and seasoning of your choice.
Snack Lunch – Hard boiled eggs, nuts, cut up veggies, fruit, crackers and a good piece of dark chocolate for that sweet tooth.
Fresh Salad – I buy those big tubs of greens at Costco so a salad is easy to throw together.
Peanut Butter & Jelly with cut up veggies and apple slices.
Grilled Cheese Sandwiches with tomato soup (or leftover soup)
Grilled Ham & Cheese Sandwiches
Peanut Butter and Banana Wrap
Eggs, Salsa, Black Bean & Cheese Wraps with cut up fruit – Scramble eggs and add black beans, salsa and cheese and place in a tortilla
Chicken, Cheese and Ranch Wraps – Leftover cut up chicken in tortillas with ranch dressing and cheese. Warm on stovetop or microwave.
Pizza on Tortillas or Pita Bread
Fried Rice – Keep leftover rice on hand and toss with butter, eggs, and frozen veggies you have on hand (we like corn, carrots or peas)
Tuna Melts – Make Tuna Salad and put on a piece of bread, top with cheese and toast in the oven.
Quesadillas – Fill two tortillas with your topping of choice and warm in a frying pan on stovetop or on an electric griddle. Ham slices, baby spinach and cheese is a tasty combination.
What are some of your lunch favorites? Please share with us in the comments!



Related Posts:
Whats' for Dinner
Homemaking 101 Series: Menu Planning
Menu Planning Basics with Real Foods
Simple & Healthy Breakfast Ideas
7 Simple Steps to Making the Most of Family Dinners