Can You Share the Gospel?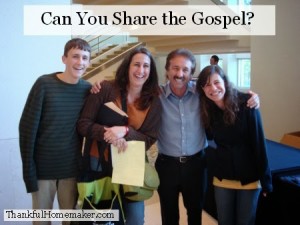 Your friend has three minutes to live can you effectively and clearly share the Gospel? You meet someone at a store or park and only have a few minutes to chat with them – can you share the Gospel? How many of us get tongue-tied when it comes to actually sharing the Gospel? It is easy to talk about church, what the Lord is doing in our lives and general comments about Jesus – but what about sharing the important reason why Jesus came to this earth to live, die and rise again.

It is not part of our natural conversation to tell someone they are not good and they are destined for hell. It brings us out of our comfort zone. This post today is for me as well as my readers in helping to spur us on to get better equipped to share our faith with the lost family, friends, and acquaintances around us and that the Lord has put in our sphere of influence.


What is the Gospel?
as it is written: "None is righteous, no, not one; no one understands; no one seeks for God.
Romans 3:10-11
The Gospel is the good news of Jesus Christ. God is holy and perfect and just and we are not. The Bible tells us there is no one that is good, no not one.
for all have sinned and fall short of the glory of God,
Romans 3:23
The Bible says we are

all sinners – We have all offended a perfect and Holy God. We have all broken His law – the Ten Commandments. We have lied (Exodus 20:16), stolen (Exodus 20:7), looked with lust which Jesus calls adultery

(Exodus 20:14, Matthew 5:38), taken the Lord's name in vain (Exodus 20:7) and dishonored our parents (

Exodus 20:12) – this is only looking at five of the commandments.
The Bible says because of our sin we are separated from God (Isaiah 59:2), dead in our sins (Romans 6:23), cannot please God (Romans 3:10-11) and will suffer damnation in hell
(2 Thessalonians 1:9)
And just as it is appointed for man to die once, and after that comes judgment,
Hebrews 9:27
For the wages of sin is death, but the free gift of God is eternal life in Christ Jesus our Lord.
Romans 6:23
When we die we are going to stand before this perfect, holy God and be judged for our sins.
We are all guilty of sin before a holy God.
For I delivered to you as of first importance what I also received: that Christ died for our sins in accordance with the Scriptures, that he was buried, that he was raised on the third day in accordance with the Scriptures,
The good news is that Jesus came to this earth to live a life of perfect obedience to God. He lived the perfect life that I couldn't and not only did He live a perfect life but he offered His life as a sacrifice in my place to satisfy the justice and righteousness demanded by a holy and perfect God. But God didn't leave Him there – Jesus was raised from the dead for our justification. My sin destined me to hell but because of Christ and His righteousness, I can stand before a Holy God.
8 For by grace you have been saved through faith. And this is not your own doing; it is the gift of God, 9 not a result of works, so that no one may boast.
Ephesians 2:8-9
So the question is – What must I do to be saved?

The Bible is clear that I am not saved by my works but by my faith in who Jesus Christ is and in Christ alone. I must repent (turn from) of my sins and put my faith and trust in Jesus Christ.
9 because, if you confess with your mouth that Jesus is Lord and believe in your heart that God raised him from the dead, you will be saved. 10 For with the heart one believes and is justified, and with the mouth one confesses and is saved. 11 For the Scripture says, "Everyone who believes in him will not be put to shame." 12 For there is no distinction between Jew and Greek; for the same Lord is Lord of all, bestowing his riches on all who call on him. 13 For "everyone who calls on the name of the Lord will be saved."
Romans 10:9-13
Some Helpful Links:
There are several ministries that have helped to equip our family in faithfully, effectively and clearly sharing the Gospel with others.
My prayer for you today is that you will ask the Lord to give you a heart for the unsaved. I encourage you to listen to the two messages below when you have some time. They are great for the whole family to watch:
"Go serve your King." ~Todd Friel