Great Way to Start the New Year – Get Organized, Mentored in Healthy Living & Encouraged to Simplify!
BundleoftheWeek.com is back with all new bundles for 2014!
Make this year your best year yet with this collection of ebooks designed to encourage and equip you to live intentionally. With daily prompts to help you get organized and set goals plus encouragement to simplify, unplug and go green, this bundle is the perfect way to kick off the New Year! This week only, get all 5 resources for 75% off.
And now you can choose between PDF or Kindle versions of the ebooks in each bundle. (The PDF version of the planners and worksheets will be included in both sets.) Select your format at checkout!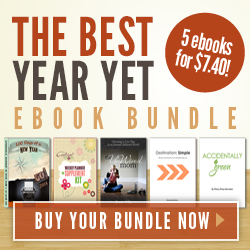 ~~~~~~~~~~~~~~~~~~~~~

Another great start to your New Year!!
Are you looking for some help in healthier living? Join in on the Coffee Table Conversation Online Conference for only $67 and get twelve weeks of mentoring (that's only $5.58 per topic!). You

get access to listen to each session

live stream or you can download to

listen

to

at a time that is convenient with your schedule (each session is recorded).
Get more information here and purchase your ticket to the conference here.
Eating slow in a fast food world

Allergen-free cooking

Fitting fitness into a busy schedule

Real food for beginners

Intro to alternative and herbal remedies

Natural pregnancy & birth

Fighting fatigue & boosting energy

Using essential oils

Greening your household

Natural baby care

Gearing up for the gardening season

Eating well on a tight budget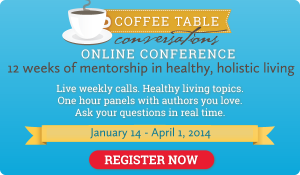 Additional links for more information on the conference:

Session Information
Speakers
Order Form
FAQ
Hope to "see" you there!
Note to those who purchased a Healthy Living Bundle –
Purchasers of 2013 Ultimate Healthy Living will have full access to the entire conference without purchasing a separate ticket, but they must still be among the first 1,000 to register to gain admission to the live event.


(Please note there are affiliate links in this post – see my full disclosure policy.)