Homemade Chicken Broth in a Crock Pot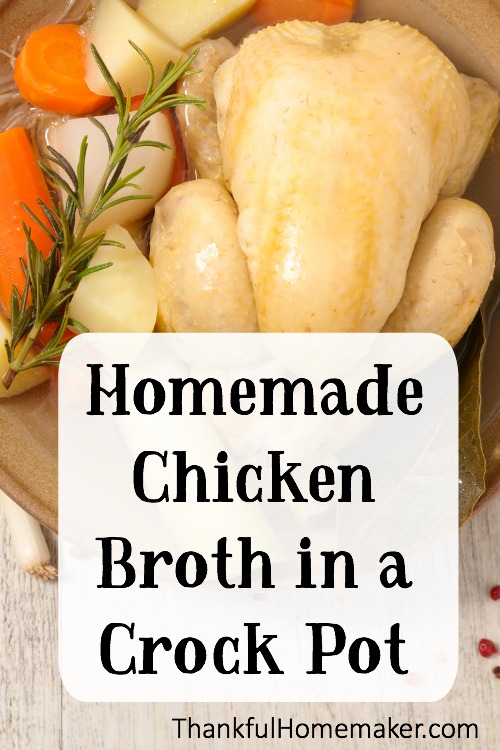 Making homemade broth was not something we did in my family. I must have been born in the generation when Swanson's canned broth was a new item on the shelf. My first introduction to making my own broth and the benefits of it was through a favorite cookbook called Nourishing Traditions by Sally Fallon. Homemade broth is a rich source of electrolytes, minerals, and gelatin which supply our bodies with important nutrients we need and help to improve our digestion. Broth is a weekly part of our family's diet during the cold and flu season. Please note many times I use a store-bought rotisserie chicken and just begin at step 3 below.

Here are some quick and easy steps to make chicken broth in your crock pot:

1. Roast the chicken in your crockpot. Place the whole, rinsed and cleaned chicken into a greased crock pot. You do not need to add any water but just whatever seasonings you like. Put the lid on, turn it on low and walk away for about 7 hours.

2. Take your chicken out – do not remove the drippings from the crockpot – and clean off all the meat from the bones.

3. Place all the bones back into the crockpot with the drippings.

4. Add 1 Tablespoon Apple Cider Vinegar (see quote at bottom of post) and some vegetable scraps (carrots, celery & onion)

5. Add 16 cups good filtered water to the crockpot. (or as much water as your crock pot will hold – I use a 4-quart cooker)

6. Put the lid on and turn the crockpot on low.

7. Let cook for 24-48 hours – the longer the better.


I like to put a chicken in the crockpot on Sunday morning before we leave for church to have for dinner and make Chicken Noodle Soup from the broth on Tuesday. I leave my broth on for 48 hours. After dinner Sunday, I clean the chicken, place the bones in the crockpot and leave it on low until Tuesday afternoon.

8. Strain your veggies and bones and you have homemade chicken broth to make soup with immediately or freeze and use in your favorite recipes.

Properly prepared, meat stocks are extremely nutritious, containing the minerals of bone, cartilage, marrow, and vegetables as electrolytes, a form that is easy to assimilate. Acidic wine or vinegar added during cooking helps to draw minerals, particularly calcium, magnesium, and potassium, into the broth. Sally Fallon – Nourishing Traditions
SaveSave
SaveSave
SaveSave
SaveSave