31 Days of Real Food, Gluten-Free Friendly, Dinner Plans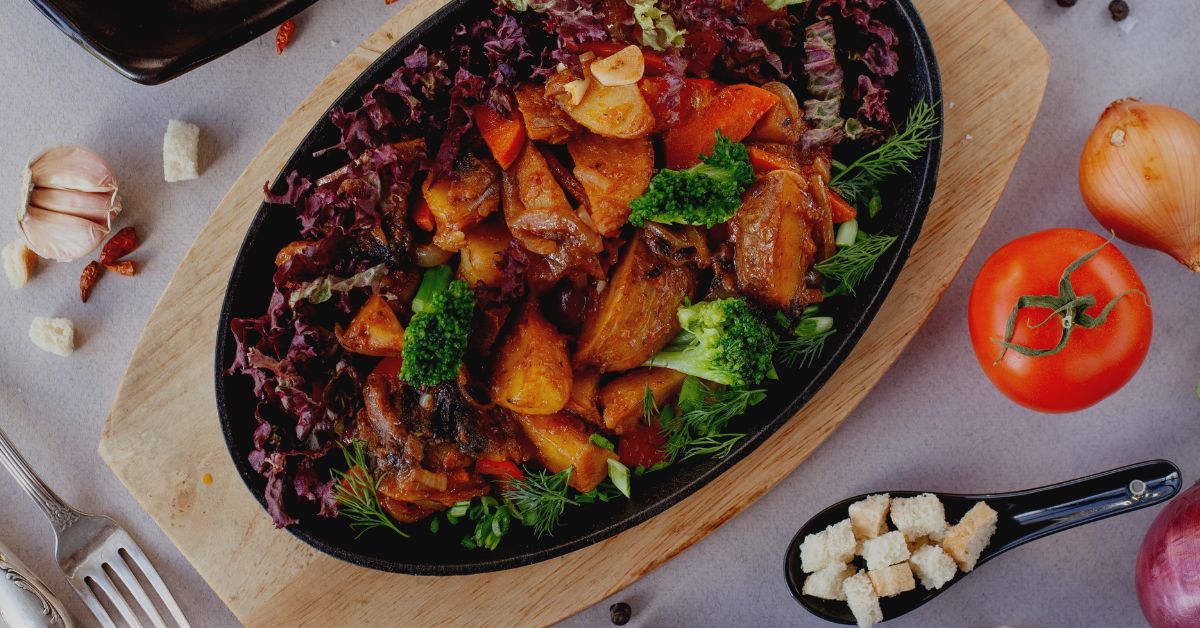 Well, never did I think I would be eating gluten-free. See, I really love bread. Listen, I don't just love bread––I really love a warm piece of freshly baked bread with butter. We're dealing with some health issues in our home (I would be the problem there) so it's just easier for the whole family to go gluten-free. Well, maybe easier for me since I'm the cook ;).
I enjoy meal planning and this has given my meal planning a new twist. I have been trying to get creative so I don't get in a rut and this post is a help to me in my planning. I did start out slow and bought some gluten-free mixes and helps until I could switch my pantry over. I am switched over for the most part and planning meals has become a new adventure.
To simplify your meal planning these will work whether or not you are gluten-free. You can make simple substitutions to adjust to your family's needs. Pinterest has become a favorite meal planning tool as all my favorite gluten-free dinner recipes are on one board.
We don't do a lot of gluten-free bread with meals and I try to make them a healthier whole food choice by using recipes that are based with almond or coconut flour and whole-food ingredients. Many of my baked good recipes are from Kelly at Nourishing Home's awesome grain-free baking book – Every Day Grain-Free Baking. It has become well used and several of her bread, muffins and pizza crust recipes have become staples here. If you need to eat grain/gluten-free I highly recommend it and it will be used almost every day.
To simplify your daily meal planning here are
31 Days of Gluten-Free, Real Food Meal Plans:
Day 1:
Salmon Cakes, Sweet Potato Fries and a Salad – (I use gluten-free panko bread crumbs and our favorite dipping sauce for sweet potato fries and the salmon cakes are: 1/2 cup Mayonnaise, 1/2 cup Ketchup, and 1 t. Sriracha sauce mixed together – it is soooo good!)
Day 2:
Crock Pot Chicken Fajitas over brown rice, & sliced pineapple
Day 3:
Crock Pot Chicken, baked sweet potatoes, side salad – (Make broth in your Crock-Pot for soup the next day)
Day 4:
Mexican Chicken & Rice Casserole and a Side Salad – (cook once and eat twice with this one – just note it always seems like I have to cook it for an hour before adding the cheese. This one can be dairy-free by eliminating the cheese.)
Day 5:
Spinach, Mushroom & Feta Crustless Quiche, sliced fruit and/or a Berry Smoothie (use a gluten-free protein source).
Day 6:
Baked Parmesan Tilapia, steamed veggies of choice, fresh berries
Day 7:
Simple & Tasty Chili served with gluten-free tortilla chips and lots of cheese and sour cream on the side.
Day 8:
Rice, Beans & Salsa Bowls served with gluten-free chips and a side salad
Day 9:
Homemade Hamburger Helper (make it gluten-free using rice noodles) and a salad
Day 10:
P. F. Chang Lettuce Wraps, Simple Fried Rice and sliced pineapple – (make sure to use a gluten-free soy sauce)

Day 11:
Balsamic Slow Cooker Pot Roast with carrots, potatoes, and onions, and salad. – (Put cut-up vegetables in a greased crockpot and set roast on top of vegetables. Top roast with a bit of olive oil, crushed garlic, balsamic vinegar and season with salt & pepper. Slow cook on low for 8-10 hours).

Day 12:
Pizza Soup and salad
Day 13:
Hamburgers on the grill with all the toppings, oven-roasted potatoes, sliced fruit – (either use gluten-free buns or no buns as an option. My favorite potatoes are to cut Yukon gold potatoes in half and rub them with olive oil, season and bake for 45-60 minutes in a 425-degree oven. Serve with butter and sour cream. Turkey burgers are a yummy option too.)

Day 14:
Simple Stir Fry with rice – (Marinate your meat of choice in a Teriyaki sauce for at least a couple of hours or overnight. Sauté your marinated stir fry meat of choice in either olive oil or coconut oil, remove from skillet. Add more oil to skillet and cut up veggies of choice, sauté until crisp-tender. Add fresh minced garlic and ginger. Diced pineapple is a good addition too. Add your meat back in and mix in teriyaki sauce. Simple teriyaki sauce is a mixture of 2 parts tamari sauce to 1 part brown sugar and a dash of orange juice. You may need to double or triple the recipe depending on the amount of meat and vegetables you have.)

Day 15:
Basic Frittata Recipe, salad and fresh fruit – (Sauté your vegetables of choice in an ovenproof skillet. In a separate bowl beat 12 eggs with 1/2 cup milk and season to taste. Spread the vegetables evenly in the skillet and pour the egg mixture over and cook until the eggs begin to set (about 2 minutes). Put the skillet in the oven at 400 degrees for about 15 minutes. Slice and serve!)

Day 16:
Bacon, Egg, Avocado and Tomato Salad, gluten-free crackers and fresh fruit.
Day 17:
Tacos with all the toppings on gluten-free corn tortillas, crockpot refried beans, guacamole, salsa, and tortilla chips. (Easy Guacamole recipe is to mix your fresh avocados with a bit of salsa and season with sea salt).

Day 18:
Fish Foil Packets, Salad, fresh fruit. (Cut pieces of foil to wrap your fish pieces in. Oil the bottom of each piece of foil and place one fish filet on top. Top each filet with a pat of butter, a bit of lemon juice and seasonings of choice. Add cut-up vegetables to each packet (peppers, mushrooms, zucchini, carrots, etc.). Seal the packets well and bake at 350 for 15-20 minutes depending on the filet).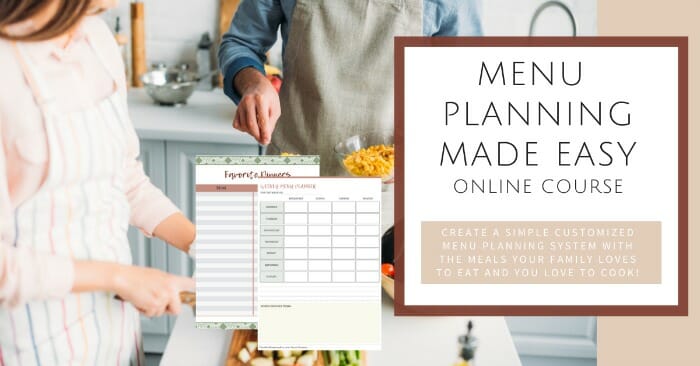 Day 19:
Creamy Tomato & Spinach Pasta (use rice penne pasta) and a side salad.
Day 20:
Breakfast for dinner: Fried eggs, bacon, gluten-free muffins & fresh fruit
Day 21:
Simple Chicken Breasts in a Crock Pot shredded over rice with steamed vegetables and a salad.
(Put frozen chicken breasts in a greased crockpot and top with salsa or BBQ sauce – add a bit of orange marmalade to the BBQ sauce too! Or teriyaki sauce from the above recipe in day 14. Cook on low for 8-10 hours if frozen. Shred and serve over rice. Have fun and get creative on this one.

Day 22:
Main Dish Salad and Gluten-Free Artisan Bread – (This bread is a treat and I use a store-bought gluten-free flour mix for the flours called for in the recipe for convenience. For the salad mix greens with cut-up vegetables, shredded cheese and add a protein like cut-up grilled chicken, diced eggs or cooked steak.)

Day 23:
Turkey (or chicken) Pot Pie with Gluten-Free Biscuits
Day 24:
Pizza Casserole and Salad. (Brown and season 1 lb ground meat and place in greased 2 qt casserole. Top with pizza toppings of choice and finish with shredded cheese. Bake at 350 degrees for 30 minutes or until toppings are hot and bubbly.)

Day 25:
Crock Pot Beef Stew, Gluten-Free Biscuits and Salad
Day 26:
The Ultimate Hash Recipe – (Some great combinations of ground beef and various shredded vegetables. Our family's favorite is the Beef Builder made with coconut oil and we always add an egg to our hash. We do like them with regular shredded potatoes too and I like to add fresh greens at the end, cheese, and fried eggs).
Day 27:
Easy Monterrey Chicken Bake Recipe, brown rice cooked in chicken broth and fresh orange slices.
Day 28:
Bangers and Mash – (I use regular homemade mashed potatoes instead of the creamy mashed cauliflower.)

Day 29:
Gluten-Free Pizza (fix it with your favorite toppings) and Salad – (this is not the optimal healthy pizza crust but it is pretty tasty and the closest I'll get to a regular pizza crust. My favorite healthy crust recipe is in Kelly's cookbook listed above.)

Day 30:
Slow Cooker Macaroni and Cheese (use rice macaroni), steamed broccoli and apple slices.
Day 31:
Chicken & Rice Soup, Garden Herb Biscuits, and Salad – (use your homemade chicken broth and leftover chicken for this recipe)


~~~~~~~~~~~~~~~~~~~~

Having a list of your family's favorite meals makes menu planning a snap. Here are some ideas for lunches and breakfasts.