Homeschooling: It's Never too Late to Start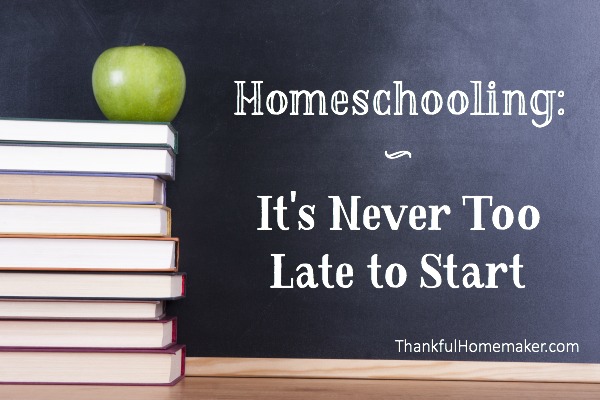 I am not a seasoned homeschooler. My hope today is to encourage you that you can begin homeschooling wherever you are at in the lives of your children.
My experience is homeschooling one child…and not until eighth grade. Just because you didn't begin in preschool or third grade doesn't mean you can't start right before they are going to enter or are already in high school.I have shared in a past
post
that we became Christians later in life. As non-believers, we hadn't even heard of homeschooling, and as new Christians, when we met our first homeschooling family
, we just couldn't believe you could do something like this.
We thought they were…well…
.crazy.
Shortly after we came to faith we pulled our kids out of public school and put them into a Christian school. We recognized fairly quickly that public school was not the place for our children as growing believers, but it took a while for us to recognize and the benefits of homeschooling.
Over the years we watched our friends who homeschooled (the ones we thought were crazy), and we saw the differences in their relationships with their children, not to mention how much we just enjoyed being around their children. They communicated well with adults, were responsible, well mannered, had a love for the Lord that was evident, and were just an all around delight to be with. Not anything like the world would stereotype homeschooled children.
Our Journey Into Homeschooling
When our son, Josh, was in seventh grade, he approached us and asked to be homeschooled. At this time our daughter was a senior in high school, and they both attended the same Christian school together. My husband and I talked, prayed, and thought deeply about bringing Josh home to educate him ourselves. Josh was a good student but had found himself compromising and not standing for Christ when he should have, and he truly had convictions about how this was affecting him spiritually.
Our final decision to bring him home was based on how this was affecting him spiritually. This was an eye opener to us, as we assumed he was getting a solid Christian education, not realizing the peer influence around him was drawing him away from Christ.
Whoever walks with the wise becomes wise, but the companion of fools will suffer harm.
Proverbs 13:20
Josh finished seventh grade in the Christian school and came home that next year. Amber graduated from high school, so we never had the opportunity to homeschool her, and she continues to remind us of this :).
Where Do We Begin?
Most homeschooling parents start out with a preschooler and work their way up. We now had a soon-to-be high school student, and at first we were overwhelmed with where to begin. We started slow and initially just brought the Christian school curriculum he was already using to our home. This did not work well for us, and as we became more familiar with homeschool curriculum choices, attended conferences, and talked with other homeschoolers, we found a fit for our family.
The Benefits
We did not realize the joys we were missing out on as a family by not homeschooling. We all grew spiritually as we began having regular time in the Word together, and Christ was the focus throughout our day in every subject. We learned together as a family about history, read great books together, and loved the discussions this fostered over meal times and throughout our day. Josh was able to learn at his own pace and within his own learning style. We saw the Lord sanctifying our family as sins came out that wouldn't have been addressed or even noticed when Josh was at school all day.
There was no peer pressure tempting him to conform. We learned flexibility when plans were interrupted by visitors or ministry needs. Family vacations became a time of learning. We took full responsibility for his social development and watched him mature socially as well as develop leadership skills. Josh was able to work alongside his father in our home business and learn entrepreneurship skills as he ran his own small film business while in high school.
This is just a blog post so I will not turn it into a book, but I could go on about all the ways this impacted our family spiritually and in our relationships with one another.
My Hope
I see so many homeschooling families put their children into public school for high school, and I always struggle when I see this choice being made as I know the benefits of teaching them at home through these influential years of their lives. We missed out on having Josh home during most of his formative years, and all our days at home were not perfect. But I am thankful the Lord opened our eyes to the benefits of homeschooling and allowed us to have the short season at home with him to impact his spiritual growth and strengthen our relationship with him.
May you seek the Lord and His ways first for your family in your schooling decisions.
And so, from the day we heard, we have not ceased to pray for you, asking that you may be filled with the knowledge of his will in all spiritual wisdom and understanding, so as to walk in a manner worthy of the Lord, fully pleasing to him, bearing fruit in every good work and increasing in the knowledge of God.
Colossians 1:9-10