My Abortion Story & Why I Sidewalk Counsel at Abortuaries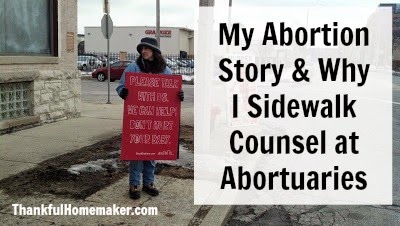 These past several weeks I have been thankful for the opportunity to minister on the sidewalk at our local abortion mills. It has been a blessing and has brought back memories that used to be difficult but not anymore because of the work of Jesus Christ in my life.
You can listen in to my testimony below that I shared with our church family:


You see, when I was 18 I had an abortion. I was unmarried, living with relatives, and selfishly thought a baby at this time would just add to the problems I already had. I had already been leading a rebellious life and was not living at home so I couldn't even imagine sharing this with the family I was living with and just took matters into my own hands.



That day was the ugliest of my life. It hurt so much and coming home and not being able to share what I had been through with anyone was difficult. There was much time spent alone in my room crying and I had no one to turn to for help. There hasn't been a day in my life that I don't think about that little baby whose life I took.


I murdered that baby by my own choice and that memory doesn't go away.
I know to some people murder sounds like a harsh word but what is it
called when you take the life of another human being? – It's murder.
Psalm 127:3 declares: "Children are a gift from the Lord", that little baby was a gift from the Lord to me.
God's Word tells us that we are created in His image and likeness. The value of every human being comes from the Lord – including those still in the womb.
Jeremiah 1:5 says, "Before I formed you in the womb, I knew you". We are all created and designed by a wonderful God and the same is true of every child in the womb. No one is a mistake and no baby in the womb is an accident.

You see I wasn't the victim in this situation – the unborn baby whose life I choose to take was the victim.

Several years later I find myself in the same situation, pregnant and unmarried. This time I am determined to keep this baby because I have not healed from the first pregnancy that I aborted and couldn't imagine going through that kind of pain and guilt again. I share with the father that he doesn't have to marry me or help with the baby but I'll take care of this little one on my own. Doug wants to get married and raise this baby together. I had shared with him the story of my first abortion and this man still wants to marry me. After 28 years of marriage, I find myself still growing more in my love with my Doug every day. We were both young and not sure how things would work out. We had a quick and simple wedding ceremony and little Amber made her arrival in September of 1986.

We have now been married 28 years and have two children. Josh made his arrival in June of 1992.

Doug's parents were Christians and we had heard the gospel a lot from his side of the family. As I look back I can see the Lord drawing our family. I really had a desire to attend church and was attending a small neighborhood church that wasn't a Bible-preaching church so I wasn't hearing the gospel and assumed I was going to heaven because I was a good person and attended church.


I did not have a relationship with Jesus Christ.
as it is written: "None is righteous, no, not one;

I love this part of the story because it involves meeting a woman who will always be dear to my heart, my friend Trena. I met Trena at a Curves exercise facility We were taking our introductory class together and she invited me back to her home for coffee afterward. Trena loves to talk about Jesus and when she shared with me about the work of the Lord in her life made me know I was missing something. I was religious but I didn't have a relationship with Jesus like Trena did.

The kids and I went to church with Trena that Sunday (Doug stayed home) and that afternoon back at home I came to a saving knowledge of Jesus Christ. For the first time, I realized I was a sinner against a holy and righteous God. I understood that God is perfect and is angry with sinners and will punish sin. But God is also rich in mercy and sent His perfect Son, Jesus Christ, God's eternal Son, born of the virgin Mary to die as a substitute and ransom for rebellious sinners. Jesus willingly died on the cross and took the punishment for my sin that through my repentance and faith in what He did and acknowledging Jesus as my Savior and Lord I was saved from the wrath to come. What a glorious moment when my eyes were opened to the free gift of salvation through repentance and faith in Jesus Christ!! The Lord saved Doug later that week and I cannot even express to you in a short amount of time the changes in our home. It was a celebration with Doug's family and with our new family of believers.


Therefore, if anyone is in Christ, he is a new creation. The old has passed away; behold, the new has come.
2 Corinthians 5:17
Life is a gift and it is precious. Since I have come to a saving knowledge of Jesus Christ I have come to know that I am truly forgiven for the choice I made to abort my first baby. There is so much freedom and forgiveness found at the cross when we confess our sins in humble repentance to the Lord and know that He offers us forgiveness and grace. Please let me be clear that a day does not go by that I don't think of that little life.
Behold, children are a heritage from the LORD, the fruit of the womb a reward.
Psalm 127:3


There is forgiveness but there are consequences for the choices we make.
I have just recently shared this story of my abortion with each of my children and it has been such a sweet testimony of the Lord's goodness to us and a guide to them to not make the same mistakes we have made. People will look at our life and say well look how great it all worked out for you. They don't see the hurt and difficulties that we went through of living our lives in rebellion to God. Our marriage and children are only who they are now by the grace of God and His work in our lives.
I love how the Lord works and he sent my friend Kelly and her family down south for her husband's job. While they were down there, she met up with some dear friends through a local church, who minister at local abortion mills in South Carolina. Kelly has a heart to reach out to these women who are about to make a decision that will affect the rest of their lives. This has been an area of my life I have wanted to reach out and help but didn't know where to start and the Lord has answered my prayers through Kelly and a local ministry to our area that reaches out to save the unborn.
My hope is to share with these women that they do have a choice and abortion (or murdering your baby) is not one of them. There was no one ministering outside the abortion mill I went to and I can tell you statistically most of our abortion mills are void of any Christian Gospel Preaching witness outside their doors.
What I love most of Christian sidewalk counselors is that we aren't just there to tell them there is an option but we are able to share with them the life-saving truth of the Gospel of Jesus Christ. He is the One who can change lives and hearts. Knowing they aren't alone and we will help them through every step in keeping their baby is reaching out to them with the love of Christ.
If you have a heart to reach out to these women I am just going to encourage you to GO! There are many resources out there to help equip you in reaching out to these women with the Gospel of Jesus Christ. But you can't do it unless you go!! Babies are being sacrificed every day and I was surprised by how few Christians are taking the time to reach out at these killing places. It is spiritual warfare (Ephesians 6:10-18) and many of these women will not have any remorse for what they are doing but God's Word can reach the heart of any sinner to come to repentance and brokenness. It may be after they come out and have already had the abortion that their heart will be open to receive the truth of the Gospel of Jesus Christ. They need to know there is forgiveness and grace offered only through the blood of Christ.
For you formed my inward parts; you knitted me together in my mother's womb. I praise you, for I am fearfully and wonderfully made. Wonderful are your works; my soul knows it very well. My frame was not hidden from you, when I was being made in secret, intricately woven in the depths of the earth. Your eyes saw my unformed substance; in your book were written, every one of them, the days that were formed for me, when as yet there was none of them.
Psalm 139:13-16
Over 1 million babies are killed each year in the U.S. And chances are that this is happening just down the street from you. Anybody can make a forever difference, just by being willing to step out onto the sidewalk for these lives.
~ Sidewalks4Life
Just a side note on

who I refer to it as an abortion mill: I struggle with calling it an abortion clinic because a clinic is where you receive medical care. "A mill defines a business that dispenses service in an impersonal or mechanical manner, as in a factory." ~Taken from Sidewalks4Life
Thoughts for Christian Women who have had an abortion on Forgiveness:

I want to share some encouraging words to you if you have had an abortion and are now a Christian – there is no sin beyond the reach of God's grace. God sees us at our worst and still loves us. True freedom and forgiveness are only found through a relationship with Jesus Christ. If you find yourself feeling unforgiven it's time to go back to the truths of God's Word and remind yourself as it says in Romans 8:1 – "Therefore, there is now no condemnation for those who are in Christ Jesus."