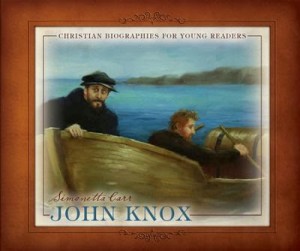 Christian Biographies for Young Readers has done it again. Simonetta Carr's beautifully illustrated and easily readable biography of John Knox will be a wonderful addition to your library.
I love these biographies as an adult because they are quick to read and give me a historical overview of the lives from the saints of the past. This book is the seventh in the series and the previous volumes available are: John Calvin, Augustine of Hippo, John Owen, Athanasius, Lady Jane Grey (one of my all time favorites), and Anselm of Canterbury (see my review on Anselm of Canterbury here).
John Knox took a stand for truth during a time when the gospel was being compromised. He is an example to young and old alike to not be afraid to stand for truth. It gives a great overview of the Reformation and gives us insight into Knox's life as a friend and family man along with being the bold Scottish preacher we are most familiar with.
Matt Abraxas is a talented illustrator and his work brings the story to life. I always appreciate the timeline Mrs. Carr includes at the end of every story. The timeline is especially handy if you are using this as a homeschool resource to follow along with your history lessons. The "Did You Know" section is another favorite – who doesn't love quick tibits of interesting facts??
The hard cover book is beautiful and will be picked up quite frequently by visitors and family members if you leave it on your coffee table. It's an inspiring read for all ages. You will not be disappointed!
Related Links:
Christian Biographies for Young Readers
Reformation Heritage Books
Cross Focused Reviews
*I received a free copy of this book from Cross Focused Reviews and Reformation Heritage Books in exchange for an honest review.