Anselm of Canterbury, Christian Biographies for Young Readers – Book Review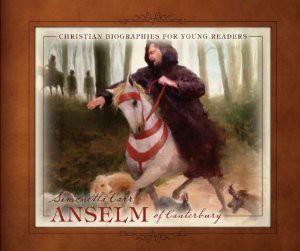 I was so excited for the opportunity to review
Simonetta Carr's
,
Anselm of Canterbury
from her beautiful collection of
Christian Biographies for Young Readers
. We have several of her Christian Biographies and they are
not
just for young readers. Even though my children are grown, we have enjoyed reading them as adults and appreciate the history and the beautiful artwork in the stories from Matt Abraxas.
Anselm of Canterbury brings forth and answers the question, "Why did God become a man?" What a splendid opportunity Simonetta gives parents to discuss the gospel with their children and to grasp a better understanding of what Jesus did on the cross.
One of the the many reasons we have enjoyed this series is the stories dig deeper than just basic history but take the reader into a deeper theological and historical relevance of each character. It is not your typical children's story. I sadly have to say that I am not well knowledged in the time period of the Middle Ages so a children's story was a delightful way to get a better understanding of what it was like to live during this spiritually dark part of our history.
The series is geared for children ages 7-12 but younger children will enjoy hearing the story read aloud and the beautiful illustrations. Adult readers will be thankful for the quick history lesson in 63 pages packed with information of this Christian historical figure who teaches us about speaking truth boldly and persevering during trials and difficult times.
"Anselm lived at a time known as the Middle Ages, because it came between the classical age of Greece and Rome on one side and the Renaissance on the other. It used to be called the Dark Ages, because after the fall of the Roman Empire, there were many problems and wars and most of the people couldn't get an education. When Anselm was born, however, things had already started to change. The Middle Ages became a time of important discoveries and inventions." – Anselm of Canterbury, page 58
I encourage you to take a look at this series and Anselm of Canterbury is a perfect book to start with. You will not be disappointed and I can assure you will come back for more titles in this series. The illustrations, photos of historical places, pictures of historical documents, timeline, did you know section and quotes from Anselm are the icing on the cake to an already wonderful Christian biography.
Let me leave you with a word from Anselm:
"It was fitting that as death had entered into the human race by the disobedience of man, so life would be restored by the obedience of man. And it was fitting that as the sin which was the cause of our condemnation had its beginning from a woman, so the Author of our justification and salvation would be born from a woman. And it was fitting that the devil, who had conquered man by persuading him to taste of the tree, would be conquered by man through the suffering-on-the-tree which he himself inflicted. There are also many other things, which when carefully examined, manifest a certain inexpressible beauty in our redemption's having been accomplished in this manner." ~ Anselm from Cur Deus Homo, chapter 3
Christian Biographies for Young Readers Book Trailer
(If you're viewing this in your email you will have to click through to the blog here to view the video.)
Related Links to Visit:
Reformation Heritage Books
Christian Biographies for Young Readers
Cross Focused Reviews
*I received a copy of this book from Cross Focused Reviews and Reformation Heritage Books in an exchange for an honest review.