Simple Tips to Reading More Books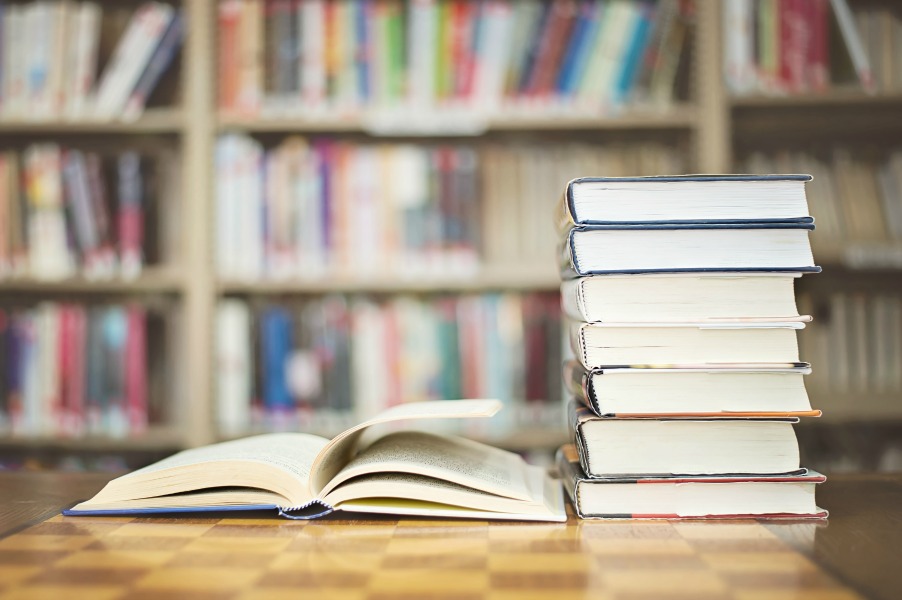 We all know the books we read shape us and grow us. I've been challenged by books, taught by books and comforted by books over my years of reading and being read to. I can still pick up a book to read to my grandbabies that I read to my children when they were little and be taken back to those days of sitting with my babies on my lap getting lost in the story. I can hear in those memories the giggles, or surprise or sadness depending on the story in the voices of my children. It's been fun to make new memories with my grandchildren and possibly one day even my great-grandchildren.
Just as we turn the calendar and think about our Bible reading plan for the year, I know many of us think about what books will be on our nightstands, in our cars, suitcases, coffee tables, and on our bookshelves.
"I declare after all there is no enjoyment like reading! How much sooner one tires of any thing than of a book! — When I have a house of my own, I shall be miserable if I have not an excellent library." – Jane Austen
This year for Christmas my daughter gave me a copy of Sarah Clarkson's book called Book Girl. I know there are many challenges out there for readers from Tim Challies to Modern Mrs. Darcy and the Read-Aloud Revival (do check them all out – there are some great ideas and book suggestions!) but I liked the simplicity of Sarah's suggestions.
Sarah didn't give a specific list, but in working through her book, it helped me put together a personalized list for me and my specific interests or areas I'd like to see growth. Now that I have this ever-growing list how do I get through some or all of the books on it? Always, your Bible is a priority in your reading time each day over other books.
Here are some tips that have helped me to read more over the years
But here are some tips that have been a help to me over the years:
Find Books that Interest You:
Find books that you love to read. Reading books you enjoy is a start to reading more and finding the time to read. Starting with books you enjoy is a help if you've not developed a regular reading habit or your finding yourself in a slump (been there and a book I delighted in reading was a help in getting me out and back into the reading habit). I've enjoyed Goodreads to help find books from like-minded readers. This is where I get many of my Christian non-fiction recommendations from various friends I follow and look to for recommendations.
Reading books you enjoy is a start to reading more and finding the time to read.
I signed up with my son for the Book of the Month club and have been surprised with how much I've enjoyed the various books that I would not have found on my own. I like that you can skip a month and I tend to choose historical fiction. My son picks different genres so we can usually switch books after we've finished them. Another way to find books is to search for similar books to a title you recently read and liked. I enjoyed All the Light We Cannot See and searched "books similar to" and found Beneath a Scarlet Sky which was another good read. (When I read fiction I tend to have a bent towards historical fiction.) The reviews and ratings on Amazon and Goodreads are helpful in choosing which books to read. As I state this, we still need to read other books for learning and growing too, but this is a good place to start and get a good momentum going.
If you're a Christian reading this, I pray the book you will make sure you spend priority time studying and learning more about would be your Bible.
Put Aside a Book You're Struggling With:
Don't be afraid to quit or maybe just put down for a bit a book you're struggling with. There are some books I start that I just get a sense I don't want to waste my time on (those are the ones I quit) and others that I do want to read, but I'm just having a hard time getting into. Those are the ones I put aside and pick back up at another time. The classics can be hard, but they're worth the effort to take the time to work through. So, if you're finding it difficult to push through it, set it aside and come back to it with a fresh mind. If it's just not good or you're not seeing any benefit to reading it – don't waste your time.
Let your kids see how much you enjoy reading!
Parents Who Read Raise Children Who Read:
An incentive to read if you have children is studies show that parents who read books, raise children who read books. This is an excellent episode from Read Aloud Revival on Raising Kids Who Read. So read mama. Let your kids see how much you enjoy reading!
"A children's story that can only be enjoyed by children is not a good children's story in the slightest." – C.S. Lewis
Keep Books Handy:
Don't leave home without a book. Keep a book in the car or your purse. I have a Kindle Paperwhite that is compact to keep in my purse when I'm out running errands. If I find myself waiting in a doctor's office or for a friend I enjoy that extra time to get a few more pages to read. Keep a book by your nightstand, in places where you may find yourself sitting during the day and in the kitchen. I find myself reading when I'm cooking dinner, especially when I have to watch an item on the stove.
"In the case of good books, the point is not to see how many of them you can get through, but rather how many can get through to you." ~ Mortimer J. Adler
Make Good Use of the Kindle App:
Replace your social media apps on your phone with the Kindle app (it's free). When you find yourself looking at your phone to scroll the Facebook or Instagram feed, stop and open your Kindle app and have a book or two downloaded and ready to go. We always have our phones with us, and with the Kindle app, you can always have a book handy to read. I like to keep a good devotional book on mine for when I find myself having a few extra minutes on hand to wait.
Utilize Audiobooks:
Audiobooks are an easy way to get books in while your folding laundry, cooking dinner, doing dishes, exercising, getting ready in the morning, showering and driving. Audiobooks you're kids would love during drive times are a double win. Sometimes I find myself just sitting in the car even when I've arrived at a destination so I can finish the chapter I'm listening to. Audible and Christian Audio are two of my favorites. Christian Audio has a free audiobook every month so check out their site monthly in case the title is of interest to you.
Keep a Book List for Motivation:
Keep a list of books you'd like to read. Whether you use a journal, your planner, or an index card, it's helpful to have a list to look to when you're ready for your next read. This year I'm keeping a book basket, and because we travel frequently, I'm an avid reader on my Kindle, so I'm making a folder in my Kindle of 2019 books to read. (See my book recommendations here for Christian women – it needs updating and is on my to-do list ;)).
I keep a book wishlist on Amazon of books that I come across that look of interest so I don't forget them and it also helps me to put a book in the wishlist before just purchasing it spontaneously. I like to try and leave them there for at least a month or more before purchasing. Many times I determine I don't want that book anymore so it saves me money and time.
Get Reading Time on the Schedule:
Schedule time in the day to read or maybe before bed. I like to read in the morning after my time in the Bible (Christian non-fiction), afternoon for at least 15 minutes (Fiction), and before bed (Usually a biography or non-fiction). My current morning read is All That's Good: Recovering the Lost Art of Discernment by Hannah Anderson. My afternoon read is Marilla of Green Gables by Sarah McCoy, and my bedtime read (usually on my Kindle) is Susie: The Life and Legacy of Susannah Spurgeon, wife of Charles H Spurgeon by Ray Rhodes Jr. Even if you can only squeeze 15 minutes a day that's enough to read a chapter or more a day and keep you on track to read two books a month. Schedule an all family quiet time in the afternoon for the kids to play or read quietly on their own, and you take the time to sit and read instead of immediately opting to get chores done.
Where to Find Books:
As you have a list together of what you'd like to read start first with your local library. Next, I would check out local bookshops, and my usual place is online. Does your church have a library? I use Amazon heavily out of convenience (I like the wishlist option) but appreciate book recommendations and also purchase from Westminster Bookstore, Crossway, Moody Publishers, Ligonier, Grace to You, Shepherd Press, Banner of Truth, Granted Ministries, The Good Book Company and Desiring God.
Below are some good thoughts from Jim Elliff taken from "Why Read A Good Book?"
When buying books remember the following:
Buy only the best books since you will only read a few hundred in your lifetime. When possible seek a recommendation first.
Don't excessively fret over the price, since the cost of a book is always small if it impacts your life for good.
Buy to preserve the truth for your family or some deserving friends or institution in the future, for they will inherit your library when you die.
Never let the reading of books replace the reading of the Bible. Instead of one or the other, do both.
Let a good book humble you and not make you proud, by seeking God in what you read.
"You can never get a cup of tea large enough or a book long enough to suit me."

~ C.S. Lewis