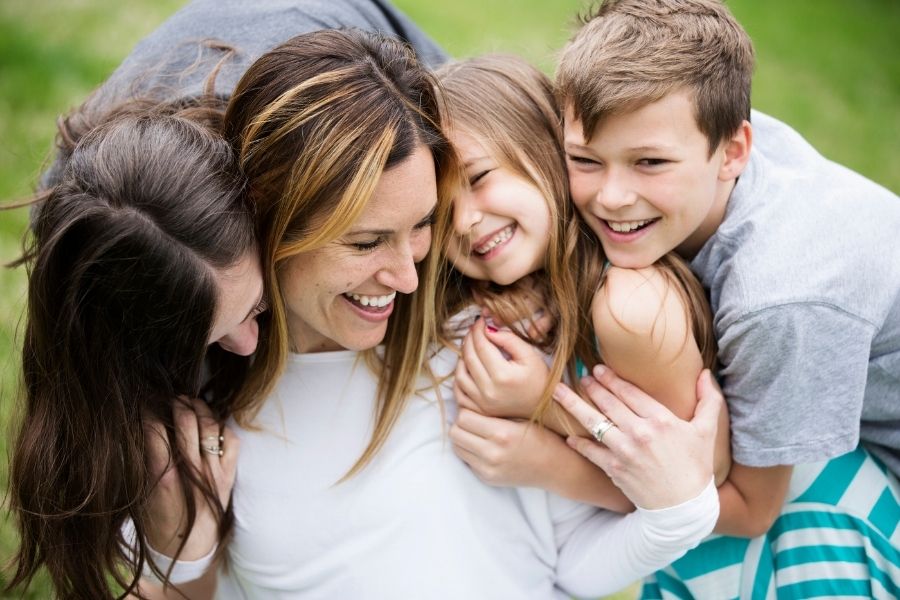 The excerpt below is the first chapter on an ebook I wrote on Motherhood.
Our Hearts as Mothers
What does parenting by the gospel look like? There are many resources and books available that teach us to have the gospel as the center of our parenting, but what does this mean? And what does it look like in our daily lives as moms?
Ultimately, the Gospel of Jesus Christ is what should shape everything we do. First, we will look into how it should shape us as parents. Then, we will look at how to apply that to our interactions with our children. My children must see the impact the gospel has had on my own life. I must model it before I can teach it. It is not our efforts, prayers, hopes, and dreams that ultimately shape our parenting. Instead, it is the Gospel of Jesus Christ. This is the power that needs to be at the center of all we are and all we do as parents.
As parents, we need to be sure we have been transformed by the gospel. Have we given our hearts and lives to Jesus Christ and come to Him in repentance and faith? We cannot give to our children something we do not possess. I cannot live out the beauty of the grace of God in the Gospel of Jesus Christ if it is not a reality in my own life.
Children do not miss a thing; they are watching our reactions and attitudes very closely. We sin just like our children, and it must be lived out that Mommy is not perfect—she just has a great Savior. What are our reactions when we sin against our children? Am I quick to seek forgiveness? Do they see me first and foremost going to God and asking forgiveness and then to the child I have sinned against? This must apply not only when we have sinned against them but also against others.
Do we live out God's goodness and grace by letting them see that, in times of weakness or sorrow, we turn to the Lord for our help? Do they know that God's Word is of utmost importance to us? Are we spending time in the Word, memorizing Scripture, and praying throughout our day?
How do we model to our children God's authority in our lives? Do they see us submitting to His perfect and loving authority?
How do they learn to live for God and others if we are not modeling this for them?
Are we giving thanks to the Lord for working for good all things—the good and the bad in our lives (Romans 8:28)? How do we express ourselves when something didn't go as planned?
Please know that I am convicted myself as I lay these questions before us. Examining our own hearts and motives must happen before there can be any change in our lives. We must recognize where we fall short and seek the work of the Holy Spirit to give us the grace to change in those areas that are not in line with God's Word. Our children must see that we have a love and desire for God, that we have truly been transformed by His amazing grace, and we take delight in our Savior every day.
Thoughts on living it out:
Daily spend time in the Word. First thing in the morning is best, but it doesn't have to be. Figure out what time works best for your day. If little ones get up during your "quiet time," include them in it by reading God's Word with them and praying together.
Keep Scripture posted all-around your house. Spend time memorizing along with your children. It is hard to sin when God's Word is continually on your heart and mind. Seeds Family Worship has some excellent CDs to memorize scripture by song. They're fun for adults too!
Address sin as it happens—if you sin against them make it right as soon as possible.
Children may have questions and doubts about Christianity—make sure you deal with them lovingly and honestly. Do not be afraid of questions and keep this communication open with them.
Check your attitude before responding to them, and seek the Lord in prayer first.
Give thanks to the Lord in and through all things. Start a gratitude journal as a family.
We should be modeling to them the joy in the Christian life. They should see the love you have for your church family and how you look forward to time together with them.
Take time to model for them a compassionate and giving spirit to the needy. Your Christian walk must be real to them.
Focus on the eternal and not just the temporal.
Let them know you love them always no matter what they do; your love for them is not conditional. (1 Corinthians 13 defines love beautifully.)
Pray throughout your day with them. Pray with them in the morning, afternoon and evening. Pray as you are leaving the house. Pray over difficult schoolwork or situations with friends. Pray with them over needs in your church and family. Ask them to pray with you when you need prayer. There is nothing more precious than your child seeking the Lord on your behalf.
"Marriage-centered, not child-centered, moms usually exert the greatest influence on their children for Christ and his kingdom. This means that your weekends away with your husband, alone, might influence your children more than all your teaching and discipline combined. Your children are watching, and it gives them great joy and security to see their parents loving each other."
William P. Farley, Gospel Powered Parenting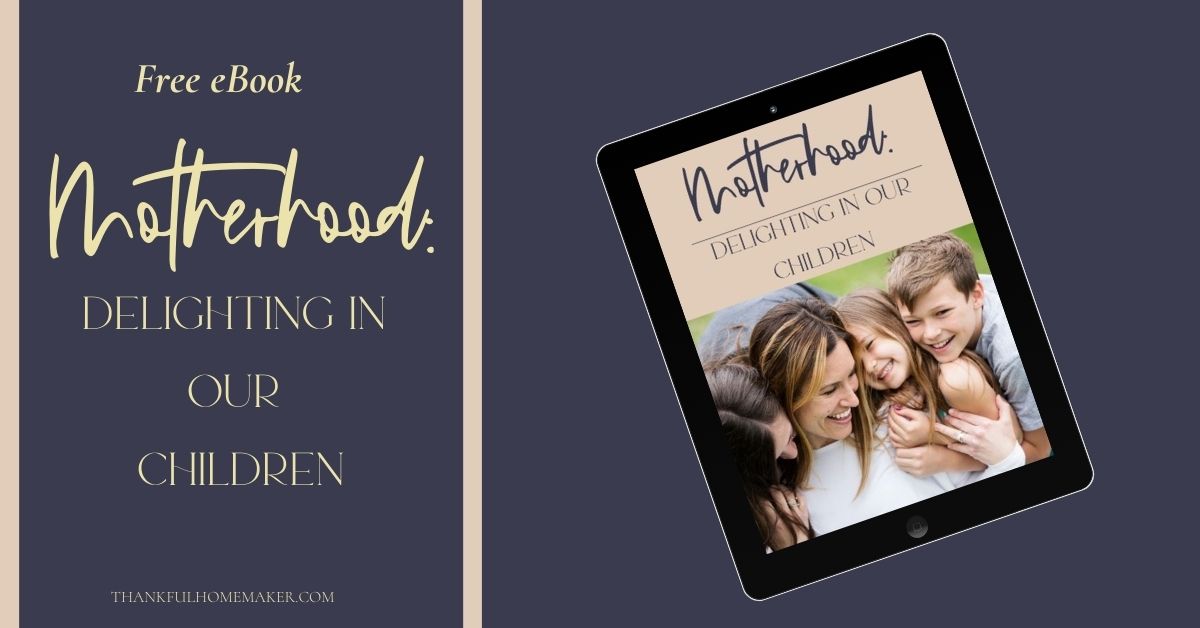 Other topics in addition to Our Hearts as Mothers covered in the book are:
The High Calling
Our Children's Hearts
Discipline with the Gospel
Discipling a Young Child
Managing Outward Behavior
Giving them Grace
Delighting in our Children
Home is My Priority
Kindness
Prayer
Strength in the Time to Come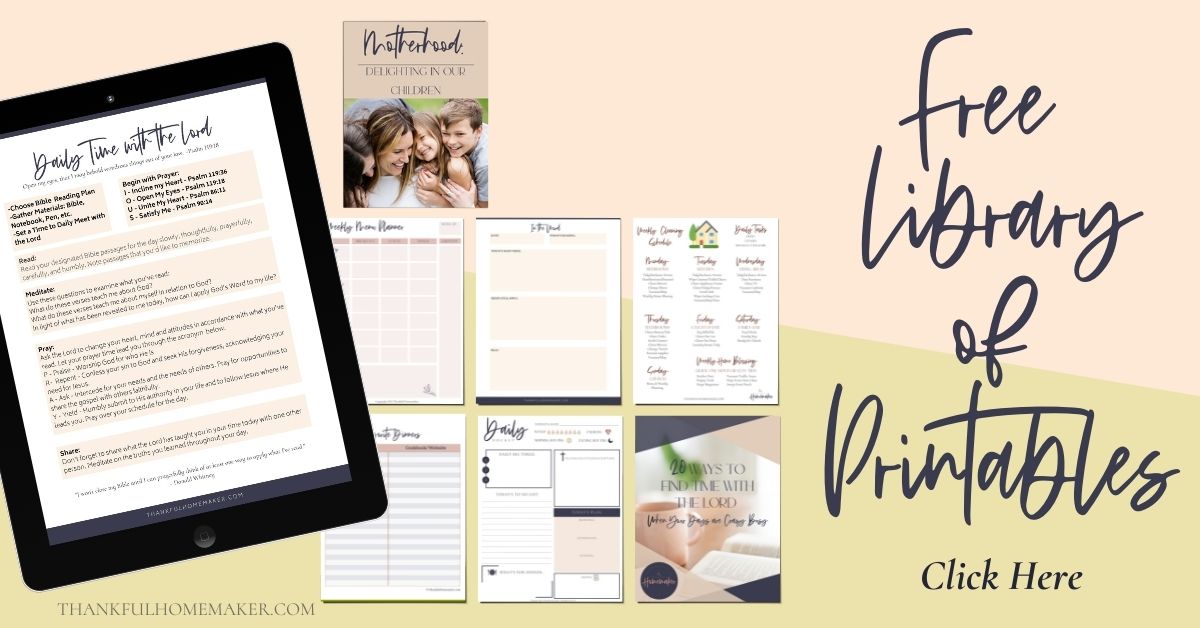 *Please note there may be affiliate links in this post. This means if you click on the link and make a purchase, I will receive a small commission that goes to supporting the work and blog costs here at Thankful Homemaker at no extra cost to you.