Planning a Christ-Focused Easter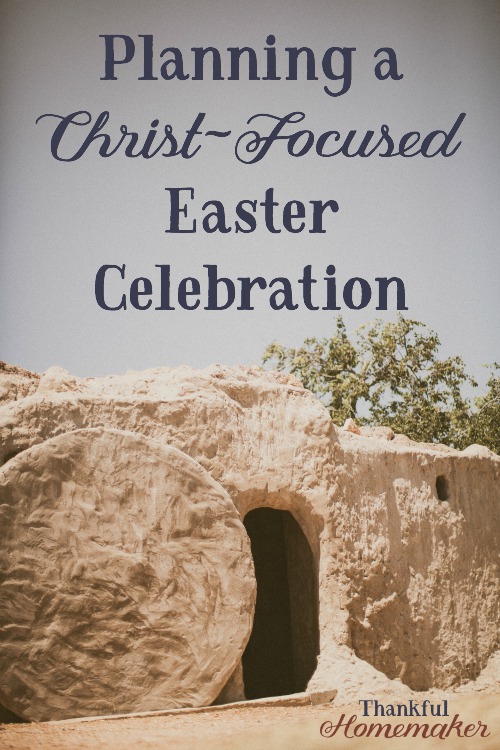 We know this time of year the stores are filled with Easter baskets, chocolates, and egg coloring kits but as Christian's our celebration of Easter focuses on the truth that we serve a risen Lord. Our God is alive and that truth is where our hope lies. He is Risen! Jesus is Alive!
As a mom and now grandmother I desire our celebration of Easter or as many of us call it The Celebration of the Resurrection, to be Christ-focused. I'm not elaborate in our celebrations but I desire to be intentional. I want to share more than just our traditional meal together, I want to point my family to the gift of Jesus.
1 Now I would remind you, brothers, of the gospel I preached to you, which you received, in which you stand, 2 and by which you are being saved, if you hold fast to the word I preached to you—unless you believed in vain.

3 For I delivered to you as of first importance what I also received: that Christ died for our sins in accordance with the Scriptures, 4 that he was buried, that he was raised on the third day in accordance with the Scriptures,

~ 1 Corinthians 15:1-4
[clickToTweet tweet="I desire our celebration of Easter or as many of us call it The Celebration of the Resurrection, to be Christ-focused. I want to share more than just our traditional meal together, I want to point my family to the gift of Jesus. " quote="I desire our celebration of Easter or as many of us call it The Celebration of the Resurrection, to be Christ-focused. I want to share more than just our traditional meal together, I want to point my family to the gift of Jesus. "]
We can find ourselves intentional about Christmas and start planning months before the day but it doesn't always seem the same for Easter. I do see Easter as just as important, if not more so than Christmas, so why do we seem so much more lax in our celebration?
"To the early Christians, Easter was not a holiday. It wasn't even a holy day. It wasn't even a day at all—to the early Christians. Instead, it was an accomplished fact that lived with them all year long. They did not celebrate His rising from the dead and then go back to their everyday lives and wait another year. They lived by the fact that Christ had risen from the dead and they had risen with Him."

~ A. W. Tozer
So, if you'd like to begin to be a bit more intentional in your Celebration of the Resurrection I'd love to give you some ideas to help get you started. Please take the time to search and inquire and plan your own special day with your family. Below are just some resources and ideas to get you thinking as you plan a special time of celebration with your family. Some are free but some have a cost so please always keep within your budget. There is much you can do for free online!
Celebration of the Resurrection Ideas:
Passover Meal:
Celebrate the Passover meal together and show and explain to your family that Jesus is the Passover Lamb. If you don't want to go through the whole meal preparation there are videos and booklets available that explain it that you can watch together as a family. The first on the list below is our personal family favorite. On Good Friday you could place a red banner or ribbon over your doorway to represent the truth that Christ shed His blood for us so that we would "passed over". Because of Christ's death, we have been forgiven of our sins.
Videos:
Watch movies over the weekend together as a family that point you towards Christ. There are many to choose from and I'm listing some below but please note the ages of your children as your looking into some of them too.
Ben Hur – (1959 Version)
Ben Hur (2016 Version)
The Robe (1953 Version)
The Gospel of John – great for the whole weekend
Books & Scripture Readings:
Read the scriptures or a devotional during your dinnertime together with family and friends.
The Easter Story by Max McLean
50 Reasons Why Jesus Came to Die
Jesus, Keep Me Near the Cross: Experiencing the Passion and Power of Easter
Read John 18-21 together after your meal.
Music:
I'll make an Easter playlist to have playing in the background on my Spotify. Here are some links to get you started and I'll add personal favorites in too.
Song Recommendations for Easter
Songs the Celebrate the Resurrection
Setting the Table:
I do have some favorite pieces to decorate my home from Dayspring that I'll use but I will set a pretty table with spring tablecloths and use my best dishes. Flowers will be part of my table and I want to make the candles that I have linked below too. I do want to get more pieces to celebrate the Resurrection so I will add on items as the years go on.
FREE Easter Candle DIY Download Template
Some Other Ideas:
Just listing a few miscellaneous ideas that your family may enjoy.
Resurrection Eggs – we use these with our grandbabies and hide them and then go through and talk about them after they find the hidden eggs. I do hide eggs with money and candy too to make it a bit more fun.
10 Creative Ways to Celebrate Easter
Read The Case for Easter together and discuss it as a family.
Listen to Easter Through the Eyes of God at Grace to You
Questions for dinnertime conversation that are spiritual focused. You can put them in a jar or bowl to choose from or set one at each table setting.
Barbara Rainey has a resource called Behold the Lamb at her Ever Thine Home Collection and it walks you through Holy Week together as a family. I'm sharing below the reading for the Saturday before Easter. I just think it is a beautiful reading to talk about together as a family.
Very little is said in any of the Gospels about what happened on Saturday after Jesus died. It was the Sabbath day. Like every other Sabbath day, no work was done. People were in their homes, resting. Undoubtedly, they all were remembering what had happened the day before—the crucifixions, the earthquake, and the Temple curtain being torn. Certainly, nothing like this had ever happened before. The Light of the World was gone; darkness had returned.
Think about what the eleven disciples and the hundreds who had believed in Jesus were feeling that Sabbath Day—despair, depression, and grief unlike any other. What would you have thought?—that it was over?—that this was all in vain? Had you misunderstood?—that the miracles—what about the miracles? Jesus had said, "I am the true vine," but now He was dead. They felt lifeless too. Their hearts were broken; their heads bewildered.
As a family, you might want to visualize the sadness and loss by covering all of your lights with black cloth or closing your window shades, blinds, or curtains for the day. You may choose not to turn on any lights this Saturday at all. Saturday was the day of waiting.
Your Turn:
What are some of your favorite family traditions to Celebrate the Resurrection? Are there new traditions that you want to start this year with your family? Please share your ideas with us in the comments below.
Upon a life I did not live, upon a death I did not die, I risk my whole eternity on the resurrection.

~ Charles Spurgeon
SaveSave
SaveSave