Planning a Christ-Focused Thanksgiving Dinner
Inside: A simple Christ-focused Thanksgiving planning guide with the hope that your family will feast on the abundant grace of God.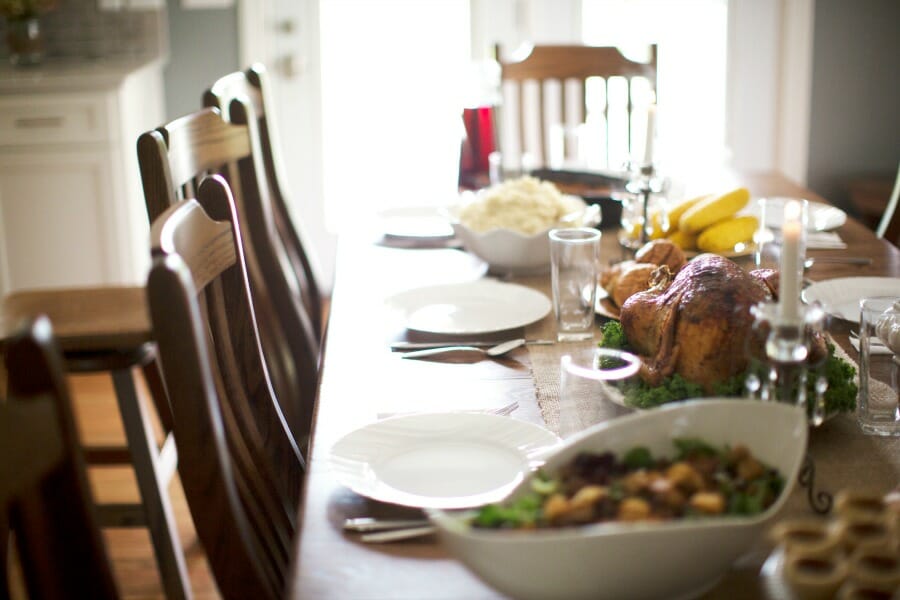 The wonderful holiday of Thanksgiving is upon us, and as Christians, it should be a time of not just feasting on food but feasting on the abundant grace of God we have been shown through the sacrifice of Jesus Christ. I hope to give you some ideas today on planning a simple, Christ-focused Thanksgiving dinner.
Thanksgiving should be a time of feasting on the abundant grace of God
I know as women, we can get caught in our to-do lists and forget to give thanks in and through all things – even in the gift of preparing to serve others with the hope of pointing them to the One who we truly have all things to be thankful for!
give thanks in all circumstances; for this is the will of God in Christ Jesus for you.

~ 1 Thessalonians 5:18
I want you to be able to keep your family and your Thanksgiving Christ-focused and not get caught up in all the things on your seemingly long to-do list.
I'm sharing below my simple planning for one of my favorite family traditions to celebrate together, along with some bits of help at the end to keep the focus of the meal on Christ and to Who we are truly giving thanks. My hope always is to spark ideas in ways you can make much of Christ during your time together.
If you'd like a few more tips and links take a listen to my podcast on a Christ-Centered Thanksgiving.
Simple, Stress-Free Thanksgiving Plan:
Menu Plan – Very simply sit down and write down your menu plan for the day. If you are serving some munchies before the meal, put those on your list too. My meal plan stays pretty much the same from year to year, and I keep a copy of it in my planner. This is where I take note of who else may be bringing food items, and I've already put our guest list together, but I always leave room for more people last minute that the Lord may bring our way. Make sure to leave room for those who may have nowhere to go on Thanksgiving.
Grocery List – From my menu plan, I write out my grocery list. I make sure I've ordered my turkey (if needed), and I put on this list any other items I may need to make the day run smoother. I think of things like the foil pan I cook my turkey in (I like easy clean-up), and I make sure I have plenty of zip lock bags and containers to send leftovers home with guests. I make two grocery lists, one with items I can buy ahead and one for fresh items I need a couple of days before. I try to get to the store at least a week before as some items can be hard to find last minute. Think about the beverages you're serving at this time too. I also plan my table centerpiece (more on that below).
Calendar Plan – At this point, I look at my planner and mark down my shopping dates and on what days I am going to make certain foods. I determine if my turkey needs thawing or brined and get that on my calendar. Many side dishes can be made two days (or more) ahead of time.
Clean Your Oven – I have forgotten to do this in years past, and it's so awful if you have a burnt smell stinking up your house as you're cooking your turkey. (Skip this step if you don't need to but thank me if I reminded you that you did ;).
Quick Clean – Give your house a quick company clean two days before. See my posts on company cleaning here and here or listen to the podcast so you can plug your headphones in and clean while you listen.
Clean Your Fridge & Freezer – Take time several days before to tidy and clean your fridge and freezer. You'll be thankful you did this – trust me!
Set a Beautiful Table the Day Before – I'm not talking fancy like House Beautiful but utilize items you already have on hand. I really do keep it simple and utilize grocery store flowers to make my own centerpiece in vases or items I already have on hand (I love mason jars for this). I love mini pumpkins and gourds to add fun Fall colors. I use simple tea lights in holders I have on hand, and a favorite with the kids is to put whole nuts and use a variation on the table scattered, along with a nutcracker or two for fun. Place cards are helpful, so everyone knows where to sit, and people aren't standing around the table having to determine it themselves (more on this below too).
Music – Put some lovely music on in the background. You can find some fun playlists on Spotify or Pandora or make your own.
Let Guests Help – Your guests want to feel helpful so let them. If you're not good at delegating, think about it ahead of time before people arrive on what tasks you can give to various people. Get the kids helping too.
Enjoy Your Time – Pray and ask the Lord to give you a cheerful heart and attitude during this busy day. Enjoy and give thanks for every task. There is no hurry and just move from one task to the next without rushing but being mindful to enjoy your time with family and friends.
"Take a little time to make ordinary things extraordinary."

~ Emilie Barnes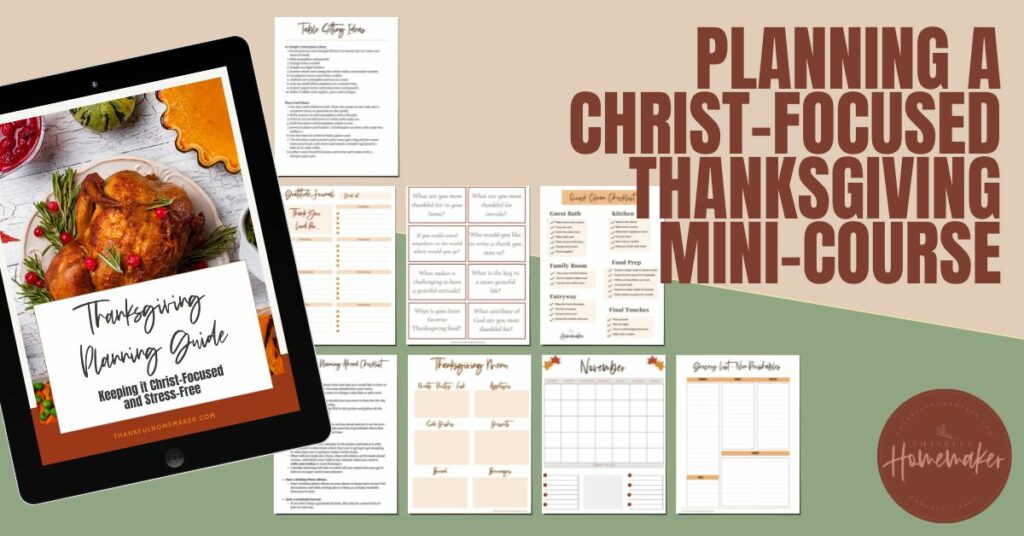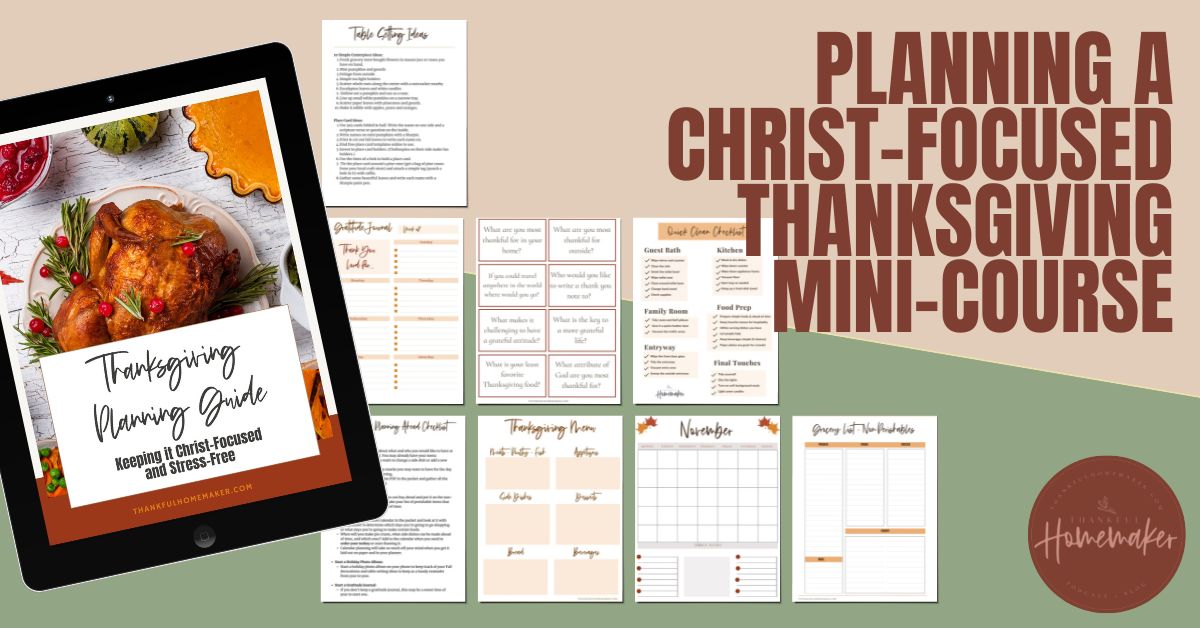 Christ-Focused Thanksgiving Ideas:
My Thanksgiving post last year had some of our traditions listed on it, but I wanted to share a few more thoughts with you on simple ways to point the day towards Christ. My husband loves when I just get him all set up at the table to work through the items we've decided to share together as a family. I'll have anything printed out he needs and have a Bible with readings bookmarked in it for him.
Pray – As everyone is seated (or maybe even standing together) open in prayer and also pray this beautiful prayer from The Valley of Vision.
Read Psalm 100
Plan a devotional -Maybe one you have written or one that stood out to you that you read online or in a book.
History of Thanksgiving – Give a brief history of Thanksgiving. I love this one from Got Questions. We love the story in Thanksgiving: A Time to Remember and utilize the one for younger children.
Coloring Sheets or Crafts for Kids – I'm not overly crafty, but I like to have a small table set up for the kids with coloring sheets to keep them occupied.
What are you Thankful For? – This is always a great conversation starter, and many times it can open up opportunities for someone to share the Gospel by giving thanks for the gift of salvation through Jesus. If you'd like your guests to make a list and share from it, there is a sweet printable from Ever Thine Home here. I love this free printable banner from them too.
Conversation Starters – To keep the conversation going and keep people lingering at the table, have some fun questions on hand to share. A rule we love to keep is there is only one conversation going on at the table at a time, and we all listen and participate in it.
Scripture Place Cards – When you make your place cards (and I keep it simple by usually just using 3×5 cards), put scriptures on the back that represents thankfulness to God. This is a great activity for older kids to do for you.
Sing a Hymn Together – There are so many great ones, but our family's favorite is My Heart is Filled with Thankfulness. We are not an acapella family and utilize a bit of help for our singing time together.
Gratitude is a handmaiden of contentment. An ever-growing attitude of gratitude will certainly make us more content since we will be focusing more on what we do have, both spiritually and materially, than on what we do not have. But contentment is more than focusing on what we have. It is focusing on the fact that all we do have; we have by the grace of God. We do not deserve anything we have, materially or spiritually. It is all by His grace.

~ Jerry Bridges
What are some ideas you could share with us on how you keep a Christ-focused Thanksgiving?
Please share with us in the comments.
SaveSaveSaveSaveSaveSave