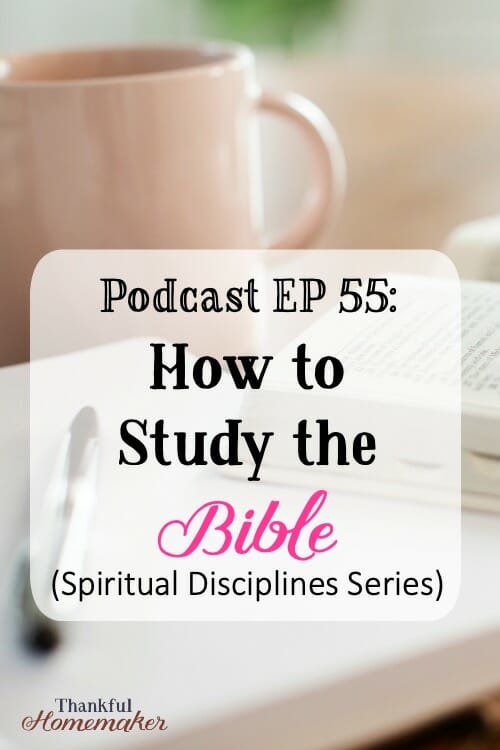 We're continuing in a series on the Spiritual Disciplines and today's episode is on Bible Study. We're going to talk about the benefits, explain some basic Bible study methods, share some resources to help you get started digging into the Word.
Jerry Bridges says in regard to God's Word – "Reading gives us breadth, but study gives us depth."
*I stated in the podcast the next episode in the Spiritual Disciplines series will be on prayer, and it will be up on Tuesday, April 23rd instead of April 22nd.
Show Notes:
"Here then, is the real problem of our negligence. We fail in our duty to study God's Word not so much because it is difficult to understand, not so much because it is dull and boring, but because it is work. Our problem is not a lack of intelligence or a lack of passion. Our problem is that we are lazy." ~ R. C. Sproul
"The Bible tells us who we are and what we should do, but it does so through the lens of who God is. The knowledge of God and the knowledge of self always go hand in hand. In fact, there can be no true knowledge of self apart from the knowledge of God. He is the only reference point that is reliable. So, when I read that God is long-suffering, I realize that I am not long-suffering. When I read that God is slow to anger, I realize that I am quick to anger. When I read that God is just, I realize that I am unjust. Seeing Who He is shows me who I am in a true light. A vision of God high and lifted up reveals to me my sin and increases my love for him. Grief and love lead to genuine repentance, and I begin to be conformed to the image of the One I behold." ~ Jen Wilkin, Women of the Word: How to Study the Bible with Both Our Hearts and Our Minds
"If our reading of the Bible focuses our eyes on anyone other than God, we have gotten backwards the transformation process. Any study of the Bible that seeks to establish our identity without first proclaiming God's identity will render partial and limited help. We must turn around our habit of asking "Who Am I?" We must first ask, What does this passage teach me about God?" before we ask it to teach us anything about ourselves. We must acknowledge that the Bible is a book about God." ~ Jen Wilkin, Women of the Word: How to Study the Bible with Both Our Hearts and Our Minds
"There are countless benefits found in the bible. And yet these benefits only come to us as we diligently apply our minds and hearts to the study of God's Word. God does not transfer the benefits of knowing the Bible automatically to us when we are saved. Instead, these benefits become ours as we read, observe, interpret and apply the Bible." ~ Tim Challies & Josh Byers, A Visual Theology Guide to the Bible: Seeing and Knowing God's Word
Scripture & Resources:
2 Timothy 4:13
2 Timothy 3:16-17
John 17:17
Luke 11:28
Ephesians 6:17
1 Peter 2:2
Romans 1:16
Psalm 119:105
1 Corinthians 2:12
Jen Wilkin's Free Online Bible Studies (Printable material and messages)
Herman Who?: The Art and Science of Interpreting Scripture by Todd Friel
Nancy Guthrie on Developing the Skill of Seeing Christ in the Old Testament – @Help Me Teach the Bible
Summary of Jen Wilkin's Bible Study Method PDF
How to Study the Bible – @A Narrow-Minded Woman
How to Use Blue Letter Bible – @A Narrow-Minded Woman
My Favorite Bible Study Tools – @Thankful Homemaker
Bible Study Helps for Busy Moms – @Thankful Homemaker
Podcast EP 15: Prioritizing God's Word When Life is Busy – @Thankful Homemaker
Treasury of Scripture Knowledge
Bible Study Fellowship International
Mama's Refill: Bible Studies Designed for Busy Moms – A Ministry of Doorposts
Follow Thankful Homemaker on Instagram
Books/Bible Studies:
Spiritual Disciplines for the Christian Life by Donald Whitney
Habits of Grace: Enjoying Jesus Through the Spiritual Disciplines by David Mathis
Women of the Word: How to Study the Bible with Both Our Hearts and Our Minds by Jen Wilkin
A Visual Theology Guide to the Bible: Seeing and Knowing God's Word by Tim Challies and Josh Byers
God's Big Picture: Tracing the Storyline of the Bible by Vaughan Roberts
The Goldsworthy Trilogy: (Gospel and Kingdom, Gospel and Wisdom, The Gospel in Revelation) by Graeme Goldsworthy
Kathleen Nielson Bible Studies
Life Change Bible Series from Navigators
Listen & Download the Podcast: