EP 15: Prioritizing God's Word When Life is Busy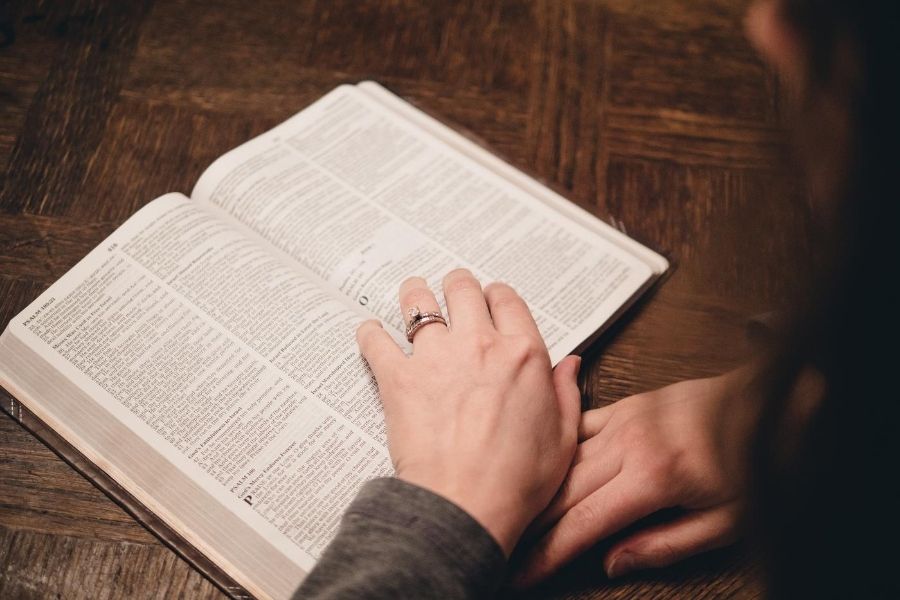 As believers in the Lord Jesus Christ not one of us would desire to remain a babe in the faith. We all desire to grow more in the grace and knowledge of our Lord Jesus Christ. Spiritual growth doesn't happen by osmosis – you have to be disciplined in putting God's truth in your mind. Spending time with the Lord in His Word will transform our hearts and compel us to obey God's Word.
Spiritual growth doesn't happen by osmosis – you have to be disciplined in putting God's truth in your mind.
As we grow in our understanding of God's Word, we will develop convictions that will determine how we will live or how we hope to live. God's Word helps us to develop principles that we desire to live our lives by – this is the process of sanctification.
"Sanctification is a process – the process of becoming more like Christ, of growing in holiness. This process begins the instant you are converted and will not end until you meet Jesus face-to-face. Sanctification is about our own choices and behavior. It involves work. Empowered by God's Spirit, we strive. We fight sin. We study Scripture and pray, even when we don't feel like it. We flee temptation. We press on; we run hard in the pursuit of holiness. And as we become more and more sanctified, the power of the gospel conforms us more and more closely, with ever-increasing clarity, to the image of Jesus Christ."
~C.J. Mahaney
Growing spiritually is the most important step in our role as Christian wives and mothers. I do not have true wisdom to offer my family because true wisdom comes from the Lord and knowledge of Him.
I know what you're going to say – I barely have time to breath how am I going to fit in time with the Lord.
Stick with me here today because I'm hoping I have some tips that will motivate you or at least seem doable that you can work into your current season of life.
Show Notes:
"Do you realize that tape-recorded readings of the Bible have proven that you can read through the entire Book in seventy-one hours? The average person in the United States watches that much television in less than two weeks. In no more than fifteen minutes a day, you can read through the Bible in less than a year's time."
~ Donald Whitney, Spiritual Disciplines for the Christian Life
Some Tips for Mama's with Littles: (more in the podcast episode)
-It doesn't have to be early morning.
-Maybe you have quiet moments in the afternoon when everyone is playing or napping and you can get some time in the Word.
-Do your time with the Lord out loud with littles listening. Give them a notebook to draw or write about what they've learned from the passage.
-Just pick a book of the Bible and camp in it. Read it through over and over. Use a dictionary to get a better understanding of the text. Ask yourself the who, what, why, when and how questions. As you just read for comprehension you are preparing your mind for a deeper study of this book when the season allows it to be.
-Listen to an audio version of the Bible throughout the day, when you're getting dressed, washing dishes, running errands, folding laundry, etc.
"God is the author of the Bible, and only the truth it contains will lead people to true happiness. A Christian should read this precious Book every day with earnest prayer and meditation. But like many believers, I preferred to read the works of uninspired men rather than the oracles of the living God. Consequently, I remained a spiritual baby both in knowledge and grace."
~George Muller
Some Other Options:
The Three Minute Rule from Hello Mornings
10 Minute Devotional Time:
Read the Word for 5 Minutes
Meditate on the Passage for 3 minutes
Pray for 2 minutes
Meditate – to think deeply about what we've just read
Pray the Word – Pray through the Psalms.
Study the Word – Devote one day a week to deeper time in the Word
"Here then, is the real problem of our negligence. We fail in our duty to study God's Word not so much because it is difficult to understand, not so much because it is dull and boring, but because it is work. Our problem is not a lack of intelligence or a lack of passion. Our problem is that we are lazy."
~R.C. Sproul
"I saw more clearly than ever, that the first great and primary business to which I ought to attend every day was, to have my soul happy in the Lord. The first thing to be concerned about was not, how much I might serve the Lord, how I might glorify the Lord; but how I might get my soul into a happy state, and how my inner man may be nourished . . . I saw that the most important thing I had to do was to give myself to the reading of the Word of God and to meditation on it."
~George Mueller

Scripture & Resources:
Psalm 5:3
Psalm 139:17-18
Psalm 143:8
Psalm 23
Psalm 19:10
Psalm 119:72
Joshua 1:8
12 Ways Your Phone is Changing You – Free Download for January at Chrisitan Audio
Hello Mornings: How to Build a Grace-Filled, Life-Giving Morning Routine by Kat Lee
The Quiet Place: Daily Devotional Readings by Nancy DeMoss Wolgemuth
New Morning Mercies: A Daily Gospel Devotional by Paul David Tripp
Meditation Methods Summary from Biblical Spirituality (Free PDF)
Praying the Bible by Donald Whitney
Bible Study Helps for Busy Moms
Thankful Homemaker Facebook Group
Mamasrefill.com – Bible Study Membership site
Open the Word and just begin. May we be women who meet with Jesus every day.