Real Food Free Online Menu Plans – Baby Steps to Healthy Living Series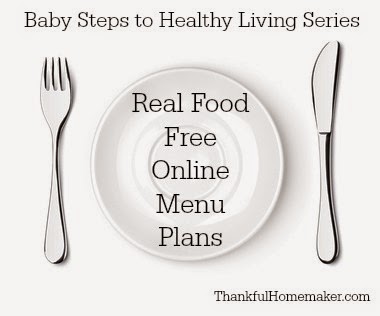 Menu planning has been such an important part of helping to feed my family healthy and is such a money saver as it helps us to budget and to practice the use what we already have principle.
If you've not started menu planning or maybe not been very consistent with it, I encourage you to give it a try.
Below are some links to help get you started and give you some ideas for various menu options. Sometimes the hardest part is getting ideas of what to make.
My favorite tip is to sit down with your family – maybe when you're already at the dinner table – with pen and paper in hand and write down some of their favorite meals for breakfast, lunch and dinner. Now as a real foodie you are going to tweak them and make sure they follow the guidelines for real food, plug them in your menu and add the items needed to your grocery list.
Some Helps Here at Thankful Homemaker:
Menu Planning Basics with Real Foods
Simple & Healthy Breakfast Ideas
Homemaking 101 Series: Menu Planning
Menu Plans from Real Food Bloggers:

Don't Waste the Crumbs – Frugal real food menu plans
The Better Mom – Bi-weekly meal plan with gluten free options put together from Kelly at The Nourishing Home.
Keeper of the Home – 4 weeks of meal plans
Keeper of the Home – 2 week Aldi real food plan from Erin at The Humbled Homemaker
100 Days of Real Food – Subscribers get a free download of 5 weeks of 7 day meal plans.
What are your favorite meal planning tips? Do you have a favorite website to help you plan your real food menu for your family? Please share with us in the comments or join us on Facebook in the Baby Steps to Healthy Living Facebook Group
All Posts & Resources in the Baby Steps to Healthy Living Series:
Baby Steps to Healthy Living Introductory Post
Defining Real Food & What Foods to Avoid
Baby Steps to Healthy Living Facebook Group
Baby Steps to Healthy Living Pinterest Board