Menu Planning Basics with Real Foods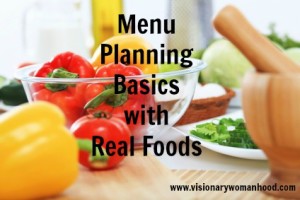 As our family was exposed more to real food through resources such as
Nourishing Traditions
and
Sue Gregg,
the easiest way I found to implement them into our daily meals was to plan it. Little by little our family menus changed to incorporate more real food, and as time has gone on and this way of cooking has become part of our life, it happens pretty simply now.
This is a big change from a girl raised in the Crisco, Campbell's Cream of Soups and Doritos generation.
Disclaimer
Please know that eating healthy is not an idol to me. Eating healthy is not the gospel. If I am spending more time thinking about healthy food instead of time in God's Word and applying it to my life, I need to repent.
God is sovereign, and just because I am eating a fairly clean diet doesn't mean that in this fallen world I will not get cancer or die young. God wills and works for His good purposes in all things. My purpose as a believer is to bring glory to Him in all that I do. If I am eating at a friends house and they have an ingredient* I wouldn't use at home, it is not very glorifying to the Lord to rudely point it out to them (1 Corinthians 13:5). There may be a time to have a friendly food discussion with them, and they may have no interest in why we eat the way we do. (*note – food allergies are an exception :))
First, not everyone is in a situation where they can afford to eat a real food diet. Second, we are told in Scripture that our body is the temple of the Holy Spirit, but there are so many different opinions on what is good for us and what isn't, where do you draw the line on that one? Third, do your homework and research what changes are most important to you and use what works within your family's time and budget.
Food is a gift from the Lord, and it should be a joy to plan meals, shop and cook for our families. Don't make it a law or put a burden on yourself that God's Word doesn't.
You are not glorifying the Lord if you are overspending your budget to eat healthy. You are not glorifying the Lord if you are stressing yourself out about eating healthy. You are not glorifying the Lord if you have lost all joy in planning your family's meals. You are not glorifying the Lord if you are looking down on how others are eating and passing judgment – ouch!
Your relationship with the Lord and others is more important than the food you are eating. Okay, I'm finished now let's move forward.
Plan It
We are not perfect eaters,
and I still use white sugar and flour on occasion. I even have an occasional soda when we're on a trip, but for the most part our daily meals at home are whole food based. I was not raised a good vegetable eater so this is one I have had to be intentional at working in to our meals. We took part in a
CSA
and that introduced me to vegetables I had never heard of, and it has boosted my confidence that I can cook these unfamiliar vegetables with the help of Google.
If you are hoping to incorporate more whole foods into your daily menus you need to take the time to plan it.
Kelly's
post
was a great start to make some healthy replacements to your meals. Learn to read labels, and every week try to make a healthy replacement whether it is making
cream of chicken soup
from scratch to get rid of MSG – or switching over to real butter.
Three Days of Real Food Menu Planning
There may be some tips below you would like to work into your meal planning, and there may be some that have no interest to you, but I encourage you to research and read for yourself the "why" behind some of the recipes. I used to think it was too hard to plan healthy meals until I wrote it on paper and realized the actual time it took to plan ahead didn't add very much to my day.
I have included a
basic version
and the
"Notch it up"
Nourishing Traditions method. Before you start, if you have not heard of soaking grains please read this post at The Nourishing Home on
How to Soak Grains for Optimal Nutrition.
Day One
(Notch it up method requires prep the night before)
Breakfast: Oatmeal with nuts, dried fruit, maple syrup and your milk of choice.
(Notch it up: Crispy Nuts & Soaked oatmeal (you have to prepare this the night before) Place oats and 1/2 the water with a teaspoon of raw apple cider vinegar in a pan covered overnight. When ready to cook the next day add the rest of the water and cook until oats are desired consistency. If the apple cider vinegar taste concerns you, draining the oats and rinsing before cooking is an alternative but not necessary. I cook my oats with a 1:2 ratio. Example 2 cups of oats to 4 cups of water. )
Lunch: Hard boiled eggs, crispy nuts, cut up veggies, cheese cubes and fresh apple slices
Day Two
Breakfast: Fried eggs in real butter or coconut oil, whole grain toast and not from concentrate orange juice.
(Notch it up: Free range eggs, sprouted bread or Ezekiel brand or similar, and fresh squeezed orange juice)
Lunch: Natural Peanut Butter and Jam on whole grain bread, carrot sticks and apple slices
Dinner: Roasted Chicken in Crock pot, salad, baked sweet potatoes with maple syrup and butter & sauteed spinach in butter and fresh garlic with sea salt.
(Prep for Tomorrow: Remove all the meat from the chicken and put all bones in the crock pot. Follow recipe here to prepare for tomorrow's Chicken and Rice soup.)
Day Three
Breakfast: Smoothies – (Save any extra fruit from meals in a freezer bag to toss into smoothies)
Dinner: Chicken and Rice soup (recipe below) with carrots, celery and onions, salad and whole grain bread or croutons (recipe below).
(Notch it up: Homemade croutons – Cube bread and mix together with melted butter, minced garlic cloves and sea salt. Place in a single layer in a shallow pan and bake at 300 degrees until crisp. Stir often and watch carefully. Store unused croutons in a freezer bag in the freezer.)
(Chicken and Rice Soup recipe: Strain broth into a large stockpot I leave all that wonderful fat along with it – you don't have to do this, but we buy good organic farm raised chickens, and I want to get everything I can from that pricey little bird.) Place cut up veggies and rice in the broth and heat for about 45min – 1 hour. Add leftover chicken and seasonings to your taste. We still have enough leftover chicken for another meal depending on the initial size of the chicken used in day two's meal plan. I will either just freeze the leftover meat or plan another meal that week with it. )
Extras
Beverages
– Water is our beverage of choice. There is always a pitcher on the table at every meal, and we enjoy lemon slices in it too. There is usually a pitcher of herbal tea in the fridge. A fun beverage for a soda replacement is sparkling water with a little juice mixed in . We are coffee drinkers in the morning, and I use organic coffee creamer and S
tevia
to sweeten it.
Snack options:
Homemade granola bars
, fresh fruit, cut up veggies, salsa and chips, figs, dried fruit or a hard boiled egg have been the favorites lately.
Desserts:
I have a sweet tooth, and this is an area I am still working to improve. We don't have a dessert every night after dinner (well my son and father-in-law do :)) but if we do it is a piece of good dark chocolate, homemade cookies made with whole wheat flour and rapadura, dried figs, dates with an almond stuffed inside or
coconut date rolls
. Let me share some favorites from the web with you on raw energy snacks that we enjoy when that sweet tooth is calling:
Set Reasonable Goals
When I was first introduced to real foods and started sprouting, soaking, making yogurt and fermenting it was overwhelming.
I took a step back and have worked into our schedule what is most important to us.
Some items I don't do and others my budget allows us to purchase those items already made. I enjoy making
homemade yogurt,
but it doesn't work out every week. K
ombucha
is a great beverage but easier for me to purchase as I'm the only one who drinks it.
When I want to add a new food technique I do only one at a time until is becomes part of our routine. Read, research, and use what works for your home and family. Don't compare yourself to what others are doing.
What are some of your favorite tips at incorporating real foods into your everyday meals? Do you offer yourself and others grace in your journey to eating real foods?
Helpful Resources: