Do You Take Delight in Being a Keeper of Your Home?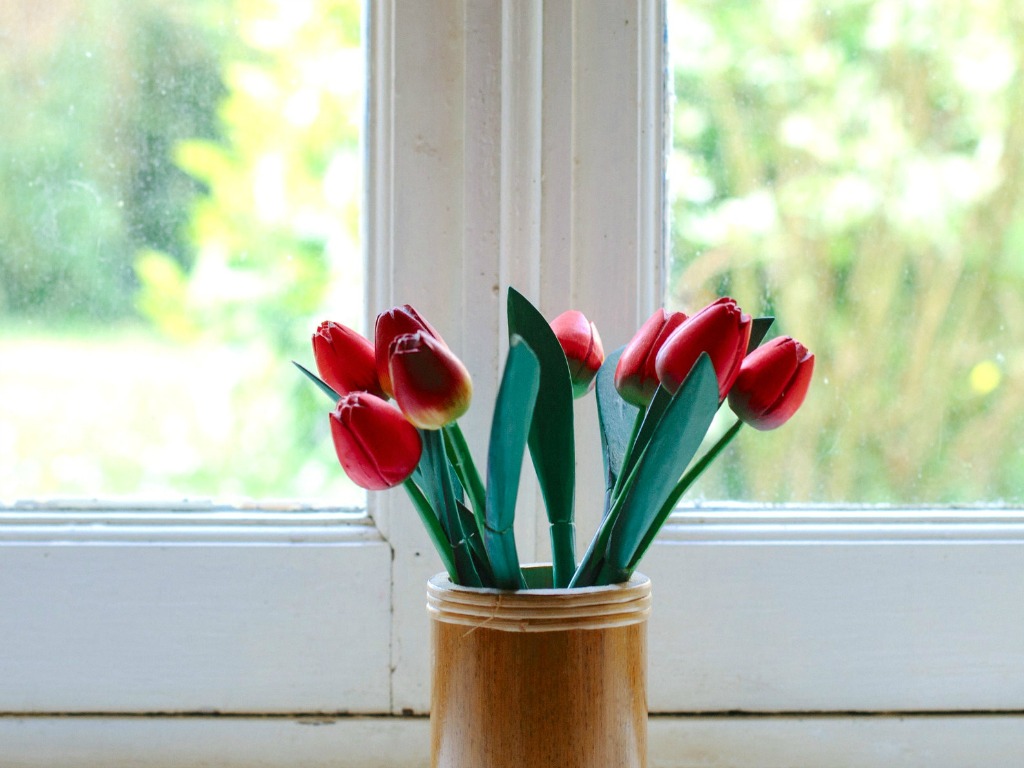 "As Christian women, this is the attitude that should characterize our lives. We are to be women who love our homes. We are not to merely workers at home, but we are to take great pleasure in working in our homes. We are to thoroughly enjoy the sphere that God has assigned to us." ~Carolyn Mahaney
I have been reading a book called At Home With Madame Chic: Becoming a Connoisseur of Daily Life and although it is not a Christian book it gave me much to ponder about how we look at our Christian homemaking.
I didn't come to a saving knowledge of the Lord Jesus Christ until later in my life. I raised my children and cared for my home for much of my life as an unbeliever. I did work for the first year of our marriage but my husband and I quickly decided it would be better for me to be home raising our daughter and caring for our home.
When I was a stay at home mom as a non-believer, I loved being home and taking care of my family and home. I didn't grumble or overthink about the tasks set before me. I read books about homemaking and always tried to gain more skills in the care of my home and family.
As a non-believer, I did it for the praise of man but I really did love my family and wanted to take good care of them. The non-christian women I spent time with loved to care for their homes and families and I think back that we were all doing this without a knowledge of the Lord.
Madame Chic and other secular books like it still encourage me in my home keeping but also give me a heavy heart when I see nonbelievers valuing the care of their home and family and Christian women overlooking or grumbling at the value of being good managers of their homes.
If you have a family and home this is your job to care well for them. How you care for your family has a direct impact on what you believe about the Gospel. If you are living your life in disarray and not using your time wisely how does that speak well of the Gospel?
We are created by a God of order and our lives should be a reflection of Him. Not perfectly, but it is what we should be striving for while on this earth.
He is a God of love and we should be living out that love by the power of His Holy Spirit within us to those within our own four walls. Your family should be so loved and cared for by you that it makes the unbelieving world around you want to know more about this God you serve.
Even if we are living all that out perfectly we still need to open our mouths and share the gospel verbally and give an answer to all for what we believe. People are not going to drop down and repent because you keep up with your laundry and meal plan. They need to hear the Good News of the Gospel.
So faith comes from hearing, and hearing through the word of Christ.

~ Romans 10:17
Being in Christ, I know that how I care for my home and family impacts the Gospel. I realize the true value of being a keeper of my home. I desire to know and study God's Word, love my husband and children, be a keeper of my home, and tell others the glorious Good News of the Gospel.
3 Older women likewise are to be reverent in behavior, not slanderers or slaves to much wine. They are to teach what is good, 4 and so train the young women to love their husbands and children, 5 to be self-controlled, pure, working at home, kind, and submissive to their own husbands, that the word of God may not be reviled.
~ Titus 2:3-5
What about you? Do you grumble about keeping your home? Do you strive to learn how to be a better manager of your home? Do you take the time to study God's Word so it is hidden in your heart and it has an impact on your attitude and actions? Do you prioritize your days well to care for your home and family first?
Mama's we have been given a job by the creator of the Universe – let's do it well!
"This job has been given to me to do. Therefore, it is a gift. Therefore, it is a privilege. Therefore, it is an offering I may make to God. Therefore, it is to be done gladly, if it is done for Him. Here, not somewhere else, I may learn God's way. In this job, not in some other, God looks for faithfulness."

~ Elisabeth Elliot
If you are contemplating opportunities outside the home, I encourage you to ponder these wise questions from Carolyn Mahaney taken from her book Feminine Appeal. They are to help you in determining that you are making wise decisions and that you do not lose sight of your primary obligation to your home.
-What are my reasons for considering this opportunity? Are they selfish or God-honoring?
– Will pursuing this venture glorify God and honor the gospel?
– Is this an undertaking that will help my husband?
– Will it enhance and enrich the lives of my family?
– Does this endeavor hinder my role as a caretaker of my home?
"The home is where a woman provides the expressions of love for her husband and her children. The home is where she leads and guides and teaches and raises the godly generation. The home is where she is protected and secured from other men and potentially wicked relationships and abuses. The home is where she lodges strangers, washes saints' feet, shows hospitality and devotes herself to every good work. That's her sphere. And whatever of that home and whatever of the goodness of her life she can take outside and not sacrifice the home is between her and the Lord and her husband."

~ John MacArthur
Love, Marci
Related Posts:
How Well Do You Manage Your Home
Where to Begin When You're Overwhelmed