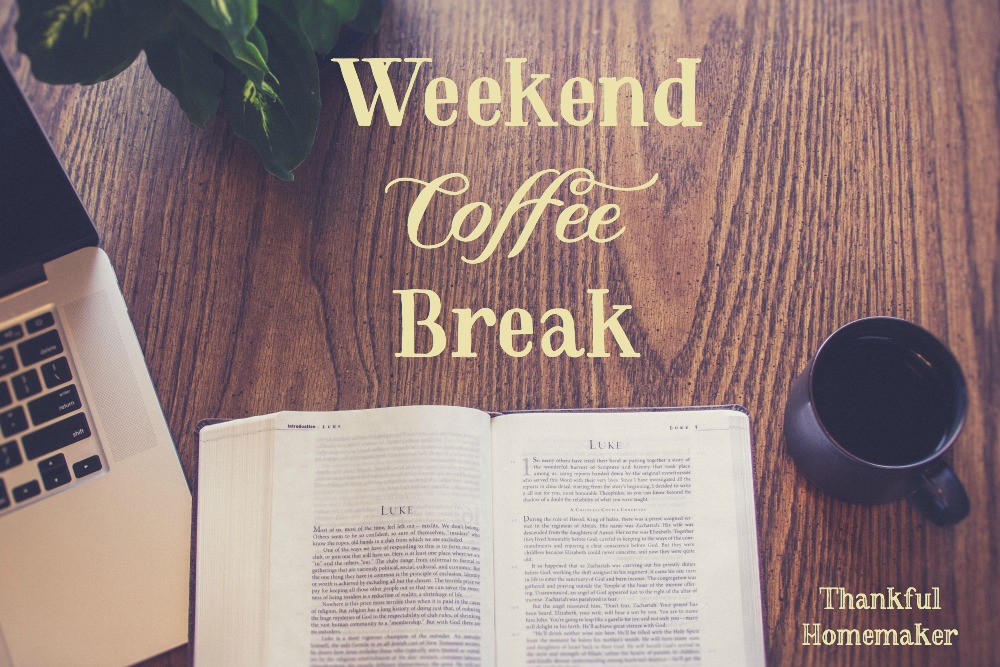 To Read:
Five Parenting Myths I Used to Believe – @One Degree to Another
"To experience the good times, I first had to abandon some ridiculous preconceived notions and myths I believed about parenting. There are five parenting myths I believed that were harmful and wrongheaded."
The Wounds of a Friend – @Everyone Needs a Little Grace in Their Lives
"I say this carefully. Many have been unnecessarily wounded by well-meaning people who make the problem worse, not better. Quoting Bible verses glibly to a person in pain or grief is certainly not helpful. There is a time for prayers, physical presence, and silence. But Alyssa did it right: She already knew me very well, she gave me her time, her compassion, her help, and when the time was right, she told me the Truth."
3 Challenges to Creating a Gospel Culture in Your Family – @Michael Kelley
"The reason the pace of our schedule is an obstacle to a gospel-centered culture in our home is simple – creating a culture like this takes time. A sustained, long period of time."
Mentoring is Modeling Weakness – @True Woman Blog
"That means, older women, the only requirement you need to help us younger women is your weakness and your trust in God. We need to see you live in your weakness so we know how to live in ours."
To Listen To:
Exploring My Strange Bible (from the team at The Bible Project) is starting a new series on the Psalms.
Another reminder that my favorite podcast is now free but is also still listener supported. Check out Wretched Radio. It's my favorite dinnertime prep podcast to listen to.
Delighting in Being a Worker at Home is the latest podcast at Thankful Homemaker. You can subscribe to the podcast here or find all past episodes here.
To Watch:
Here's a series of lectures on the Reformation from Timothy George.
For Your Bookshelf:
Keep a Quiet Heart by Elisabeth Elliot. I only have this one on my list this week and it's a good one to read and re-read. I'm still finishing this one up from last week and it's been a fascinating read.
To Make:
Volcano Mudslide Muffin – I've been doing Trim Healthy Mama for a bit now and this ones a favorite and so easy. I use a mug or sometimes a ramekin and put it in the microwave.
For Your Home:
Thanksgiving a Time to Remember by Barbara Rainey is a beautiful keepsake book to bring out yearly at Thanksgiving. We have used it for many years now and continue to make it part of our annual celebration.
My Homemaking Mentor Online Training Academy has opened for enrollment but only until November 7th so if you're interested hurry and take a peek. It won't open again until April.
Essentially the academy is like your own private homemaking college. There are tons of courses from different instructors ready for you to go through. Click here for courses available and instructors.
To Ponder:
The more I see of Jesus, the more He opens to me His loving heart, the deeper is my sorrow for sin. I lie down in the dust of His feet closer than ever I did before. I can truly say I abhor myself in dust and ashes before Him. My heart seems ready to melt into contrition in view of the ten thousand thousand sins, willful and aggravating, that I have committed against Him, who loved me with an everlasting love, and with loving kindness drew me to Himself.
Mary Winslow
Indeed, I count everything as loss because of the surpassing worth of knowing Christ Jesus my Lord. For his sake I have suffered the loss of all things and count them as rubbish, in order that I may gain Christ

~ Philippians 3:8