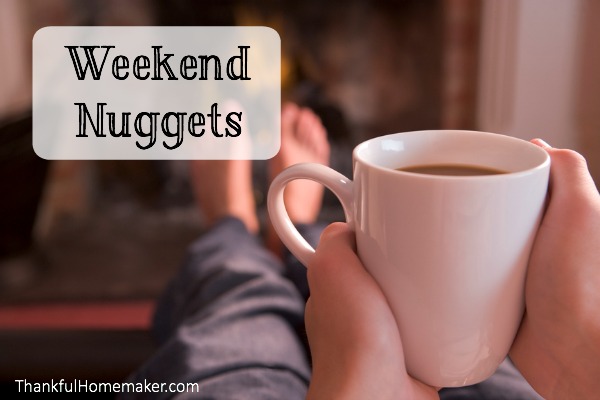 Blog Posts I Loved This Week:
Why Do You Criticize Ann Voskamp? @Rick Thomas
We Are One – A 31 Day Marriage Devotional @Rick Thomas (I've been working through them by podcast)
8 Ways God Works in Our Suffering @Tim Challies
3 Reasons I'm Grateful to Have Married Young @Forward Progress
How Can I Improve My Prayer Life? @Donald Whitney via Southern Seminary
What's On My Nightstand:
No Little Women by Aimee Bryd
The Pursuit of God in the Company of Friends by Richard C. Lamb Jr. (still working through this one)
What I'm Listening To:
Joshua Study at Flower Mound Bible Study by Jen Wilkin (I'm reading through Joshua now and just listening along as I go.)
God's Beautiful Design for Women, Day 35 at Revive Our Hearts – (The whole series is good and Day 34 & Day 33 are worth your listen too.)
The Beauty of a Submissive Wife from College Park Church. This is an excellent sermon ladies my friend Jacque (Deep Roots at Home) shared from her home church.
Top Posts at the Blog This Week:
Homemaking 101 Series: Getting Dressed
4 Encouragements to Help You Stay Motivated
What I'm Loving This Week:
Check out this sweet course from Jami at Young Wife's Guide called Finding Joy in Your Home. It's FREE and goes through 5 videos that will encourage you in your homemaking and help you to keep your focus on Christ as you care for your home and family. Click here for all the details or on the photo below.
Also don't miss out on enrollment opening again soon for My Homemaking Mentor Academy. There are over 15 courses and it is a lifetime membership but when membership opens it will only be open until April 3rd and not until fall again. I'll have more information this week on the upcoming sale.
"A true faith in Jesus Christ will not suffer us to be idle. No, it is an active, lively, restless principle; it fills the heart, so that it cannot be easy till it is doing something for Jesus Christ."

~ George Whitefield