4 Encouragements to Help You Stay Motivated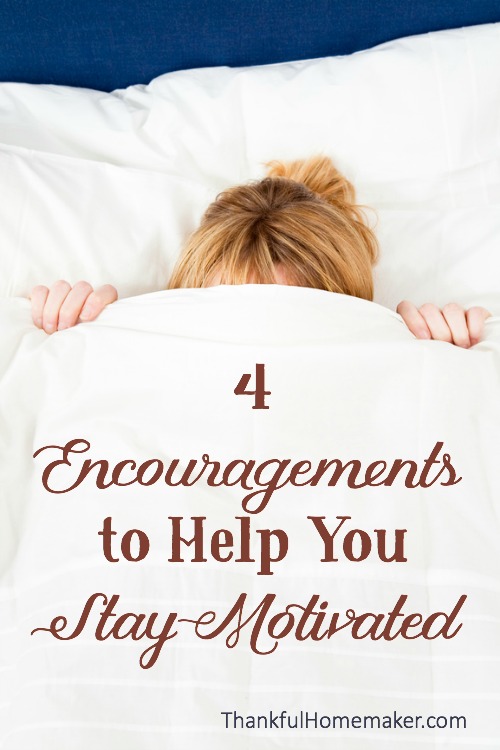 Ever have one of those days when you hoped to be extremely productive and take charge of the day and tasks ahead only to get to the end of the day and realize you didn't get anything done? Ever just find yourself unmotivated in your home keeping? I do more than I'd like to admit and I want to share with you today four thoughts that encourage me to stay motivated and work through my to-do list.
Four Encouragements to Help You Stay Motivated:
1. Realize I am responsible to God for how I spend my time.
A little sleep, a little slumber, a little folding of the hands to rest, and poverty will come upon you like a robber, and want like an armed man.

~ Proverbs 6:10-11
My strength to accomplish my tasks comes from the Lord, and I don't rely on Him as I should but look to my own strength. In those moments when I'm just feeling lazy, I take the time to pray and ask the Lord to help me get my work done with a good heart and diligently (Colossians 3:23-24). I remember that I am a steward to the Lord of my time and being productive at home helps my husband and family. It also stewards not just my time but our finances. I remind myself that even the simple things like meal planning and caring for our home helps to save money, but these are things that take work and motivation to plan (Proverbs 6:11)
2. When I'm unmotivated, it hinders my reliability to others.
Like vinegar to the teeth and smoke to the eyes, so is the sluggard to those who send him.

~ Proverbs 10:26
If we're not diligent in following through on tasks, we are responsible for it makes others not trust us or depend on us. In my home, I think first of my husband. If there are things I promised to help him with and don't follow through, he is going to look to me as unreliable. I don't want him to think of me as vinegar to his teeth or smoke to his eyes, both are irritating.
3. Unfinished tasks just keep building and then they become overwhelming.
Whoever is slothful will not roast his game, but the diligent man will get precious wealth.

~ Proverbs 12:27
When we are lazy, (yes, I said lazy because that is what I sinfully am at times when I'm unmotivated – unmotivated sounds nicer but it is at times just laziness) to finish tasks they don't just go away but keep adding up. My modern thought on Proverbs 12:27 is going to the grocery store, buying groceries and never cooking anything with them. How many times do I start cleaning a room or maybe organizing a room and I don't finish? Proverbs 12:27 calls me slothful. I need to pray for diligence in my work and follow through to finish the tasks that are on my list each day. I don't want to live in a state of always feeling overwhelmed.
4. When we're unmotivated, our desires will remain unfulfilled.
The soul of the sluggard craves and gets nothing, while the soul of the diligent is richly supplied. ~ Proverbs 13:4
I understand that our earthly desires will not all be fulfilled while we walk on this earth but the point I'm sharing here is everything we do takes motivation. Maybe you hope to take a vacation as a family; this takes planning and saving. You might like to paint a room or organize your kitchen or start a blog, it all takes motivation to initiate and follow through. You may want to volunteer or save money so you can help others. Lazy people can want to live life to the fullest, but it won't happen without putting their hand to the plow and moving forward.
Our Ultimate Motivation:
When we're unmotivated it may seem for the moment we have comfort and ease, but that's not what it delivers in the end. Spurgeon said, "Idleness is selfishness, and this is not consistent with the love of neighbor, nor with any high degree of virtue."
[clickToTweet tweet="The Lord is my motivation in fighting the sin of laziness." quote="The Lord is my motivation in fighting the sin of laziness."]
The sin of slothfulness is deceiving. Augustine shared, "Sloth poses as the love of peace: yet what certain peace is there besides the Lord?" Our true peace is in the Lord and his gift of salvation through His Son Jesus. The Lord is my motivation in fighting the sin of laziness. May we seek Him first and look to Him for the strength and help we need in overcoming this sin.
"A true faith in Jesus Christ will not suffer us to be idle. No, it is an active, lively, restless principle; it fills the heart, so that it cannot be easy till it is doing something for Jesus Christ."

~ George Whitefield
(This is such a helpful little resource in overcoming the sin of laziness: Help, I Can't Get Motivated by Adam Embry)