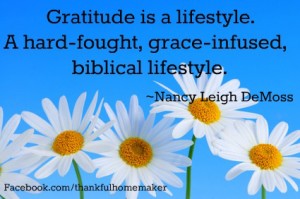 I have been spending time in
Choosing Gratitude: Your Journey to Joy
by Nancy Leigh DeMoss. It has convicted me greatly as to how often I have an ungrateful heart. I have realized the truth that Nancy emphasizes:
Choosing to have a grateful heart in and through all circumstances is a choice.
It takes intentional effort on our part and doesn't just happen.
If we're not choosing gratitude we are choosing ingratitude – no middle ground here.
I appreciated the reminder she gave us on Christian gratitude below. There are many books and seminars out there on being thankful but as believers in the Lord Jesus Christ our thank you is for more than just the good things that come about like a great parking space or good test results.
"Christian gratitude involves:

Recognizing the many benefits we've received from God and others (including those blessings that may come disguised as problems and difficulties).

Acknowledging God as the ultimate Giver of every good gift,

Expressing appreciation to Him (and others) for those gifts."
Quotes to ponder:
"I have learned that in every circumstance that comes my way, I can choose to respond in one of two ways: I can whine or I can worship! And I can't worship without giving thanks. It just isn't possible. When we choose the pathway of worship and giving thanks, especially in the midst of difficult circumstances, there is a fragrance, a radiance, that issues forth out of our lives to bless the Lord and others."
"The higher our standard of living the more discontented we become."
"Ungrateful people tend to hold tightly to their rights."
"Ingratitude is one of our enemy's most lethal weapons."
"Do we give glory to God for the part of our life that's going the way we want? Or do we worship Him, trust Him and give thanks, just because He is God–regardless of the dark, painful, incomprehensible places we encounter in our journey?"
"A grateful person is a humble person, while ingratitude reveals a proud heart."
May we be reminded today as His chosen ones that He has full right to our lives. May we have hearts that gratefully trust Him with all things. May today be the start of having hearts that Choose Gratitude.
Gratitude is born in hearts that take time to count up past mercies.
~ Charles Jefferson ~
give thanks in all circumstances; for this is the will of God in Christ Jesus for you.
1 Thessalonians 5:18
Related Resources:
Choosing Gratitude: Your Journey to Joy by Nancy Leigh DeMoss
Choosing Gratitude Companion Journal
30 Day Gratitude Challenge – Free download at Revive Our Hearts – you have the option to have the devotions emailed daily to your inbox or download the whole challenge to print out.