Delighting in Your Children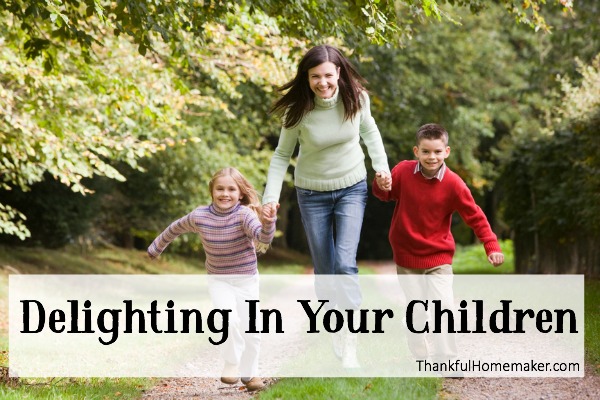 God's Word describes children as blessings rewards and gifts from the Lord. If you are a mom, what a sweet gift the Lord has bestowed upon you with the gift of children.
A woman today who takes delight in her children, truly loves being a mother, and relates to them with a tender, warm affection is rare. We are very good at sacrificing for our children and daily laying down our lives for them. We meet their physical needs and take care of all the organizational details of their lives. How many days are our homes filled with tired, unhappy, and overwhelmed mothers? Loving our children with a warm, affectionate love in the midst of daily life is hard for us to achieve.
Dealing with Our Selfishness and Anger
The two biggest areas we seem to struggle in as moms are selfishness and anger.
Motherhood requires much sacrifice. Our "profession" takes much physical, emotional and mental strength. It also brings out the sin of selfishness in our hearts.
Anger is an area many of us struggle in as moms. Did you ever think that you never had an anger problem until you had children? There are days that I cannot believe the sinful response I have had toward my children. It may be that the sinful response never got any further than my thoughts, but it was there.
Our problem with the sins of selfishness and anger (or whatever sin may be an issue in your life) were already there before our children were born. Motherhood only revealed these sins. The Lord uses everything in our lives as Christians to mold us more into the image of His Son – Jesus Christ. God uses our children in the sanctification process of our lives.
Our sin will rob us of the joy of serving and delighting in our children. God's grace is bigger than our sin and God will redeem it and use it for His glory. What we need to do as sinful mama's is humble ourselves before Him and ask for help.
As a Christian, I desire to become more Christ-like. I can testify that the children God gave us will help us along in that process. When we have sinned against our children, we need to seek forgiveness and restore our relationship. God will work it for His good. Every time I have properly sought forgiveness from my children when I have sinned against them, the relationship has turned out sweeter than it was before.
God's ways are so good.
We must look at the description of children from Psalm 127:3-5 and ask ourselves: Is this how I view my children? Gifts, rewards, and blessings. Or does my mind go toward hard work, sacrifice, and difficulty? If I am thinking my children are a burden that will come out in my speech and attitudes toward them.
If you have not been enjoying and delighting in your children, I pray you will repent and remember God's mercy is awaiting you this moment. Spend time in passages like Proverbs 31, 1 Corinthians 13 andTitus 2:3-5. Read encouraging books on Christian Motherhood – June Fuentes has a beautiful book called True Christian Motherhood that I highly recommend. Another favorite book that has been such an encouragement to me in my role as a wife and mother is Feminine Appeal by Carolyn Mahaney.
We serve a powerful God who will supply all we need to think of our children as blessings, gifts, and rewards, and He can turn this great job of motherhood that He has called us to into a beautiful, joyful experience.
Ways to Delight in Your Children:
-Smile – a lot! – "A joyful heart is good medicine, but a crushed spirit dries up the bones." Proverbs 17:22
-Cherish them – Webster's definition of cherish is "to hold dear: feel or show affection for."
-Rejoice with them when they rejoice. Sympathize with them and comfort them when they are hurting.
-Don't be distracted with other things when you are talking with them. Give them your undivided attention. Let them know that Mom wants to hear all about it.
-Give them much grace – we have been given much grace.
-Do they know that they are a priority in your life? Your husband 
must always be first, but your children are next on the list.
-Do not make them feel like they are a bother or interruption to you.
-They must know they can come to you about anything that is on their hearts and minds. Communication is so important, and this leads me to the next point –
-There is no quality time without quantity time. Spend time with them. Be intentional about asking them questions about how they are doing and what is going on in their lives. Talk about how they are doing in their walk with the Lord. It doesn't have to be a huge undertaking to have some time with each child. Simple things like running errands together, having a snack at the kitchen table, cooking dinner together, playing a game, or just sitting in their room and chatting before bed will help keep the lines of communication open. I want them to be able to tell Mom anything.
-Encourage them often – let them know when you see God at work in their lives.
-Physical affection is so important in a family: hugs, kisses, and appropriate touching should be going on throughout the day. Always kiss when you leave each other and before bedtime.
-"I love you" should be heard throughout your home during the day.
-Write them letters: praying for them, letters of encouragement, or just "thinking of you" cards.
-Take time to pray with them daily – no matter their ages.
-Leave them sweet notes to be found in fun places that will 
surprise them.
~ Some excerpts of this post are taken from Heart of Simplicity from the Motherhood chapter.