Loving Our Children – Part One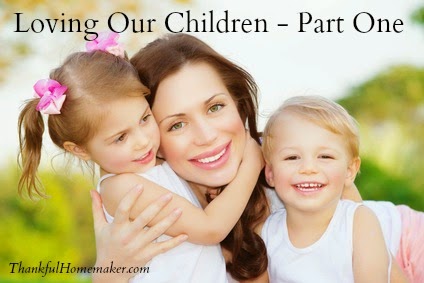 There is a favorite book I turn to often to look for encouragement in my role as a wife and mother. God's Word is always my first destination but a book that I came across several years ago is Feminine Appeal by Carolyn Mahaney. Carolyn is looking at our role as Titus 2 women and what the scripture teaches by taking apart that verse a section at a time. I have been spending much time in chapter three titled, "The Blessings of Loving My Children".
She starts off the chapter by reminding us as mom's how good we are at self sacrificing love. "It is a rare experience to meet a woman who doesn't sacrifice for her children and daily lay down her life to serve them. We are good at that kind of love."
"What is rare is a woman who delights in her children, takes pleasure in them, she loves being a mother. She relates to them with a tender, warm affection." ~Carolyn Mahaney
"Aren't there days where if someone was observing what was going on at our house they would see an unhappy, irritated exasperated mom yet all the while sacrificing for her family doing the homeschooling, doing the laundry, cooking the meals. It's loving our children and husband with a tender affectionate love amidst all the sacrifice that is harder for us to achieve." ~Carolyn Mahaney
The phrase in Titus 2:4, "love their children" is only one word in the Greek. It is the compound word philoteknos meaning children-lover. Philoteknos is derived from two Greek words, phileo and teknon. Phileo is the warm, affectionate, love. It emphasizes enjoyment and pleasure in the relationship. Teknon means children.
It was phileo love rather than agape love that Paul was to have the older women teach the younger women.
Why do you think Paul used this word instead of agape? This is a great moment to search your heart and ponder how you love your children. Is it just with a self sacrificing love or a tender affectionate love?
How do we grow in this tender affectionate love?
There are two areas Carolyn first reminds us of before we move forward in cultivating this kind of love for our children.
First, this love to my children should not exceed love for my husband. We are not to center our whole lives around our children. We were created for the man. We are created to be our husband's helper. Our husband should never feel that we that we prize our children above our relationship with him. He is to be first in our heart and first in our care.
Second, tender love does not give in to indulgence.
Selfishness tempts us to indulge our children. We give in their every want because we don't want to endure the crying that will take place we say no or are too lazy to discipline them.
Why do we give in to their every wish? Do we have a fear of man? Carolyn's husband defines fear of man as "excessive sinful concern about what our children think of us; an inordinate desire for our children's approval; or an intense fear of being rejected by our children." – CJ Mahaney.
Indulgence is not love. Growing in tender, affectionate love does not conflict with the discipline and training we need to provide for our children; instead it helps them to receive our discipline and training more willingly and readily if we are growing in this tender affectionate love.
We do not naturally love our children with a tender affectionate love otherwise Paul would not have instructed the older women to teach the younger children to love their children with this kind of love.
We need to learn how to love our children with a tender, affectionate love. We feel it when that beautiful, sweet, newborn is put into our arms for the very first time. But all children come with a sinful nature. We don't need to teach our children how to lie, throw a tantrum, be selfish and demand their own way and all the other examples that are going through your mind as you are reading this. How quickly our tender feelings can dissipate during those moments. Where are all those tender feelings we say we have for our children at those moments? Sin would be the reason – it quickly takes away those tender feelings of Phileo love.
"Our hearts govern our feelings and rule our affections and when sin rules our hearts our tender feelings for our children will be thwarted." – Carolyn Mahaney
There are a lot of sinful response that extinguish our tender affection towards are children but Carolyn brings out the two primary culprits: Selfishness and Anger.
There is no greater profession that requires great sacrifice and servanthood than that of being a mother. This is a primary factor in why selfishness is one of primary sinful responses.
"No job on earth takes more physical, mental, social, emotional and spiritual strength then being a good wife and mother. If a gal's looking for the easy life, she might try teaching tennis, cutting diamonds, or joining a roller derby team. There is nothing easy about good mothering. It can be backbreaking, heart wrenching, and anxiety producing. And that's jus the morning" ~Stephen Bly
We all know too well as moms that our time clock is 24/7. There are no weekends off, no paid vacations, no guarantees of a full nights rest. It is a full time occupation that is not even acknowledge by our world as an occupation. Your days are long and some days it seems that you do not have anymore of yourself to give to your children. Because motherhood requires much sacrifice – sacrifice reveals much selfishness that is in our hearts. We need to draw upon the strength of the Lord and his grace in those times. Ask him to help you to die to the selfishness that resides in you and lovingly serve your children.
Anger is the second area we deal with in not loving our children with a tender, affectionate love. I love how Carolyn describes how she was shocked at her sinful response at her husband and children because she never had an anger problem before having a husband and children. I believe many of us can relate to that statement – I know I can. The sin issue was there all along in our lives but marriage and motherhood brought it out and revealed what was truly in our hearts. Some good reminders she gave in the area of anger are that our children are the perfect fit for us to further the sanctification process in our lives and we are the perfect fit for them to further the sanctification process in their lives. Another good point she made that I am paraphrasing was, "your children are not so fragile that you will ruin them for life otherwise the Lord wouldn't have given them to us until we were far more mature in our walk. This is not an excuse to sin while dealing with difficult situations with our children but to seek God's grace in handling the difficult situations in His strength and not in our own."
"We finally learn how to parent when our children are all grown and leaving – that is so true – you feel you finally have the wisdom, experience and character you need while they are leaving home." ~Derek Prince
God chose this way – marriage & motherhood – in both we will grow in character and wisdom.
Motherhood and marriage is the primary means where God is conforming us into His image. This is not to give freedom to sin in our lives. Always remember, sin has negative consequences, sin is rebellion to God.
We will sin against our children – but God's grace is big enough to cover the effect of our sin on our children. He can redeem it for our good and His glory. We need to humble ourselves and look to the Lord for help.
As believers, we all desire to become more Christ like. God gave us children to help move that process along in our lives.
When we sin against our children – we need to humble ourselves and ask forgiveness of them and God will redeem it for good. The fruit of repentance is so sweet and I have seen it when I sin against my children and ask for forgiveness – our relationship is sweeter and closer than it was before.
In part two we will continue the conversation of how we are to cultivate tender behavior towards our children, and most important – the impact of the gospel in the lives of our children.
Related Post:
Loving Our Children Part Two