Encouragement on Difficult Days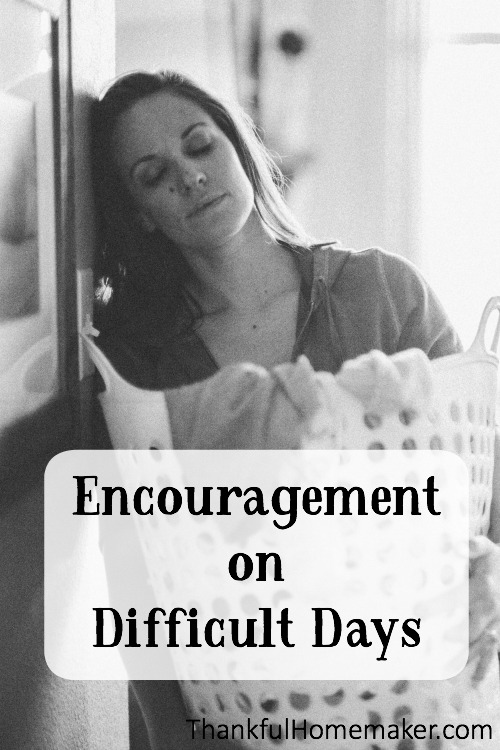 When our families go through battles with illness we know, as the mom, there seem to be no sick days for us. We may have restful days as we battle through the illness, but the needs of the home seem to await us until we are feeling better.
Times of difficult trials can also place a stress on our homes. How can we keep the peace of our homes when we do not at the moment see closure to the situation the Lord is bringing us through?
The Lord is my strength and my shield: in him my heart trusts, and I am helped; my heart exults, and with my song I give thanks to him.
Psalm 28:7
We must remember this truth in every situation – "The Lord is my strength" – "in Him my heart trusts, and I am helped." Whatever situation you are facing He has allowed, and it is for your good.
And we know that for those who love God all things work together for good, for those who are called according to his purpose.
Romans 8:28
We have responsibilities to continue to take care of and manage as keepers of our homes. Let me share some things I have learned that have been a help to me as our family has wandered through some trying times:
Make time to spend in the Word and prayer – You have nothing to offer others of spiritual value if you have not spent time alone with the Lord.
Focus on the basic needs during this time – time with the Lord, rest & food.
This is not a time to clean house but if time and strength permits, take a few minutes each day to tidy and keep some feeling of order.
Make a list of the must do's for that day – there should be no more than three must do's and eating must be one of them.
Accept and ask for help from others during this time. We have been so blessed by the love of our church family during trials and illness. The Lord provided through them many meals, words of encouragement and much prayer. Remember to reach out to others in need – there is much thankfulness in receiving a meal at your doorstep.
Your children are a huge help, and this is the time our training in basic home management is a true blessing.
I have two basic routines that I do every day – whether sick or well – they keep my home running in order and take very little time. Read my Morning Routine and Evening Routine when you have a moment. The lists of both are in my planner and on the inside of a kitchen cupboard door.
You may be a little more on edge so pray before you respond to your husband and children during this time. Stay close to the Lord, post Scriptures throughout your rooms, keep Bibles open in various areas and take time to be alone with the Lord in prayer.
Take time to enjoy and each other as a family. Cherish quiet meal times together, movie nights are great when everyone is feeling under the weather and just having the time to sit together to talk or to pray. Stay connected as a family always – during whatever circumstances you are facing.
Ladies, even when it seems things are overwhelming, and there is much on your plate – take time to cherish your husband everyday. Notes, hugs, kind words, kind gestures, and lots of love. Keep this relationship a priority no matter what you are facing.
Don't lose focus of the spiritual benefits of illness and trial – it is a time to draw closer to the Lord – to grow in your dependence on Him, and I love the ending of the verse in James – "so that you may be mature and complete, not lacking anything." (Take a listen to Trusting God in the Midst of a Trial here)
Consider it pure joy, my brothers and sisters, whenever you face trials of many kinds, because you know that the testing of your faith produces perseverance. Let perseverance finish its work so that you may be mature and complete, not lacking anything.
James 1:2-4
Though my natural instinct is to wish for a life free from pain, trouble, and adversity, I am learning to welcome anything that makes me conscious of my need for Him. If prayer is birthed out of desperation, then anything that makes me desperate for God is a blessing.
SaveSaveSaveSaveSaveSaveSaveSave
SaveSave