The Peacefulness of an Evening Routine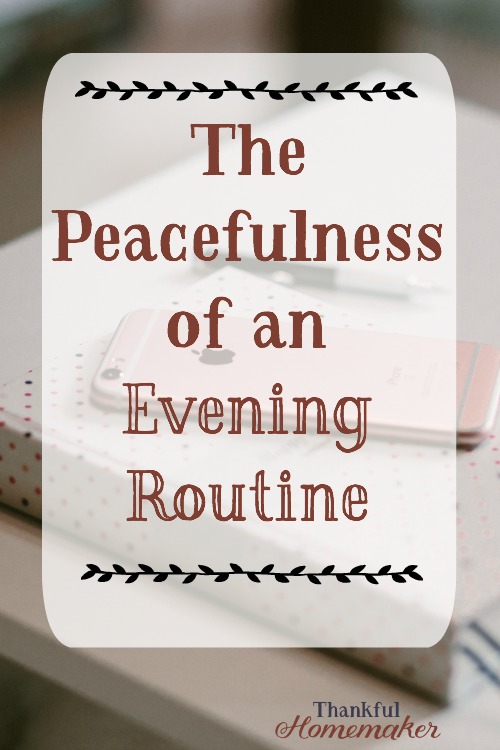 Several posts back we talked about The Joy of a Morning Routine and how it can give a jump start to your day. My next favorite time of the day is the Peacefulness of an Evening Routine. This is another one that has become a routine and not something I need to check a list for, but it helps me to rest well and wake up knowing I won't have a missed appointment or a sink full of dishes to meet me first thing in the morning.
Related Link: Podcast EP 21: The Routines of the Day – Making the Most of your Mornings and Evenings
[clickToTweet tweet="My favorite time of the day is prep time for the next day. Having an evening routine makes it a great way to end your day." quote="My favorite time of the day is prep time for the next day. Having an evening routine makes it a great way to end your day."]
I am just going to lay out my list as an example and give a brief explanation of why I like to do the things I do before bed.
Evening Routine:
Tidy house
Shine Sink
Hot Spots
To Do List for Tomorrow
What's for Dinner Tomorrow?
Lay out clothes
Clean face/teeth/pj's
Lotion hands & feet
Brush hair
Stretch
Prayer time with hubby
This is the basic list, and there are always additions and deletions depending on the evening – examples would be that we had late company or got home late then I may not complete all items, but when we are home with a normal evening, I pretty well stick to the list.
Tidy House – This is a 5-10 minute item. It is a quick pick up. No vacuuming or dusting just a quick tidy of usually just the main level.
Shine Sink – After the dishes are done in the evening I scrub and wipe down the sink and put out a fresh dish towel. This is a quick 3-minute task, and I am thankful not to wake up to dirty dishes or a dirty sink.
Hot Spots – That area of clutter we talked about in the Joy of Morning Routine. It is usually my kitchen desk.
To Do List for Tomorrow – I just write out in my planner a to-do list for tomorrow (pretty self-explanatory).
What's for Dinner? – Do I need to prepare or thaw anything for tomorrow?
Layout Clothes – I didn't use to do this, but it has made my day so much more productive. Sometimes I get up and shower before my husband, and I am thankful I don't need to be turning lights on or opening and closing dresser drawers. I believe my husband is thankful for this too.
Clean face/teeth/pj's – Favorite part of the evening routine 🙂
Lotion on hands & feet – I so love this treat. I keep cotton gloves and socks and lotion on my nightstand, so it makes it easy and this one I don't forget too often.
Brush Hair – This sounds so old-fashioned, but I love the feeling of freshly brushed hair. I bought a Mason Pearson brush about 15 years ago, and it is still a favorite.
Stretch – Age helps me to remember this one.
Prayer time with Hubby – I must correct myself that this one would be my favorite part of the evening. It is the highlight of my day. I love my Dougie, and there is not much better than snuggling up and praying together before bed.
Remember this is just an example of what works for me and your list may be different. As I am writing this, we are visiting my married, pregnant daughter in Norway and only parts of my evening routine will be part of the close of the day for us. It has been a joy to work with her and talk together about our routines and the differences between them. If there are three things I would encourage you to do from this list, it would be the, to do list, dinner check for tomorrow and prayer.
Please share your thoughts on what your before bed routine looks like. Do you have one? Have you thought about starting one?
Related Resources:
SaveSave