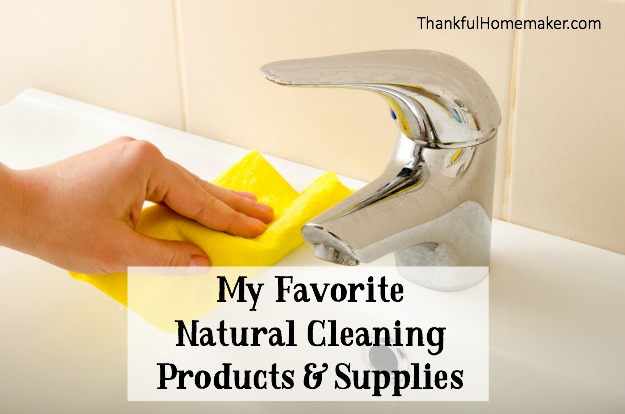 I have learned over the years that having the right tools makes any job easier.  This is certainly true within our homes.  We utilize many tools to clean our homes and having the right one for the job can make the task more efficient.
I have switched over the years from conventional cleaning products, to natural cleaners, to homemade natural cleaners and now I'm back to purchased natural cleaners.  It is a matter of choice for me in this season of my life but there is much satisfaction in making your own homemade cleaners too.
If you are going to go that route there are many recipes online but my favorite book I recommend is  The Naturally Clean Home.  The recipes are good, simple, practical and with easy to find ingredients.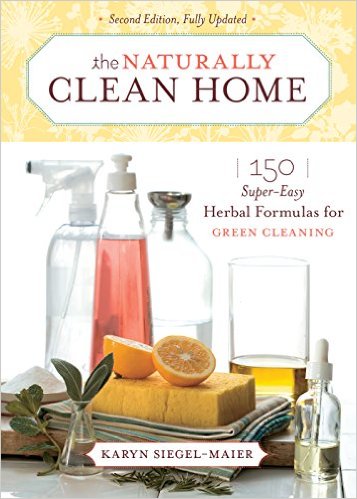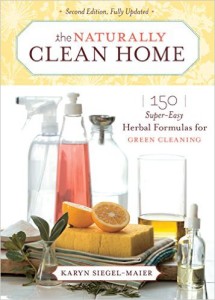 I do keep cleaning supplies stocked under every bathroom sink and the kitchen sink.  This makes it so easy to clean a room when you walk in it and everything is on hand.  I have a cleaning cupboard for extra supplies and it is where I store my wood cleaner, rags, mops, vacuum etc.
My Basic Cleaning Arsenal:
Vacuum – I do have a central vacuum system but I still use my Dyson Animal Vacuum quite often.  I love it for cleaning stairs and furniture.  It just seems to pick up more on my carpets than my central vacuum.
Wet Mop – I still favor my Sh-Mop over all others I've tried. I keep plenty of extra replacement mop heads on hand for it.  They wash up great and last a long time.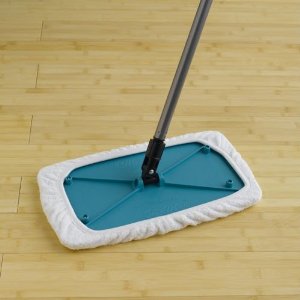 Dry Mop – I favor the old fashioned dust mop. (Great for cobwebs in the corners too)
Dry Mop #2 – Swiffer is great for a quick clean of my hardwood floors.
Cleaning Rags – I use microfiber cloths.
Window Rags – Norwex cannot be beat for cleaning windows.  I use a microfiber rag damp over the area of glass or window to clean and then finish with a window rag.  No streaks and no chemicals!
Wood Floor Cleaner – Method Almond Wood Floor Cleaner.  Love the smell.  Squirt some on the floor and mop up with my damp sh-mop.  So quick and easy.
General Floor Cleaner – Method Squirt & Mop All Purpose Floor Cleaner.  I use this and my damp sh-mop for bathrooms and all my tiled floors.
Wood Cleaner – For dusting I favor Method Wood Cleaner with a microfiber cloth.
Baseboard Cleaner – My dust broom is so handy for this task.
Window Cleaner – I still on occasion will grab a paper towel and wipe a mirror or window and Method Window Cleaner is my choice.
All Purpose Spray Cleaner – Caldrea countertop cleaner is my choice on all countertop surfaces.  If I feel the need for a disinfecting cleaner I will bring out my Sol-U-Mel from Melaleuca.
Favorite Kitchen Products:
Dish Soap – Mrs. Meyers is usually on my counter.
Dishwashing Soap – I have favored Seventh Generation powder for years.  I have never been a fan of the liquid and the tablets are usually more soap than a load of my dishes needs because we have soft water.
Kitchen Sink Scrub – Bon Ami.  LOVE IT!  I have a Corian sink and it does an excellent job.  It also works great on my stainless steel sink in the laundry room.
Sponges – 3M are my top pick
Counter & Table Wiping Cloths – Instead of paper towels or wet rags that don't wring out well try Skoy Cloths.  You will never go back to your normal table wiping rag again.  I promise :).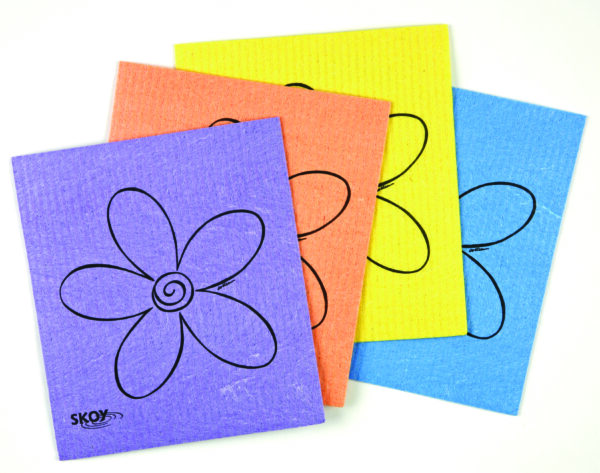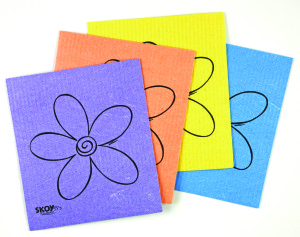 Favorite Bathroom Cleaners:
Tub & Tile Scrub – Method wins again. (Are you noticing a pattern here??)
Toilet Cleaner – Method Toilet Bowl cleaner.  If I have tough stains in the bowl I will go natural and leave 1/2 cup baking soda and 1 cup vinegar in the toilet bowl.  Scrub it and let it sit overnight with the lid down.  In the morning swish well and flush.  Voila! A clean toilet bowl.
Mirrors – My Norwex Window rags or Method window cleaner and paper towels for a quick clean up.
Bathroom Floors – I use Method all purpose floor cleaner.
(See Deep Cleaning Your Bathroom & 5 Minute Bathroom Tidy for more cleaning tips)
*Please note there are affiliate links in this post.  I linked to many products I do buy on Amazon but I also do local shopping at Costco, Target, and my local grocer.
If you'd like to see me use some of the supplies listed in action please visit me at My Homemaking Mentor along with so many other gifted speakers to help you in managing your home and family with a focus on Christ in all things.
Now it's your turn.  Do you buy your cleaning products?  Make them? Make some? Use natural or conventional cleaners? What are your favorites?
&