Podcast Ep. 31: The Supremacy of God – (Other Attributes Discussed: His Eternality, Self-Sufficiency & Self-Existence)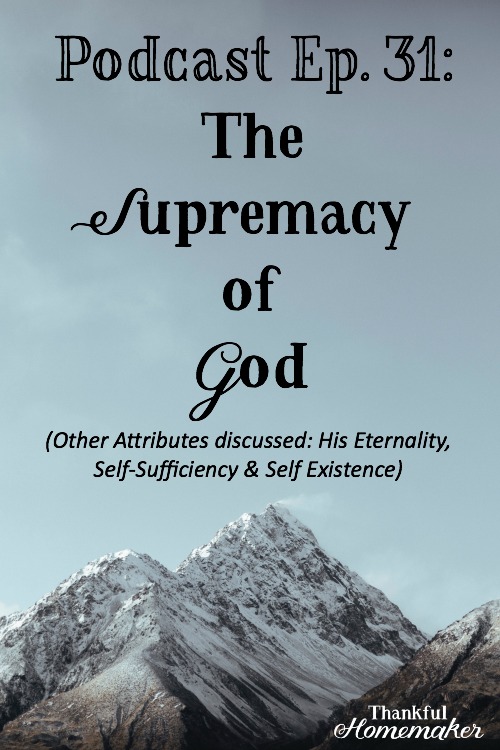 On today's episode, I'm sharing with you a message that I shared at our church's recent women's retreat. Our time together at the retreat was spent learning about the attributes of God. I started the weekend off sharing about the Supremacy, Eternality, Self-Sufficiency, and Self-Existence of our most awesome God and I wanted to share what I learned with you all here today.
It has been said that what comes into a person's mind when he or she thinks about God is the most important thing about him or her.
It has been said that what comes into a person's mind when he or she thinks about God is the most important thing about him or her.
When we have a high view of God, it will lead to holy living, worship, evangelism, and service. I hope to spark within you today a heart's desire to study more about this wonderful God we love and are known by.
When we gain a better understanding of Who God is, we will be better equipped in our understanding of ourselves and the world around us. Every area of our life and worldview is influenced by who we understand God to be.
When we speak of God's attributes, we are talking about those characteristics that help us to understand who He truly is.
We will never be able to fully grasp the depth of God's character, but I hope we can get a bit more of a glimpse in our short time together today.
Show Notes:
We are familiar with the Westminster Catechism where the first question is, "What is the chief end of man?" The answer is: "The chief end of man is to glorify God and enjoy Him forever." It should be a foremost thought in our minds as Christians in whatever we do – does this glorify God? To glorify Him is to make Him look as good as He is.
"Your thoughts of God are too human." ~ Martin Luther
"The heart cannot love what the mind does not know." ~ Jen Wilkin
"Man never attains a true self-knowledge until he has previously contemplated the face of God and come down after such contemplation to look into himself." ~ John Calvin
"Men are never duly touched and impressed with a conviction of their insignificance until they have contrasted themselves with the majesty of God." ~ John Calvin
Paul Washer on the Eternality of God:
One of the most amazing attributes of God (and one of the many that distinguish Him from all creation) is His eternal existence – He is without beginning and without end. There was never a time when He did not exist, and there will never be a time when His existence will cease. He is before all things and will remain after all things have passed away.
The eternality of God does not just mean that He has always existed and will exist for an infinite number of years; but it further indicates that He is timeless and ageless, always existing and never changing. No person or created thing shares this attribute with Him.
We are for a moment, but God is forever. He made us, but no one made Him. We depend upon Him for our very existence, but He depends upon nothing and no one.
Our earthly existence passes away like sand through an hourglass, but He remains. He was God, is God and will be God forever!
"There are no great men or women of God in the Scriptures or in Church History; there are only weak, sinful and faithless men and women of a great and merciful God." ~ Paul Washer
Matthew Henry ties together Exodus 3:14 & 1 Corinthians 15:10 and states: "The greatest and best man in the world must say, By the grace of God I am what I am; but God says absolutely —, and it is more than any creature, man or angel, can say — I am that I am."
"God's self-existence means that he is not answerable to us or to anybody, and we don't like that. We want God to give an account of himself, to defend his actions. Although he sometimes explains things to us, he doesn't have to, and often he does not. God doesn't have to explain himself to anybody." ~James Montgomery Boice
"Want evidence that God creates something from nothing? Look no further than your salvation." ~Jen Wilkin
'Want evidence that God creates something from nothing? Look no further than your salvation.'
Scripture & Resources:
1 Corinthians 10:31
Psalm 97:9
Isaiah 57:15
1 Chronicles 29:11
Psalm 65:6
1 Chronicles 16:27
Daniel 4:34-35
Mark 12:28-31
Mark 12:30
Psalm 99:1-5
Psalm 145:5
Exodus 3:14
Revelation 1:8
Psalm 90:1-2
Ephesians 5:15-16
1 Corinthians 15:10
Acts 17:24-25
John 5:25-26
2 Corinthians 5:17
Colossians 1:15:20:
15 He is the image of the invisible God, the firstborn of all creation. 16 For by him all things were created, in heaven and on earth, visible and invisible, whether thrones or dominions or rulers or authorities—all things were created through him and for him. 17 And he is before all things, and in him all things hold together. 18 And he is the head of the body, the church. He is the beginning, the firstborn from the dead, that in everything he might be preeminent. 19 For in him all the fullness of God was pleased to dwell, 20 and through him to reconcile to himself all things, whether on earth or in heaven, making peace by the blood of his cross.
None Like Him by Jen Wilkin
The Attributes of God Volume 1 & Volume 2 by A.W. Tozer
The Attributes of God by A.W. Pink (Free to read online here)
None Other: Discovering the God of the Bible by John MacArthur
Praying the Attributes of God by Rosemary Jensen
Knowing the Living God by Paul Washer
The Attributes of God at Blue Letter Bible
Attributes of God Sermons by Steve Lawson
Praying the Names and Attributes of God at Navigators
The Attributes of God a Free Online Course at The Gospel Coalition
Attributes of God – Visual Theology by Tim Challies
Podcast Ep. 23: Seasons of Waiting
Podcast Ep. 15: Prioritizing God's Word When Life is Busy
Listen & Download the Podcast:
Download this episode (right click and save)