How to Be Perfectly Miserable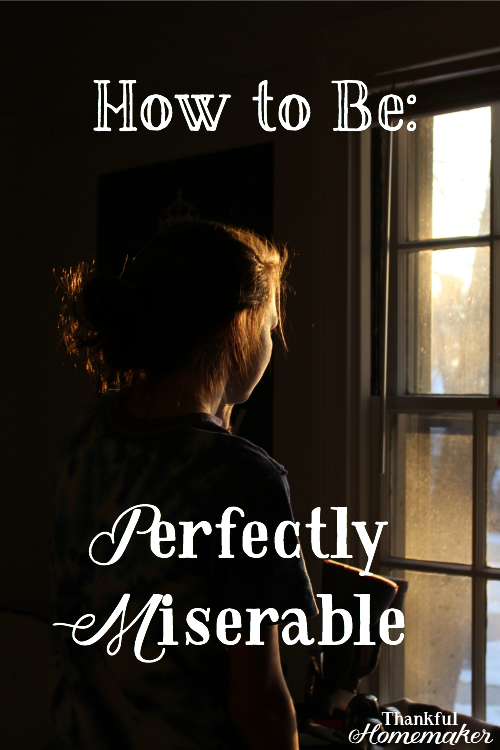 I came across this convicting little poem, and it brought to mind the verses we all know so well in Philippians 2:3-4:
3 Do nothing from selfish ambition or conceit, but in humility count others more significant than yourselves. 4 Let each of you look not only to his own interests, but also to the interests of others.
We know that true humility is not thinking less of ourselves, but it is not thinking of ourselves at all. When our hearts are focused on lifting others up, self will be put aside. If we would go through our lives exalting Christ and others, there will be true, genuine humility.
If we would go through our lives exalting Christ and others, there will be true, genuine humility.
I have heard humility described as "insight into one's own insignificance." Someone who is truly humble will have a right attitude toward himself. As God's children, we should desire to strive and ask Him to continue to humble our prideful, self-focused, self-righteous hearts.
Humility before God and man is a virtue as believer's that we all need to be striving for in our lives. May we be seeking the Lord through Word and prayer and ask Him to search our hearts to reveal an "I" problem. A spirit of pride in human relations indicates a lack of humility before God.
How to Be Perfectly Miserable
Think about yourself,
Talk about yourself,
Use "I" as often as possible,
Mirror yourself continually in the opinion of others,
Listen greedily to what people say about you,
Expect to be appreciated,
Be suspicious,
Be jealous and envious,
Be sensitive to slights,
Never forgive a criticism,
Trust nobody but yourself,
Insist on consideration and respect,
Demand agreement with your own views on everything,
Sulk If people are not grateful to you for favors shown,
Never forget a service you may have rendered,
Be on the outlook for a good time for yourself,
Shirk your duties if you can,
Do as little as possible for others,
Love yourself supremely,
Be selfish!
~ Source unknown.
(This recipe is guaranteed infallible)
We may need to take our eyes off of ourselves and literally or as Philippians 2:4 says "look" (fix one's attention on) to the needs of others.
This is not something we can do in and of our own strength. It is only by the grace of God at work in us through the saving Gospel of Jesus Christ. It is a work of Jesus in our hearts and minds to be able to put the needs of others before ourselves. Have you put your faith and trust in Jesus alone for salvation? Have you repented of your sins and turned to Jesus for salvation?
This is where true humility begins, realizing that we are sinners before a holy God and in need of a Savior. Will you bow your knee before the Cross of Christ?
"Look for yourself, and you will find in the long run only hatred, loneliness, despair, rage, ruin and decay. But look for Christ, and you will find Him, and with Him, everything else thrown in."

~ C.S. Lewis
Related Resources:
Humility: A Forgotten Virtue by Wayne Mack
Podcast Ep. 24: Dealing with Our Grumbling and Complaining