The Christian Homemaker's Handbook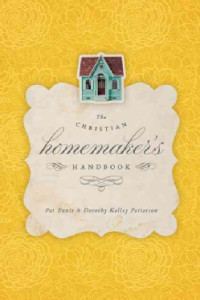 Oh, I am excited about this new book for Christian Homemaker's.
The Christian Homemaker's Handbook
has some great contributors like Pat Ennnis, Dorothy Kelley Patterson & Mary K. Mohler to name just a few.
"This one-stop reference tool gives you tips and training on everything from meal planning to interior decorating, biblical womanhood to budgeting, so that you can become a holistic homemaker! It features practical teaching from Scripture, instructions for do-it-yourself projects, application questions, helpful resources, a comprehensive index, and more."
"With nearly 50 years of marriage experience, 30 years of college-level home economics instruction, and a commitment to biblical womanhood, the editors of The Christian Homemaker's Handbook have compiled the comprehensive manual for today's woman and her home."

Just a sampling of topics covered:
God's Design for Home
Impact of Feminism on the Home and Family
Home: A Prepared Place
The Value of a Child
A Life Full of Days: Caring for the Aging
Biblical Foundations for Parenting
God's Design for Nurturing Motherhood
Teaching and Training Children
Life Management Skills
Nest Building 101: Setting Up a Household
Smart Routines for Cleaning a Home
Decorating Your Home with Silent Witness
Biblical Hospitality
Nutrition and Healthy Eating: Making Wise Choices
Family Mealtime
Making Your Kitchen a Springboard for Ministry
Is Modesty an Obsolete Virtue?
Will it Come Out in the Wash?
An Attitude Check for the Homemaker
-Appreciate God's calling on your life to be a homemaker.
-Visualize the overall purpose of your work.
-Keep yourself at your best in appearance and health.
-Strive without ceasing to keep your interfamily relationships as the most important in your life.
-Learn good homemaking skills and fine-tune them by practice.
-Choose women as friends who affirm your calling and happily encourage you.
-Work diligently as unto the Lord and count your blessings.
~ Dorothy Kelley Patterson ~
What a great gift for brides, new moms and Christian women in all walks of life. Pick up your paperback version
here
or Kindle version
here
.
There is a great website with more information called
Biblical Woman
. They have a conference coming up in October on
The Art of Homemaking
– speakers are Dorothy Kelley Patterson, Michelle Duggar and Elizabeth George.

Get updates that are not posted on the blog by visiting Thankful Homemaker's
Facebook
and
Twitter
pages.