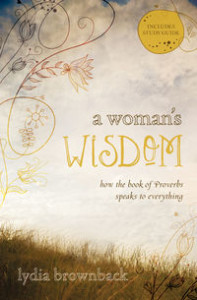 I just finished reading
A Woman's Wisdom: How the Book of Proverbs Speaks to Everything
by Lydia Brownback and appreciated her pointing us to the source of true wisdom – God's Word. In the first section of the book she explains through Proverbs the difference between wisdom and folly. In part two she shares with us six things every wise woman should know.
Six Topics Covered in Part Two are:
Power of Words
Choosing Friends Carefully
Know the Secret of Self Control
Knowing How to Think, Feel and Want
Financially Savvy
Safeguarding Sexuality.
In part three she takes us step by step through Proverbs 31. Lydia does an excellent job bringing out examples and giving us application to each area that is covered. The book ends with a study guide and a complete listing of recommended books for Wise Women.
Let me share some favorite highlights from the book:
"If you get nothing else from reading this book, get this: Christ became for us wisdom from God."
~~~~~~~
"Improving our lives is not the objective of Proverbs, even though following its instruction will generally better our lot. The point of the book is to direct us to the Giver of wisdom. Jesus said concerning himself, "The queen of the South will rise up at the judgment with this generation and condemn it, for she came from the ends of the earth to hear the wisdom of Solomon and behold, something greater than Solomon is here" (Matthew 12:42)."
~~~~~~~
"Women of wisdom are those who:
acknowledge God's sovereignty over everything that comes to pass;
submit to God's ordering of the world;
cherish Christ above all else;
trust in the goodness of God's character;
guard their hearts in biblical truth."
~~~~~~~~
"The world's wisdom centers on how people can please themselves and maximize every pleasure. The wisdom in Proverbs isn't unconcerned about our enjoying life as a gift from God. That's the beauty of it–as we put into practice the wisdom of Proverbs, we find that God's ways work at a very practical level; life does tend to run more smoothly. As this happens, God is showcase as the all-wise One, and He is glorified."
"This recognition of our sin before a holy God is what makes us crave a Savior, and when we cast ourselves upon him to fulfill that craving, we will move beyond just merely understanding the doctrines of the Christian faith in our minds to living them from our hearts with deep joy. All this is why the fear of the Lord is the beginning of wisdom. It's because real wisdom is found only in Christ Wisdom is the realization that he is everything."
~~~~~~~
"To live wisely is to orient everything about ourselves and our lives around God rather than around ourselves. Wise women are God-centered, not self centered. As we orient ourselves around God, our tastes and interests will change, and we will increasingly love what God loves and hate what he hates:"
(The fear of the LORD is hatred of evil. ~ Proverbs 8:13)
~~~~~~~
"Although she is presented as the ideal woman, we won't find her intimidating if we seek to apply her to our lives in the right way. The wrong way is to take Proverbs 31:10-31 as a formula for structuring our daily lives. A simple scan of the poems' details shows it to be physically impossible, and even the opening stanza of the poem makes clear that her standards aren't easily come by:
An excellent wife who can find? She is far more precious than jewels.
Proverbs 31:10
Therefore, we do well to see the poem as an inviting challenge rather than as a condemnation of what we haven't yet achieved. What we are to glean from her is a heart attitude–what about her heart enables her to live the life she does? Her life is a picture of what happens when everything else in Proverbs is applied. She exemplifies wisdom."
~~~~~~~
"If we are going to become increasingly God-centered women, it is essential that we keep a close eye on all that can influence us."
~~~~~~~
"Wise women are governed by the principles of God's Word, not by their feelings, hormones, or enjoyments."
~~~~~~~
"Another way we grow in wisdom is by cultivating humility. Proverbs 2:6 says that from God's mouth, not our mouths, come wisdom and understanding. An attitude of humility recognizes that whatever real wisdom we acquire comes only through our union with Christ."
~~~~~~~
"Wise women have no fear. Because they trust God, they have no need for anxiety. They are confident that a kind, wise God is in control of everything. As wisdom increases, anxiety decreases. What makes you worry? Is it finances, your kids, your spouse–or the lack of one? Wise women know that God is trustworthy and that he can and will handle all these matters for our good and his glory."
~~~~~~~
I appreciated this closing reminder at the end of part three:
"That's why growing in wisdom means looking more at Christ than at the Proverbs 31 woman. We cannot be like her by ourselves. We can only do it in dependence on Christ, because He is our Wisdom."
Resources:
(If you're viewing this in your email you will have to click through to the blog here to view the video)