I'm excited to share with you that it's time again for the Homemaking Ministries Online Conference. I love this time of year and so look forward to the speakers and time we get together to chat with others in the community Facebook group. There are 23 speakers this year!!
The topic this year is one we can all be encouraged by:

Finding Purpose in Your Home:
Some days are tough, overwhelming, and down right exhausting. Can I get an AMEN?!
We all know what it's like at times to wake up and face your day with a begrudging sense of duty rather than JOY and excitement. And that's what this year's conference is all about. The theme for this year is Finding Purpose in Your Home so that you can find more joy and peace that only comes from God within your home!
Our 27 sessions this year will be designed around this idea of finding that deeper purpose in our home. What is the heart behind taking care of our families, washing dishes, or doing laundry? What is the larger purpose and what Kingdom impact can it have?

Have You Seen All 23 Speakers Yet?
My session is on the how habits help in our home keeping and I'm going to dig deeper and talk about the importance of self-discipline in our lives.
The conference is five days and each speaker will be available after their session to chat with live on Facebook (some may be live via video too). I'm hoping to be live via video.
How the Conference Works:
Many of you have already attended our conferences but for those that haven't I want to quickly describe what conference time looks like online.
September 25th-29th
The live conference is the last week in September. It starts September 25th and continues through the 29th. Then each day that week, new sessions will go live throughout the day. You can jump in and participate in one, two, all, or none of the sessions depending on your busy schedule. In between the sessions we will have LIVE discussions and chats with the speakers for diving even deeper. (You can watch the conference on any device.)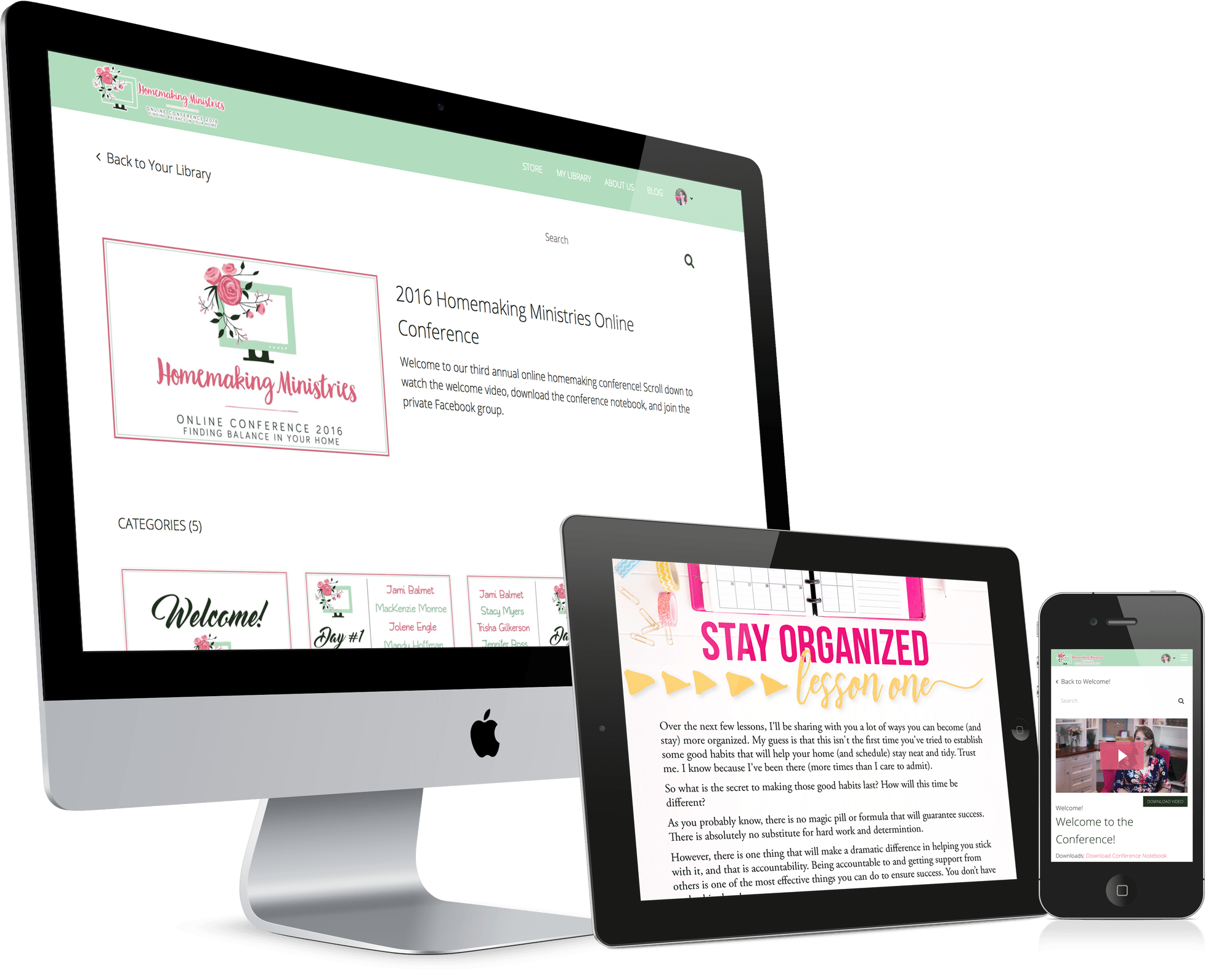 What If I Cant' Attend Live?
If you are going to be busy during that week, or you live in a time zone that doesn't work well, or you miss out on a few sessions here and there…no worries!
Once each session gets posted for the day, you can watch it anytime. We give you the option to stream the video from the website (on any device with internet), or download the video to watch offline, or download the much smaller audio file to listen later (this is a great option for those with slower internet).
So even if you can't watch one or any of the live sessions, no problem! Jump in anytime and watch when you can.
It's Fully Online.
This means no arranging babysitting, no paying for a hotel, figuring our a flight, etc. You can watch from the comfort of your own home and at your own pace. Gather a few friends over and watch and talk about the sessions together. You can make your own mini conference in the comfort of your own home.

Ticket Pricing:
The regular price ticket is $59.95. By the time the conference starts, the tickets will be $59.95. But you have the chance right now to save $20 off a ticket price. Since it's so early, we have TWO early bird prices.
$49.95 if you purchase before August 31st
$39.95 if you purchase before July 31st
So if you snag a ticket before July 31st you will be able to save $20 off the total price. (We also offer a payment plan on the sales page if you need to spread it out a little).
Other Fun Bonuses:
If you've attended these conferences before, you know there are always some really fun bonuses throughout the conference. So right now, all I can reveal is that you will get access to the digital conference notebook as part of your ticket. So hang tight because there all be some surprises coming your way!
I really would love to have you join us for the 4th annual conference, it's going to be such an sweet time together. Please comment and let me know if you have any questions about the conference.