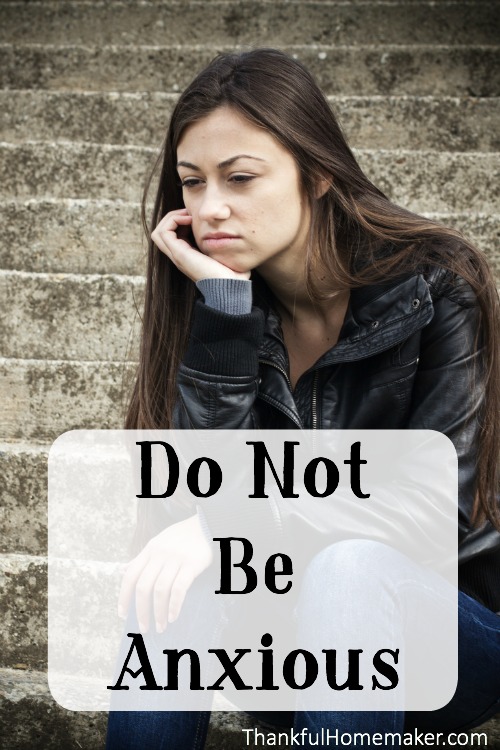 I have a confession to make; I struggle with worry. The passage below (Mathew 6:25-34) reminds me what Jesus says to worriers like myself. I want to walk through this passage today to speak to my heart, and yours and the hope is we will both be reminded that the Lord knows what we need and has already provided for it.
25 "Therefore I tell you, do not be anxious about your life, what you will eat or what you will drink, nor about your body, what you will put on. Is not life more than food, and the body more than clothing? 26 Look at the birds of the air: they neither sow nor reap nor gather into barns, and yet your heavenly Father feeds them. Are you not of more value than they? 27 And which of you by being anxious can add a single hour to his span of life? 28 And why are you anxious about clothing? Consider the lilies of the field, how they grow: they neither toil nor spin, 29 yet I tell you, even Solomon in all his glory was not arrayed like one of these. 30 But if God so clothes the grass of the field, which today is alive and tomorrow is thrown into the oven, will he not much more clothe you, O you of little faith? 31 Therefore do not be anxious, saying, 'What shall we eat?' or 'What shall we drink?' or 'What shall we wear?' 32 For the Gentiles seek after all these things, and your heavenly Father knows that you need them all. 33 But seek first the kingdom of God and his righteousness, and all these things will be added to you.

34 "Therefore do not be anxious about tomorrow, for tomorrow will be anxious for itself. Sufficient for the day is its own trouble.

~ Matthew 6:25-34
What Worry Does:
Worry Definition:

give way to anxiety or unease; allow one's mind to dwell on difficulty or troubles.
When I find myself up in the middle of the night with a distracted mind going through the "what ifs" and "what about" my mind is troubled and not at peace. My mind is going in all different directions determining all kinds of different scenarios that may or may not happen.
My joy and peace in the Lord are taken away. Idolatry has taken over my heart because my worry is saying that I want to be God. In my anxious thinking, I am questioning the Lord's ability to care for me. I'm seeking my kingdom and not His when I worry.
Worry reveals pride in my heart because I am believing at that moment that if I think about this issue long enough, I'm going to be able to figure it all out without God's help.
Worry is sin.
God's Care for Us:
In Matthew 6:26 we're reminded that we are of more value than the birds of the air. The Lord cares for the birds; He will care for us. Our lives are of great value to God as we're created in His image. If we are in Christ, He has set His love upon us.
The lilies of the field and the grass of the field (Matthew 6:28-30) are beautiful, and we're reminded that if He can take care of all this beautiful creation, He can surely take care of us. God knows what we need, he cares for us, and He loves us.
God's care in providing exactly what we need doesn't mean we will get what we want. But it does mean that everything we truly need has been and will be given to us.
I worry because I forget the Gospel. I forget of what Jesus has done for me. I forget of God's great love for me demonstrated through His work on the Cross.
When we're anxious about a situation, we're questioning the Lord's care for us.
So if God is going to take care of every one of my needs why do I still worry?
I worry because I forget the Gospel. I forget of what Jesus has done for me. I forget of God's great love for me demonstrated through His work on the Cross. We are a forgetful people, and in the midst of our worrying, we need to be constantly reminded of how God has loved us.
The Gospel:
"Everything we need has been given to us in Christ. Ponder that – everything – not some things or many things, but everything. Let's look at just a few of the beautiful truths that are ours if we are in Christ: We are loved, adopted, chosen, forgiven, redeemed, citizens of heaven, children of the King, no longer under condemnation, sealed by the Holy Spirit, God is working all things in our lives together for good, never alone, and in the twinkling of an eye will spend all eternity with Him in glory–to just name a few.
These truths, of all that is ours in and through the gospel, should change the way we look at everything. His love for us is not based on our outward performance. His love for us is based on the work of Jesus Christ on the cross."
~Taken from How to Preach the Gospel to Yourself
What is the Gospel?
"The good news is that the one and only God, who is holy, made us in his image to know him. But we sinned and cut ourselves off from him. In his great love, God became a man in Jesus, lived a perfect life, and died on the cross, thus fulfilling the law himself and taking on himself the punishment for the sins of all those who would ever turn and trust in him. He rose again from the dead, showing that God accepted Christ's sacrifice and that God's wrath against us had been exhausted. He now calls us to repent of our sins and to trust in Christ alone for our forgiveness. If we repent of our sins and trust in Christ, we are born again into a new life, an eternal life with God."
~ Taken from: Can You Explain the Gospel in a Minute
God's Sovereignty & Our Worry:
The Gospel reminds me that everything I truly need has been given to me. God desires that our happiness and joy is found in Him. There may be something I need taken away, so He is my treasure. Any difficulties I face or troubled relationships all come to me through His loving and sovereign hands.
At those moments when I find my mind beginning to worry I need to ask myself, "why am I worrying?"- Look at what the Lord has done. Jesus is right now seated at the right hand of God interceding for us. I don't have to continue in the sinful thought pattern that takes my peace and joy and puts the focus on myself and off of Christ.
I can cast all my cares on the Lord because He cares for me and He has shown me through what He did on the Cross.
The Gospel reminds me that God will care and provide for us. Jesus is going to return, and the world will be made right. The power of sin in my life has been broken. Jesus was tempted to worry (Hebrews 4:15) but never did and His perfect record is ours if we have repented of our sins and put our faith and trust in Him alone for our salvation.
Putting Off My Worry:
"Worry is the antithesis of trust. You simply cannot do both. They are mutually exclusive."

~ Elisabeth Elliot
Many times when I wake up in the middle of the night or find my mind wandering into worry, I stop and say to the Lord, "Lord I'm doing it again". I ask Him to draw me closer to Him and remind me of His mercy and grace in the Gospel. I ask Him to help me give this to Him and I'm reminded He does know what it is to walk as we walk.
I am reminded that I can't do this in my own power but only because He is working in me and in Him, my faith will not fail. I can trust in Him completely because of what He has done for me.
I'm reminded to speak His Word back to myself. I memorize passages like Philippians 4:6-7, Philippians 4:8 and Matthew 6:25-34 (specifically Matthew 6:33-34).
In everything with prayer the verse above in Philippians 4:6-7 tells me to let my requests be made known to Him and He will give me peace. I can take my concerns to Jesus and He hears and answers. In the middle of the night when I'm speaking to myself it is not usually on things that are true as Philippians 4:8 tells me.
As time goes on and I meditate on these passages and what the Lord has done for me, He grows my faith. As my faith continues to grow, I find that I struggle less and less with this sin. When I do struggle, I find that my heart and mind is drawn quicker to the Gospel and the reminder of why I do not need to be anxious about anything.
Don't Be Anxious:
I pray today we will continue to fight the good fight and do battle with worry in our lives. That we won't be anxious about our life but remember that God has given us everything we need in the Gospel. May we seek first His Kingdom and His righteousness in all things. The Gospel reminds me that nothing can separate us from His love no matter what we face.
"The best antidote for anxiety is frequent meditation upon God's goodness, power and sufficiency… Nothing is too big and nothing is too little to spread before and cast upon the Lord."

~ A. W. Pink
Related Resource: