Planning My Day as a Homemaker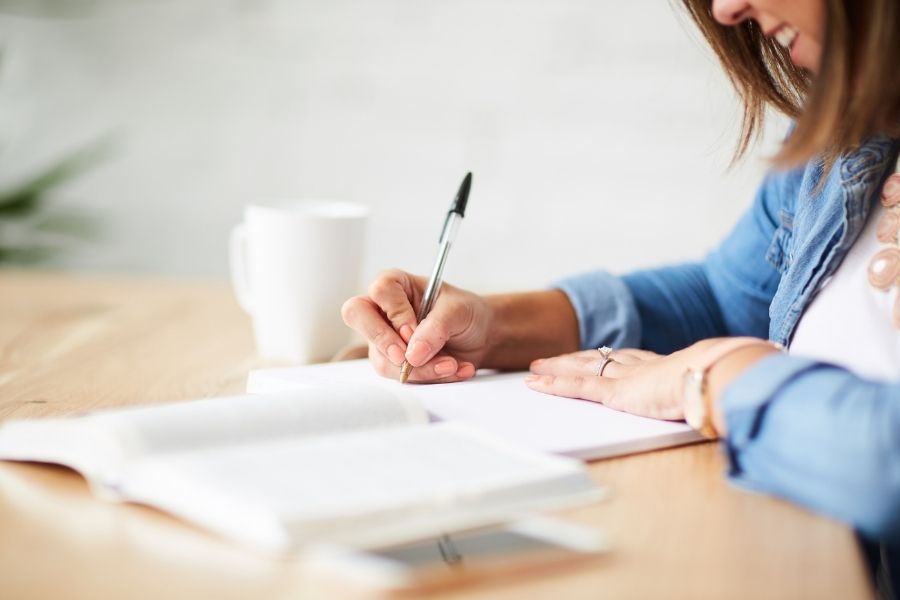 I have always been a planner oriented person. I love notebooks and pens and making lists. This has been a help to me in my caring for a home and family. Planning my days as a homemaker helps me keep order and meet my family and others' needs while still getting time to take care of things I love to do too.
Planning my days as a homemaker helps me keep order and meet my family and others' needs while still getting time to take care of things I love to do too.
There are a plethora of planners out there, and I'm not going to recommend one for you specifically because I believe you can plan your days well with a basic notebook, but I have loved the iBloom Life & Business Planner for my planning purposes.
*Revision – since writing this post I've switched to the Homemaker's Daily Friend Planner. I love the compact size, price, and features. You can check it out here.
I've tried dozens of planners and have stuck with iBloom for three years straight now. The weekly planning pages are perfect for how I plan my days. You can check it out at their website here if you have an interest in it.
My other tool we use as a family is the Google Calendar app. This is where every appointment goes and is shared within the family, so we don't double book. I love that we can share family calendars and I can still have a separate calendar for my personal tasks and my blogging schedule. I use the alerts as help for when to return phone calls or mail cards (areas that I put in personal tasks because I'm very forgetful) and obviously for appointments. I'm thankful that I can access the calendar from my phone, iPad, or computer.
Parts of My Planner I Use:
I don't use all the parts of my planner, but my favorites are items that are probably ones most of us use on a daily basis.
Goals for the Year
Monthly Calendar
Category List
Weekly Calendar
Daily To-Do List
Books to Read for the Year
Where to Begin:
My Goal List:
When I open my planner for the New Year, I like to write down goals for the year that I'm hoping to accomplish.
My top goals are my Spiritual Priorities for the New Year, and from there I will have some areas of relationships or things I'd like to accomplish in my home or even here on the blog. One of my goals this year was to get more consistent in my blogging again (I'm working on it so far!). These goals get worked into my category list which you'll see below.
Monthly Calendar: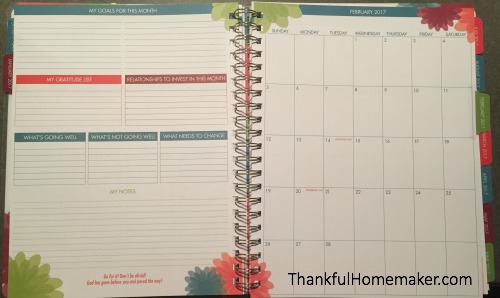 This is where I write in all the items from our Google Calendar that are already on there for the start of the new month. I do add in more as the month goes on and appointments and dates come up. I use the monthly calendar in my weekly planning as these items get plugged in first before adding any other items.
My Category List: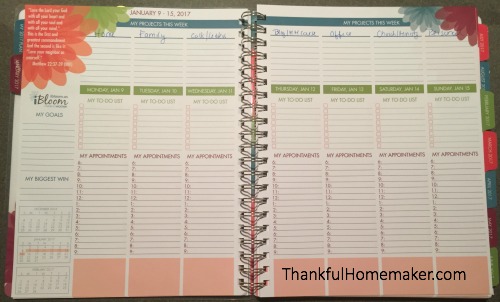 The next area is to determine categories that are part of my daily life. I list them and under each one write various tasks that I want to accomplish in each of them. I review these weekly and what doesn't get done goes into the next week, and new tasks get added throughout the weeks.
This helps me to get an overview of what needs to get accomplished in various areas of my day.
Home: – I would list rooms I want to declutter, areas for redecorating I want to get to or any other special projects other than my normal cleaning. I would put here a room or area I want to clean a bit deeper.
Family: – This is where date nights with my husband would go or things I would like to do with my children or grandchildren or parents. It's an intentional way I can build these relationships.
Calls/Letters: Thank you notes I need to write, correspondence or phone calls that need to be made or returned. Encouraging notes and cards to send out. Special event cards etc.
Blog: Tasks I need to take care of the blog. Posts I want to write or research I need to do for posts, books to read, and even areas on how to grow the blog.
Church/Ministry: Relationships to build at church, groups, or studies I'm participating in, church family to visit or pray for or call or encourage.
Office Work: I work for my husband's business at home, so those tasks go here along with personal office work I need to do like filing or paying bills. (See my post on Simple Home Filing System)
Personal: This is where I work on the goals that I've chosen for the year and personal areas such as fitness and health-related issues too. Bible studies I'm working on will go here. I'll put the book(s) I'm reading for that week on this list.
Books to Read for the Year:
I'm thankful to have an easy place to keep a running list of books I want to read. I carry the list of unread books over from year to year and continue to add new ones to the list. It's also a great resource to keep tabs on books you've already read. I've enjoyed using Tim Challies reading recommendations and my friend Jami at Young Wife's Guide has a great reading resource out for homemakers.
Planning the Week:
I do my weekly planning usually on Sunday nights. (It's my menu planning day too.)
With my category list above and my monthly and Google Calendar, I'm ready to plan my week. As I open my weekly pages, I plug in first appointments from the monthly page or Google Calendar.
The next thing is to look at my category list and see what are some of the most important things to accomplish this week. I do use My Daily, Weekly, Monthly & Yearly Tasks list as part of my planning to work in home cleaning into my schedule. I keep this list written in my big planner and also in my smaller portable planner I talk about below.
My schedule has gone from a pretty regular set one when kids were home to extremely flexible now as empty nesters. When you look at My Daily, Weekly, Monthly & Yearly Tasks, please keep in mind that the cleaning in that particular room may only take me 15 minutes that day. I tidy well but don't clean as deep as I used to when I was a younger mama. Because my home is tidy and fairly organized it makes cleaning so much easier and quicker.
(If there is one area I want to encourage you young mama's it is to keep order. Continue to declutter and simplify because it makes your cleaning so much quicker and you really will see that you have much more free time!)
Daily To-Do List: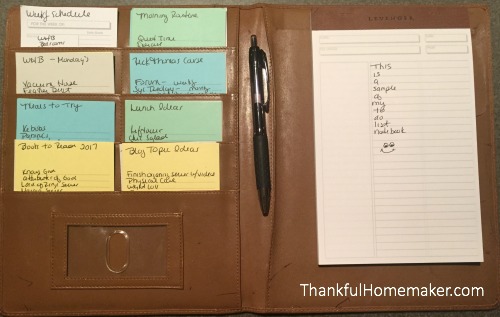 Because I love lists, I will take the list from my planner and write it down on a smaller notepad that I use for my daily tasks. It will have that day's to-do list on it plus whatever I didn't accomplish from the day before. I keep working this list forward every day of the week and use it for my planning next week. It's what I call many would call a Daily Docket but as you can see any simple notebook would accomplish this task.
So when the next Sunday rolls around, I can see from my master daily to-do list what didn't get accomplished and plug it in again for the next week. I love having this portable list with me to carry as it helps me to have it to write anything down quickly I need to remember and I always know where it is. As I've been aging and seemingly more forgetful, that's a good thing 😉
Top 10 Benefits I Love About Using a Planner:
More productive.
Don't miss appointments.
Helps me to manage my time well.
Clears my mind -(especially at night before bed)
Memories recorded of special days or events
Helps me to be intentional in my relationships
Keeps me reminded of thank you's and encouraging notes to send out.
I make more intentional choices.
I love using pen and paper daily instead of technology (it's a stress reliever for me)
I have more free time because my time is not wasted but focused.
Related Resources:
Spiritual Priorities for the New Year 2017
The Importance of our Role & Evaluating Our Priorities