Whether you are a veteran tincture maker or a newbie – everyone should keep on hand the Plantain Tincture.  It has saved us a lot of pain and itching here in the summer months.
It's simple, quick and easy.  Two ingredients and time.  It doesn't get much easier than this to making your own safe home remedies.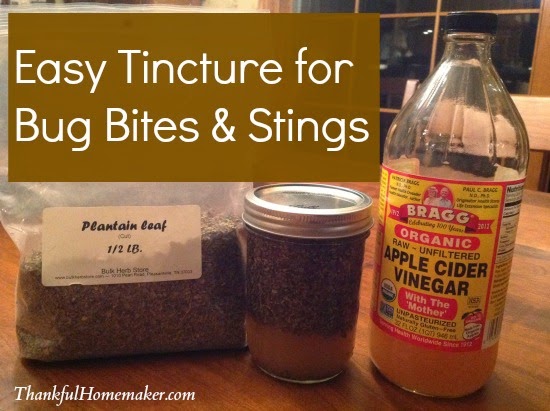 Ingredients:
Plantain Leaf– (Most of my herbs are purchased from the Bulk Herb Store – excellent quality & prices)
Apple Cider Vinegar – (I use Bragg's Apple Cider Vinegar)
Supplies:
Mason Jar & Cheesecloth for straining
1.  Fill mason jar (I use a one quart jar) about half full of dried plantain leaves.
2.  Fill the jar about an inch from the top with Apple Cider Vinegar
3.  Place lid on jar and store in dark place (I leave mine in a cupboard)
4.  Mix well and let sit for about 3 weeks shaking gently daily.
5.  Strain herbs with cheesecloth and place tincture into a lidded glass jar.
(You can use fresh, clean plantain leaves, just fill the jar to the top with the herbs and add the vinegar.  Make sure to press the leaves so they are submerged in the vinegar.  Follow the rest of the directions above).
Uses:
We mainly use this tincture on bug bites and bee stings.  It takes the itch and pain away almost immediately.  Just dab some on a cotton ball and apply directly on the bug bite or sting.
(They recommend you use an apple cider vinegar tincture within a year of making it but because we are not taking this one internally I have easily used it up to two years after making it and it still was very effective.)
For more simple home remedies pick up a copy of:
(the book is free to email subscribers to the blog – see the sidebar for details)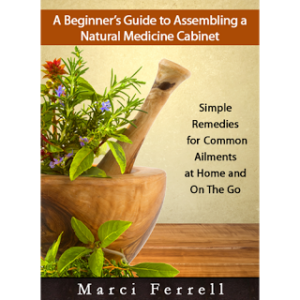 Disclaimer:  I am not a physician and this article 
is not intended as a substitute for the medical advice of physicians. No action should be taken solely on the contents of this article. The reader should regularly consult a physician in matters relating to his/her health and particularly with respect to any symptoms that may require diagnosis or medical attention.