I have thoroughly enjoyed working through my Homekeeping Binder because it has been time to make some changes as our family is in the next season of our lives. Quick recap before we head into one of the easiest ways to keep your house clean and in order. We have talked about Morning, Evening, Weekly, and Daily Schedules and our Weekly Home Blessing. The next sheet in my binder is my Zone list. This breaks down the areas of my home into weekly cleaning so I am not overwhelmed with the whole house at once and it truly takes care of spring cleaning throughout the year. Now when spring comes I don't have a huge list of chores to be taken care of because we have been doing it in small chunks throughout the year.
My routines along with the Weekly Home Blessing maintain order so on weeks when I can't get to the areas of the home on the schedule it is okay and not a concern because we have order over chaos. By keeping routines it opens up the door to hospitality so ministry can take place in our home. When you are not living in chaos you tend to have more time to minister to your family and to others outside your family.
When we say we are not an organized person (I am not naturally an organized person – my husband is and I continue to learn much from him) we seem to make it an excuse for why we live in disorder. As believers, our homes should reflect the Lord that we serve. They should be an example of order and beauty. This doesn't take finances to do this – it takes discipline. Soap is cheap and we have time available each day to tidy and keep order in our homes. We should desire our homes to be a haven for our families to come home to. So ladies if this is an area you have been neglecting I encourage you to show your love and care for your family by rolling up your sleeves and getting organized enough to have order and beauty in your home.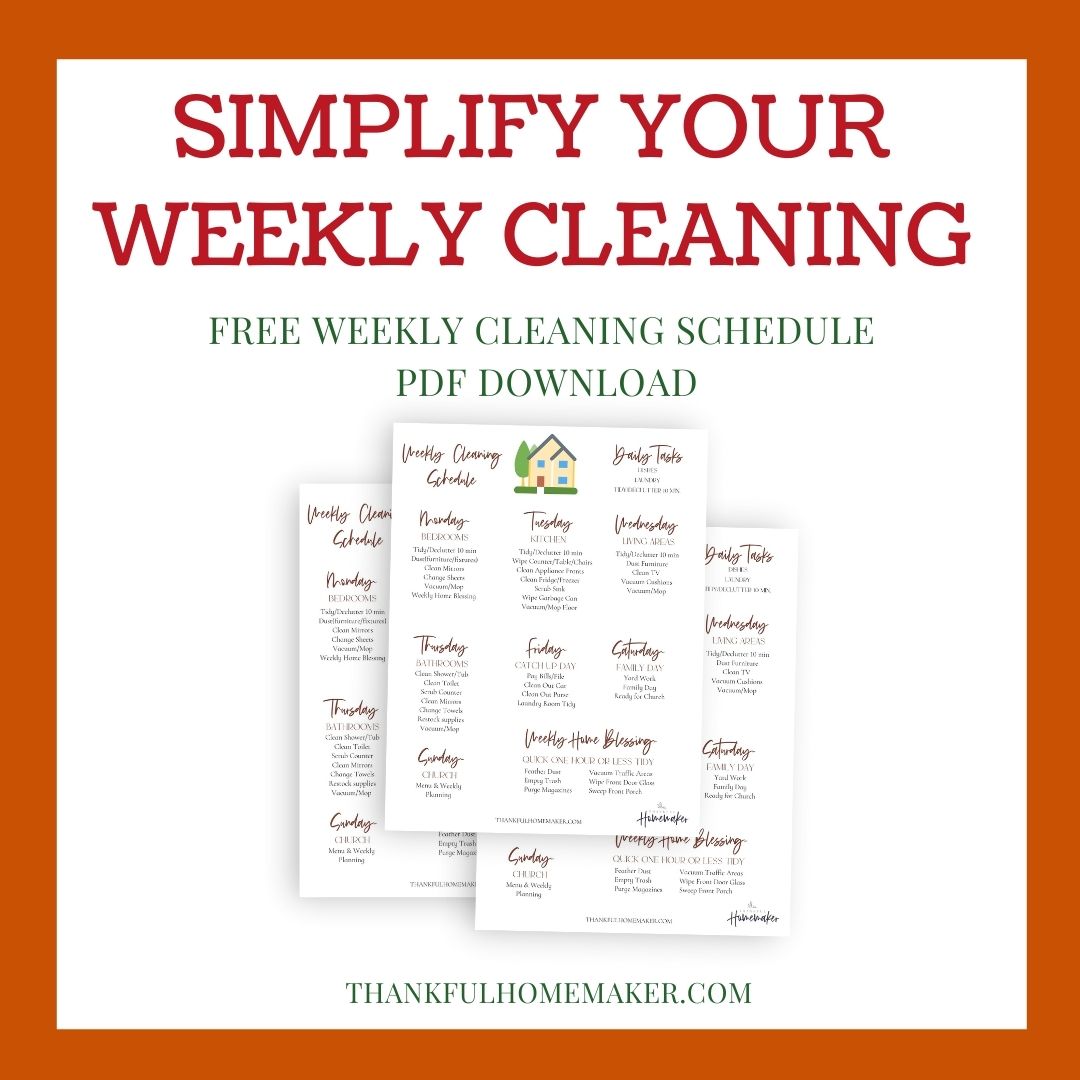 My home is broken down into five zones. I am working in a different zone each week. You may only need four zones but Flylady uses five so I use five.
Zone 1 – Foyer, Dining Room, Front Porch
Zone 2 – Kitchen, Pantry, Laundry Room
Zone 3 – Upstairs Bathrooms, Kids Bedrooms, Guest Room, Home Office
Zone 4 – Master Bedroom, Master Bathroom, Basement
Zone 5 – Living Room, Family Room
This week I am in Zone four – I still follow Flylady's weekly schedule and am signed up on her email list to get updates on the current zone I am in.
I have a sheet in a page protector with the above zones listed and each zone then has its own sheet with the tasks broken down for each room. Since I am in Zone four we will use that one as the example for today.
Here is exactly how my sheet is laid out (please don't get overwhelmed with this next part but stay with me to the end of this post)
Zone 4 Detailed Cleaning List
Master Bedroom
Declutter
Dust Furniture
Straighten dresser drawers
Organize at least one drawer
Organize one shelf in the closet
Straighten bookcase
Tidy nightstands
Clean under bed and vacuum
Dust baseboards
Clean all light fixtures
Clean widows, windowsills, vacuum curtains
Mirrors cleaned
Switchplates wiped
Vacuum closet
Wash any bedding as needed
Vacuum room
Master Bathroom
Declutter
Toilet cleaned
Countertops cleaned
Straighten inside cabinets/drawers
Clean whirlpool tub and deck
Clean shower and straighten out toiletries in shower
Polish cabinets
Wipe mirrors
Clean window, windowsill, vacuum curtain
Dust baseboards
Wipe all pictures
Refill soap dispensers as needed
Vacuum floor and wash bath rugs
Mop floor
Basement
Declutter and straighten
Dust all areas
Clean bathroom as needed (not used too often)
Wash bathroom floor
Wipe all switchplates
Straighten up all areas
Wipe windows and windowsills
Vacuum furniture
Straighten storage closet
Clean out basement fridge and wipe inside
Vacuum basement
Mop wood floor
This may look overwhelming but it is really simple. Every day I schedule in time to zone clean. Yesterday I spent 30 minutes in zone four and all I did was straighten the bedroom, bathroom, and closet. My first day in a zone is always spent decluttering and tidying up. I rarely get through the whole list in a week but check which items I did and I know what I should focus on the next week zone four rolls around again. Today I have an hour scheduled in this zone. If the Lord has other plans for me than to spend an hour in that zone due to needs in my family or other ministry needs then it gets set aside and I don't think about it until the next day.
I do like to set a timer when I clean to stay focused and on task. Plus I seem to clean faster with a timer set. So in the hour, I have scheduled today I will hope to get the whole bathroom cleaned and dust my bedroom. Tomorrow I will focus on the basement for an hour. Thursday I have a young woman from church coming over to help me organize my library downstairs and I am really looking forward to our time together. I will not officially zone clean on Thursday but will be enjoying my time with her and getting organized at the same time. Friday I will finish whatever tasks I can in the zone and put the sheet away until the next time in that zone.
Next week I will be in zone five, the week after zone one, then zone two, etc.
This was a great way to work with my daughter in training her to clean and be organized as a keeper of her own home. With the chores laid out, it made it easier to have everyone pitch in and help because they could look at the sheet and see what needed to be done that week. Our sons are great helpers and cleaners too so don't neglect their training in the responsibility of taking care of a home.
This doesn't mean that I am not daily straightening, cleaning up, or running a vacuum. My bathroom is tidied daily in the morning routine and the Weekly Home Blessing gives my bedroom tidying up too.
Let me know how you break down your cleaning schedules in the comments below.