Grasping Unconditional Love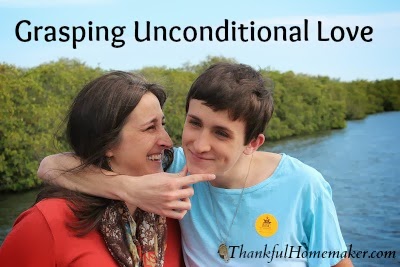 The other evening I just had some good time to chat with my son, Josh, about many things, faith, home, his work, future hopes and dreams. As we were chatting I felt compelled to share with him something of my past that I hadn't shared with him before. It was an ugly part of my past as a non-believer and I really am prayerful with what and how much I share with my children about my life before Christ. As they have aged it has been easier to share parts that are difficult sometimes for even me talk about.
As I shared with Josh we were both in tears and he looked at me so sweetly and said something that has been on my mind daily since our time together. He said, "Mom, now I know what it means when you and dad say you love me unconditionally. I realized no matter what you share with me it will not change my love for you."
It seems simple but it was profound to me because we moved on to the Father's love for His children. As believers God's love for us is undeserved and unconditional When He looks at us, he doesn't see our sin but He sees His perfect Son given as a ransom for us – Jesus Christ. What a glorious truth and what a glorious God we serve.
The love of God is one of the most awesome things about Him. His love for us never fails. May we ponder and give thanks to God much today and always for His great love for us!!
If you don't know of this love and forgiveness found only through repentance and faith in Jesus Christ will you please spend some time here. Life is truly a vapor and we are not promised tomorrow. Where you will spend eternity is at stake.
but God shows his love for us in that while we were still sinners, Christ died for us.
Romans 5:8
Related Posts:
Moms and Our Young Adult Sons
My Abortion Story & Why I Sidewalk Counsel
Preparing Our Children for Marriage & Parenting