EP 142: Simple Steps To Ministry As We Go About Our Normal Days
Inside: Sometimes, we can get so busy with the everyday details of life and can forget or miss the opportunity to minister to those the Lord has placed in our paths.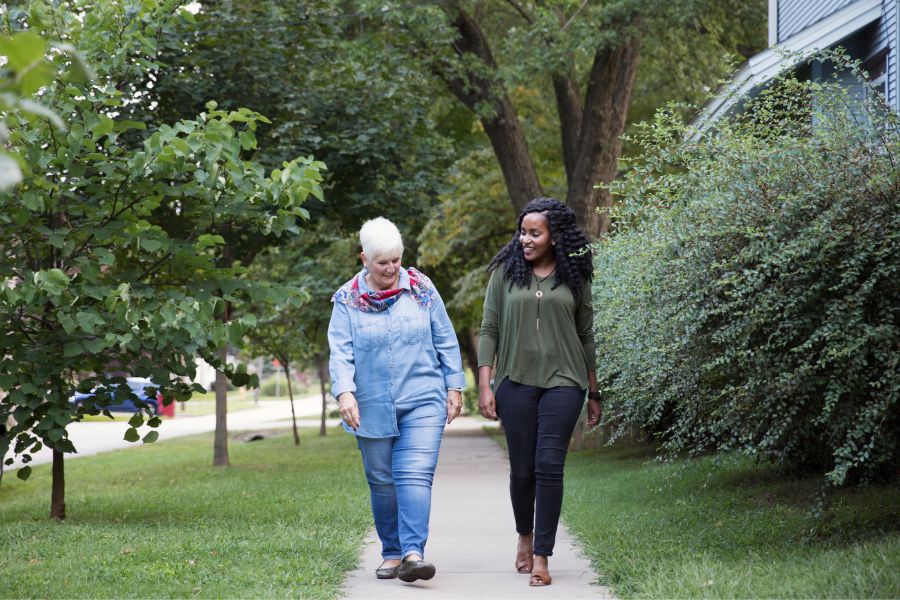 I am writing today to encourage you mamas that are at home with your babies. If you're anything like me, you may sometimes feel that you aren't out there making a significant impact for the kingdom. Your days consist of preparing meals, cleaning, laundry, and dishes, loving and hugging your children, and taking care of the needs of your husband.
This is your primary ministry and should be your primary focus as a Christian wife and mother, and you are making a huge difference for eternity in the four walls of your own home (I talk a lot about that here, so if you've spent any time with me you know that already 😉), but I want to challenge you and me a bit to look outside the walls of your home.
The Lord has placed you in a church family, given you neighbors and other non-Christian relationships, and maybe put a widow or single mom in your path. You have access online to many ministries that need prayer or maybe financial support. I am not trying to overwhelm you or put a burden on you, but I want to challenge you to see if there is a ministry you can be participating in together as a family.
Sometimes, we can get so busy with the everyday details of life and forget to minister to those the Lord has placed in our paths.
---
Listen to EP 142: Simple Steps to Ministry As We Go About Our Normal Days (20 minutes) or read a portion of the episode below (7 minutes):
---
Recommended Resources:
Available to pre-order now!
It's perfect for teaching your little ones the great hymns of the faith or as a unique baby shower gift for an expecting mother in your life. Or maybe for your grandkids!
Are There Other Needs You Can Meet?
Do you take the time to know those in your church family and learn what needs they have? Not just those families you are already close with, but is there someone you can reach out to that is different than your own family? Can they use prayer? An encouraging word? Just some time to sit and have coffee or have dinner with your family?
You may have neighbors with believing family praying that the Lord would place another believer in their path to share the Gospel with them. That could be you.
Do all the good you can, by all the means you can, in all the ways you can , in all the places you can, at all the times you can, to all the people you can, as long as you can.

John Wesley
Is there a widow that you could take the time to call on occasion, invite to lunch, take her some homemade goodies, and pray with her?
Is there a single mom in your church that you could invite to dinner?
Is there a nursing home you can go to as a family to visit with the residents and pray with them, read God's Word with them, and have your children make them pictures and cards?
Can you bake some cookies for new neighbors moving in and tuck in some information on your church and a gospel tract?
Can you go as a family to your local abortion clinic and share the gospel with the ladies that are entering the clinic to take the life of their babies? Maybe volunteer at your local crisis pregnancy center?
Do you have the time and finances to adopt a child through Compassion or a similar ministry that your family can support financially through prayer and encouragement through letters?
Ministry As We Go Along the Way:
These are just some ideas above, but the point is to get you thinking about the needs around you. We need to be prayerful to the Lord in how we can meet the needs of those around us. There is a time to pray, but there also is a time to act. When there is a need set before you that you know you can meet just meet it.
Make sure you are mindful of your time and finances and talk about various ministry needs you can meet together as a family. Our children are so good at seeing things we don't see. This is an excellent opportunity to teach your children to reach out to the child at church that is quiet and may get overlooked during fellowship time or to the elderly widow who would love hugs and notes from your children.
Even at church, we can get so comfortable with our usual group of friends that we miss so many other opportunities to develop some lasting friendships within our own church family.

Pray together as a family, and the Holy Spirit will make you sensitive to the needs around you.
We Are Equipped For Ministry:
Many times we get so caught up in what is going on in our homes, we don't take the time to plan out ministry opportunities. I am guilty of this myself, so I'm writing this post as a reminder to myself to walk around with my spiritual eyes focused on who the Lord has put in my path.
You can't possibly meet all the needs around you, but you can be faithful, one day at a time to meet the needs of those He has put in your path. Some days it will only be your immediate family, but other days there may be needs outside your home you can meet.
Have an action plan and be prepared, so you are ready when you see that need, get that phone call, or there is a knock at your door. One way to work on this is to manage your home as best as you can. Not perfect, but tidy. Our homes are meant to be a place of ministry to our own families and to those friends and strangers the Lord brings into our lives.
Simple Steps to Ministry As You Go Along the Way:
Be prayerful and attentive to the needs around you. We have a prayer guide at our church, and it is a reminder to me as I'm praying for various families throughout the week to note if someone needs a phone call or a note sent out to check on how they are doing. As I write down various prayer requests, it also reminds me as I pray to see if there is anything I can do to bring them comfort. Again, do they need a meal or a phone call, a card, or maybe just a visit to sit and pray with them?
Make hospitality simple with a couple of easy go-to menus when you have families over. Make dishes you are comfortable with and keep it simple. They are there for the relationships and not the food. (Read What is Biblical Hospitality?)
Keep cards and stamps on hand to be able to send a quick handwritten note to someone.
Are you baking cookies or bread? Make a double batch and take one to a neighbor, widow, or single mom.
You can't out-give Jesus. When you spend your life for others, your needs will be met. "My God will supply every need of yours according to his riches in glory in Jesus Christ." (Philippians 4:19)

John Piper
When someone has a prayer request at church, and they share it with you, stop right there and pray with them about it.
Keep favorite resources on hand when you have the extra money in your budget to hand out to friends. I always love having some good books on hand that have impacted my life as a Christian to share with friends.
Keep good gospel-focused tracts, books, and DVDs to hand out with gifts and goodies and visits.
The Gospel:
As believers, the most important truth we can share with anyone is the Gospel. Christian ministry isn't Christian ministry if it is void of the Gospel. Make sure you take the time to know the foundational truths of the Gospel. "Preach the Gospel and use words if necessary" is not biblical (Romans 10:17 – visit Sharing the Gospel of Jesus Christ in Your Sphere of Influence and Can You Share the Gospel?)
What are some ways you and your family practice ministry as you go along the way?
Related Links:
My Favorite Planners & Journals
Joy in Serving the Body of Christ
What is Biblical Hospitality?