My Daily Time with the Lord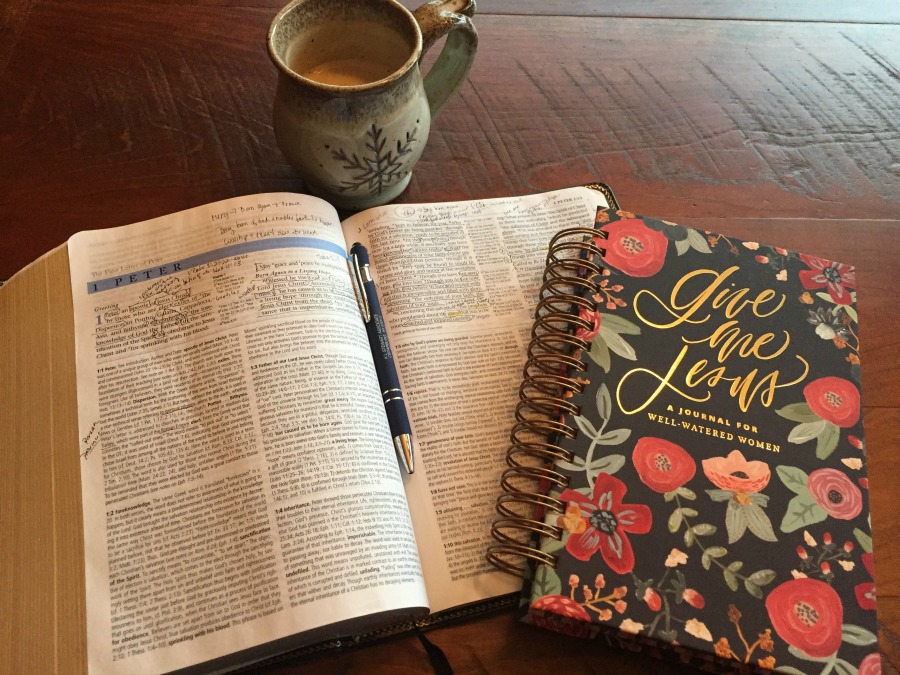 Did you notice we don't just tend to coast into Christlikeness in our Christian walks? It takes planning to spend daily time with the Lord. Meeting with Jesus in the morning has become part of my morning routine that it just naturally happens almost every day. Time with the Lord has become a habit in my life and one I'm thankful for because it is the most important one.
Did you notice we don't just tend to coast into Christlikeness in our Christian walks?
There are days where it doesn't happen in the morning for me (if we're traveling, illness, etc.) but for the most part, it has become a daily discipline in my life.
My time in the Word changes from season to season, and I'm in a place where I can get a bit more time with Him in the mornings. I share with you not for you to imitate or compare but just as an example to hopefully be a help in putting together your system of reading and studying God's Word.
If you're feeling overwhelmed at the thought of this post, please leave immediately and take the time to read my post Starting Your Day with Jesus.
I do plan for my time in the Word. When I don't have a plan, I find myself unfocused in my reading and jumping around from place to place in Scripture feeling like I didn't get anything of value accomplished. Don't get me wrong, anytime we get in the Word is good, but I desire not just to read and then forget what I read, but to meditate deeply on it and apply it.
My Current Morning Time:
Reading & Meditating:
Right now I'm utilizing a resource I love called Search The Scriptures: A Three Year Daily Devotional Guide to the Whole Bible by Alan M. Stibbs. This is where the majority of my morning is spent. It breaks down the whole Bible into a three-year reading plan along with questions to think deeply about each day's reading. I bought a spiral notebook to keep all my notes in and utilize my Give Me Jesus Journal to help me to ponder more about Jesus and apply and pray through what I've just read. My ESV Journaling Bible gives me lots of room to write notes in too. This takes about 20-30 minutes of my morning.
Bible Reading:
My husband and I are currently reading the whole Bible together for our third year in a row. I am loving this and so thankful for our time together in the Word. This year we're using Tabletalk magazine's reading plan and devotional for our time together. We usually read together over breakfast. We read it through chronologically last year using the ESV Bible app to read out loud to us as we followed along with the scriptures.
Prayer Time:
I so love my prayer time with the Lord and put together in one of our spare bedrooms a small prayer closet so I can keep all my prayer books, hymnal, journal, and Bible out and always ready to go. I've started using Val Marie Paper's Yearly Prayer Journal after years of using my homemade one. I love the layout, and it works well for me. It's not as bulky as my homemade one and covers all the areas I use. I keep a small one on hand to carry when we travel, and it's the one I keep on my nightstand too.
One item that I initially didn't think I would like as part of my prayer life was using an app. That was until I found the PrayerMate App. It has been a huge blessing to organize my prayer life to pray at any time or anywhere. I have my list set up, and it's easy to add requests and personalize them. There are special prayer feeds you can add in to pray for the world, friends, family, biblical prayers, evangelism or your own personal spiritual growth. Tim Challies had a helpful video review of the app here.
Scripture Memory:
Daily scripture memory is the area I am probably not the most consistently disciplined. It does not always happen daily. I utilize the Scripture Typer App for my scripture memory, and it is a great resource and so worth the small investment. Right now I'm memorizing through the book of 1 Peter and continue to keep up with all the other verses I have in my memory bank (according to Scripture Typer that would be about 300). Knowing my personality, I would've never done that on my own, so the app is an excellent tool for me. I still like to keep verses on notecards to post throughout my home and keep in my purse to review when I'm out and about.
Study Time:
At least weekly I try to sit with my Inductive Study Bible and work through a book of the Bible. Currently, I'm studying 1 Peter. This usually happens for me on Saturday mornings when I can take a bit more time.
My Afternoon Reading Time:
It doesn't happen daily, but if I get time in the afternoon, I keep my Gospel Transformation Bible handy to continue reading a book of the Bible. My marker is in Luke & Psalms right now so when I get a few minutes in the afternoon to sit and have a cup of coffee or tea I love to sit with the Word. I like to take this time to pray through the current Psalm I'm reading.
Evening Time:
I usually keep a Bible on my nightstand, but right now I have the ESV Devotional Psalter to read and pray through a Psalm right before bed. I love to read before bed and usually pick a lighter read to sit with, but I've enjoyed taking my last few minutes to end with God's Word on my heart before drifting off to sleep.
Final Thoughts:
I'm always brought back to the apostle Paul's reminder, "Discipline yourself for the purpose of godliness" (1 Timothy 4:7). For me, these disciplines have brought order and simplicity to my time with the Lord with the hope that I will grow more into Christlikeness and godliness as I spend time with Him.
What about you? Do you have a routine in your time with the Lord? Where do you need to discipline yourself for the purpose of godliness?
Related Resources:
Some of my favorite prayer books:
Valley of Vision: A Collection of Puritan Prayers & Devotions
Prayer PathWay: Journeying in a Life of Prayer
Praying the Promises: The Lost Art of Taking Him at His Word
A Praying Life: Connecting with God in a Distracting World
Setting Their Hope in God: Biblical Intercession for Your Children
SaveSave
SaveSave
SaveSave
SaveSave