Preach the Gospel to Yourself Daily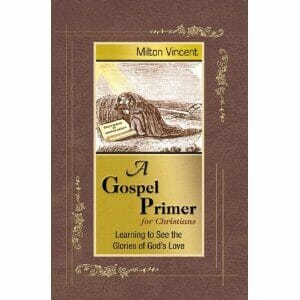 So I am eager to preach the gospel to you also who are in Rome.
Romans 1:15
The apostle Paul was writing to the believers in Rome in the above verse – why would he have to preach the gospel to those who were already believers?
The Gospel is the good news of salvation but the gospel is also a truth that I need to be reminded of daily and it helps me to not fall into a performance relationship with God. A little, power packed book that has not only given me a better and clearer understanding of the gospel but how it applies to all of life for me as a believer is
The Gospel Primer
by Milton Vincent. Here are a few words from the author in the introduction:
God did not give us His gospel just so we could embrace it and be converted. Actually, He offers it to us every day as a gift that keeps on giving to us everything we need for life and godliness. The wise believer learns this truth early and becomes proficient in extracting available benefits from the gospel each day. We extract these benefits by being absorbed in the gospel, speaking it to ourselves when necessary, and by daring to reckon it true in all we do.
Over the course of time, preaching the gospel to myself every day has made more of a difference in my life than any other discipline I have ever practiced. I find myself sinning less, but just as importantly, I find myself recovering my footing more quickly after sinning, due to the immediate comfort found in the gospel. I have also found that when I am absorbed in the gospel, everything else I am supposed to be toward God and others seems to flow out of me more naturally and passionately. Doing right is not always easy, but it is never more easy than when one is breathing deeply the atmosphere of the gospel.
Here is a little nugget to ponder today from the first section of
The Gospel Primer
book called Reasons to Rehearse the Gospel Daily:
Transformed by Glory
"The glory of God is the most powerful agent of transformation available to mankind. It is so powerful that is transforms those who merely gaze upon it. The Apostle Paul gives personal testimony concerning this stunning fact. "But we all," he says, "beholding as in a mirror the glory of the Lord, and being transformed into the same image from glory to glory." (2 Corinthians 3:18) From Paul's testimony I learn that if I wish to become all that God wants me to be, I must behold His glory each day.
But where do I find God's glory to behold? Indeed, the glory of God is revealed throughout all of Creation, (Psalm 19:1, Isaiah 6:3) but the Bible indicates that, outside of heaven, the glory of God in its thickest density dwells inside the gospel. It is for this reason that the gospel is described in Scripture as "the gospel of the glory of Christ" and "the gospel of the glory of the blessed God." (2 Corinthians 4:4, 1 Timothy 1:11)
Consequently
, as I habitually gaze upon the glory of the Lord revealed in the gospel, I can know the actual deposits of God's very glory are attaching themselves to my person and transforming me from one level of glory to another. (2 Corinthians 3:18) This transformation is deep and abiding, and unfadingly displays the glory of God to others. (2 Corinthians 3:13)"
"To use and expression…, we must 'preach the gospel to ourselves everyday.' For me that means I keep going back to Scriptures such as as Isaiah 53:6, Galatians 2:20, and Romans 8:1. It means I frequently repeat the words from an old hymn, "'My hope is built on nothing less than Jesus' blood and righteousness.'"Jerry Bridges, in Gospel-Driven Sanctification

"Never be content with your current grasp of the gospel. The gospel is life-permeating, world-altering, universe-changing truth. It has more facets than a diamond. Its depths man will never exhaust." C. J. Mahaney, The Cross Centered Life
Now I would remind you, brothers, of the gospel I preached to you, which you received, in which you stand, and by which you are being saved, if you hold fast to the word I preached to you—unless you believed in vain.
For I delivered to you as of first importance what I also received: that Christ died for our sins in accordance with the Scriptures, that he was buried, that he was raised on the third day in accordance with the Scriptures, and that he appeared to Cephas, then to the twelve.

1 Corinthians 15:1-5





Get updates that are not posted on the blog by visiting
Thankful Homemaker's Facebook and Twitter pages.