Memorizing Colossians – July Encouragement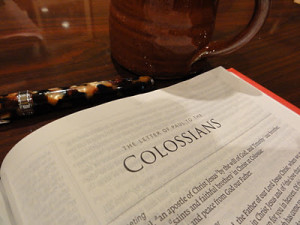 Summer is a great time to boost your time on scripture memory. Our schedules seem to be a little more relaxed and hopefully we will get more time in God's Word.
What are some methods you use to memorize scripture? I have simple methods listed below and a new one that has become a favorite and helpful in hiding God's Word in my heart – Scripture Typer.
1. Use index cards and keep them handy.
2. Tape scripture all over my house (kitchen, laundry room, bathroom mirror and shower glass). The trick is you have to look at it, read it and repeat it!!
3. Recite it to myself throughout the day.
4. Scripture Typer is free to use online or available from the Apple Store as an app for your iPhone or iPad. The review feature is my favorite and I use it on my iPad.
6. Read my verses from the Bible in the morning and evening.
7. Recite them to my husband before we go to bed.
Overview

of July's Memorizing Schedule
Review Colossians Chapters 1 & 2
Colossians 3:1-2 / Review Colossians 2
Colossians 3:3-4 / Review Colossians 3:1-2
Colossians 3:5-6 / Review Colossians 3:1-4
Colossians 3:7-8 / Review Colossians 3:1-6
Colossians 3:9-10 / Review Colossians 3:1-8
Scripture Memory How & Why by Bob Jennings
Related Links: