Spiritual Priorities for the New Year: 2014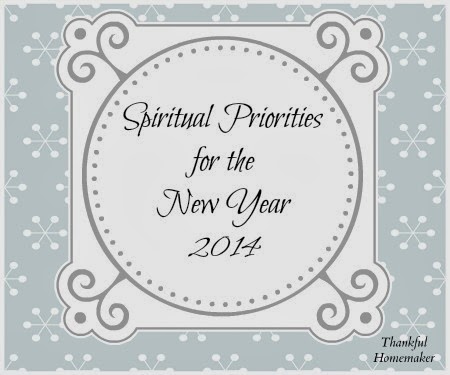 I've spent the Christmas season and New Year taking a break from blogging but I've still been reading my favorite posts and popping in on Facebook occasionally. I always enjoy reading the posts and goals everyone sets for the New Year. I love the ideas and it spurs me on to my own challenges.
I've had time over the past couple weeks to ponder my routines and daily activities to determine what is working and where I need to make changes. Not just in my home routines but in my relationships with others and my time with the Lord. I do set various goals in my home keeping but my priority is always where I am spiritually and where I hope to be by the end of next year.
Every year I review my spiritual priorities. My reminder is that my list comes from the basis of God's Word and not the world's way of setting priorities.
The seven categories I work from are:
Grow in godliness
Love my family
Serve in the church
Fellowship with Christians
Evangelize non-Christians
Attend to my work
Care for physical health
I take each category and review last years notes to see where I ended up and determine what changes I need to make for the new year. In various categories no changes are made but I continue on with the goals set from the year before.
(You can read a more detailed post on each category from my 2012 post on Spiritual Priorities for the New Year.)
Do you set spiritual priorities or goals for the new year? How many of you are doing the one word for the year challenge? Do you have a favorite resource you use to plan your goals for the year?
Related Resources: