The Beauty of Self-Control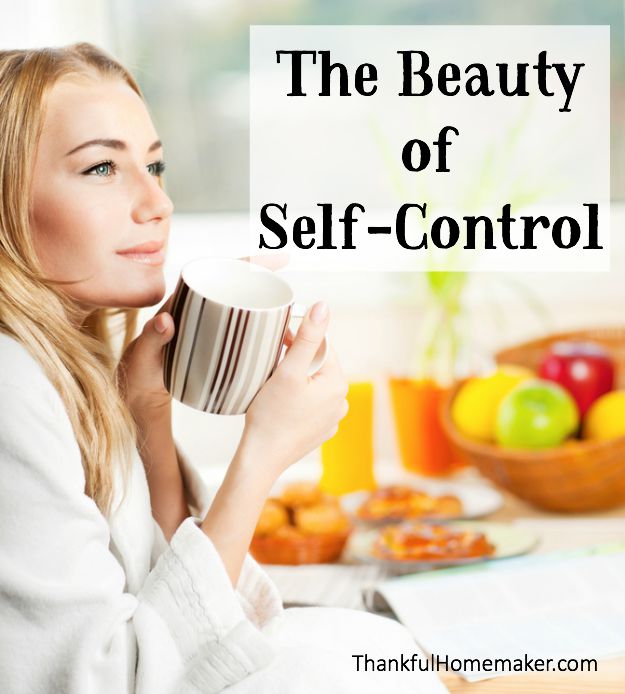 The quality of self-control is one that is important in every season of our lives. It is not just for spiritual leaders, but as the verse below states (Titus 2:3-5), the older women are told to model this virtue and to teach it to the younger women.
This is a topic that is so important in our walk as believers – if we don't have a sound mind we are not able to love our husbands or children when they are not lovable, we will check out emotionally when things get too chaotic, we will be selfish in our behavior – our lives will produce unstable behavior in many areas. My hope is we can learn together with the help of the Holy Spirit how to live lives that exhibit self-control.
"Self-control is the exercise of inner strength under the direction of sound judgment that enables us to do, think, and say the things that are pleasing to God."
~Jerry Bridges~
Titus 2:3-5
3 Older women likewise are to be reverent in behavior, not slanderers or slaves to much wine. They are to teach what is good, 4 and so train the young women to love their husbands and children, 5 to be self-controlled, pure, working at home, kind, and submissive to their own husbands, that the word of God may not be reviled.
(emphasis mine)
Depending on what Bible translation you are using self-controlled may be translated as; discreet, sensible or self-controlled. It is from the Greek work "sophron." This word in the Greek is used three different ways in the King James Version: sober, temperate and discreet. The word sophron comes from two words. The first word, so, from sozo, means "to save," or from soas, which means sound, and then phren, which means mind. Sophron means having a saved or sound mind. It means to have sound judgment, common sense, and right priorities.
We're going to briefly look at eight areas in our lives where we should be exhibiting self-control. Let's start off with our eating.
1 Corinthians 10:31

So, whether you eat or drink, or whatever you do, do all to the glory of God.
We are to receive our food from the Lord with thanks and gratitude. Gluttony (excess eating) is not to have a place in our lives. The Bible refers to it as sin.

Be not among drunkards or among gluttonous eaters of meat,for the drunkard and the glutton will come to poverty, and slumber will clothe them with rags. ~ Proverbs 23:20-21
"Eating to calm our fears, alleviate stress, overcome feelings of depression are other habits that do not glorify God." – Carolyn Mahaney
"One of the ways that the Spirit's name is translated in Scripture is Comforter. He wants to teach you to comfort yourself not with food, but with His comfort."
~Elyse Fitzpatrick – Love to Eat, Hate to Eat
Proverbs 31:30

Charm is deceitful, and beauty is vain, but a woman who fears the LORD is to be praised.
This is another area we as Christan women have to caution ourselves. We are in a culture that obsesses with appearances. Are we eating because we would like to have a figure that draws attention from others? – This is a sin. Are we are looking to please man and glorify ourselves instead of seeking to glorify God and please Him with our eating habits? We should give thanks to the Lord for the food He provides and blesses us with. We can delight in this gift of food from the Lord and use it for His glory.
We need sleep – God designed our bodies for sleep. How do we exercise self-control in this area of our lives? Here is a quote from Martha Peace on this subject:
"I have heard of women who pride themselves on being "night people." That means they have trouble getting up in the mornings because they come alive at night. They may stay up to all hours reading, watching television, or pursuing some sort of interest. The next morning they are too tired to get up and care for their family…These women are not "night people." They are lazy and selfish. Who would not rather stay up late to do whatever they pleased and sleep late the next day? Once a young wife begins getting up earlier than her children and her husband, she will cease to be a "night person." She will be tired at night and go to bed at a reasonable hour so she will be there to serve her family the next morning."
Proverbs 20:13

Love not sleep, lest you come to poverty; open your eyes, and you will have plenty of bread.
Let's do as the verse says, "open our eyes" when that alarm clock goes off in the morning. Moms of little ones who are up in the middle of the night, please be reminded that this season will pass so try to get what sleep you can.
2 Corinthians 10:5b

and take every thought captive to obey Christ,
Studies say that 10,000 thoughts cross our minds every day. We are not capable of taking one thought captive to Christ without the help of the Holy Spirit – so we can't even imagine taking 10,000 thoughts captive. We have to remember, what occupies our minds determines our behavior. We are able to control our thoughts by God's grace – He gives us the power of the Holy Spirit.
Finally, brothers and sisters, whatever is true, whatever is noble, whatever is right, whatever is pure, whatever is lovely, whatever is admirable—if anything is excellent or praiseworthy—think about such things. ~ Philippians 4:8
Never a day goes by that my thinking is dominated by these thoughts. Do I think thoughts to myself throughout the day such as, "my husband is admirable, my children are lovely, my God is worthy to be praised."
[clickToTweet tweet="We have to remember, what occupies our minds determines our behavior. " quote="We have to remember, what occupies our minds determines our behavior. "]
Psalm 19:14
May these words of my mouth and this meditation of my heart
be pleasing in your sight,
LORD, my Rock and my Redeemer.
Our emotions were given to us by God to glorify Him and enjoy Him. Think of how our emotions enrich our lives every day. When we are happy to see our husbands come home from work, the joy we feel from hugging our children, the surprise in receiving flowers from our husband, the excitement of getting all the laundry caught up. Imagine life without these emotions – you can't – emotions make our lives meaningful. They are a gift from God.
Let's look at the negative emotions such as fear, despair, guilt and loneliness. These serve a purpose too – they reveal the state of our hearts and our hearts govern our feelings. When I am feeling loneliness I need to bring my emotions back to the truth of God's Word – His Word says, "I will never leave you or forsake you." "I am with you always." When I am feeling guilty, "there is no condemnation for those who are in Christ Jesus." We need to bring our emotions in line with the truth of His Word and glorify God in our emotions.
Our speech cannot be tamed by self-effort but only by the power of the Holy Spirit and His grace.
Ephesians 4:29

Let no unwholesome word proceed from your mouth, but only such a word as is good for edification according to the need of the moment, so that it will give grace to those who hear.
Let me give you Carolyn Mahaney's paraphrase of this verse:
"Let no unwholesome word proceed from my mouth, but only such a word as is good for edification according to my husband's and children's need of the moment, that it may give grace to my husband and children."
(Ephesians 4:29 -paraphrased)
James tells us in James 3: 8,10:
"…but no man can tame the tongue. It is a restless evil, full of deadly poison… Out of the same mouth come praise and cursing. My brothers, this should not be."
Sinful words are the result of a sinful heart. Outward conformity always begins with inward transformation.
Ecclesiastes 3:1

For everything there is a season, and a time for every matter under heaven
We need to evaluate priorities in each new season of our lives. There may be things we are not able to participate in at this season of our lives, but there may be a time when we can. Ask yourself if this a good thing at this moment in my life? Seek the Lord for His agenda for your life right now. We need to choose what is best, and it may mean saying no to opportunities that are good, but they are not what is best for this time of our lives. Self-control in this area helps us to discern and carry out our priorities. Seek your husband's guidance – they know us better than anyone else on this earth.
Ephesians 5:15-16

15 Look carefully then how you walk, not as unwise but as wise, 16 making the best use of the time, because the days are evil.
How do we spend our time? Do we spend it efficiently? We are to be reminded that we have enough time to do what God wants us to do. Our number one priority is daily time with the Lord – if we don't spend time with Him this reveals a self-sufficiency problem – we are saying to God – "I can do this on my own." Are we involved in things we shouldn't be involved in? Do we squander our time? One way to see how we spend our time is to log everything we do for a week and see the areas where we are wasting the time that the Lord has gifted us with.
Do we stay within our means and budget? Are we content? It doesn't mean we have to work outside the home, but like the Proverbs 31 woman how do we contribute to the saving, making and managing the money in our homes?
Proverbs 31:16, 24 & 27
16 She considers a field and buys it; From her earnings she plants a vineyard.
24 She makes linen garments and sells them, And supplies belts to the tradesmen.
27 She looks well to the ways of her household, And does not eat the bread of idleness.
We don't naturally think straight; it is the grace of God in us. We have to remember that we are dependent on the grace of God to make us want to be a woman who lives out a gracious sophron lifestyle.
"If the kind of self control and sensible thinking that we're talking about is being produced by the grace of God and by the Spirit of God, this is a person who will not be uptight, rigid, legalistic, but a person who will be winsome, compelling, beautiful and free–free to live within the parameters that God has designed for our lives. Being sophron increases our capacity to pray, to love and to serve others."
~ Nancy Leigh DeMoss~
Our sound thinking – preparing our minds, being sober-minded will result in holy living. As believers we all desire to live out holy lives that are pleasing and glorifying to God. This takes discipline. We need to be continually preparing our minds for action, guarding our thoughts and being aware of the allurement of temptation and worldliness so that we can live holy lives because our thinking is sober-minded. We need His grace to grow in this area of self-control. This is not a theology of works. No amount of self-control can make us more righteous and therefore acceptable before God – we are accepted to God through Jesus Christ because of His death and resurrection on our behalf.
"Advance in the Christian life comes not by the work of the Holy Spirit alone, nor by our work alone, but by our responding to and cooperating with the grace the Holy Spirit initiates and sustains. Our experience in Christlike development will happen as it did with Paul, who said, 'I labor, struggling with all his energy, which so powerfully works in me' (Col. 1:29). Notice that Paul himself labored and struggled, but it was according to the power of the Holy Spirit working (literally, 'agonizing') within him."
~Donald Whitney~
Resources:
SaveSave
SaveSaveSaveSave
SaveSave